The little white dress, like the LBD has a special place in every woman's heart. Be it in pretty lace, satin, chiffon or cotton, there's a whole sophisticated princess vibe that comes along with it. But here's the problem, many women feel reluctant to wear their classy white dress for daywear. Why? They feel it looks too wedding and prom ready. We've brought a solution, with some help from our favourite – denim jackets!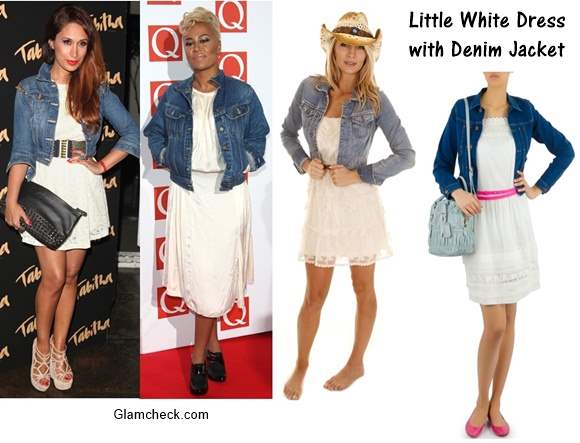 Little White Dress with Denim Jacket – Styling
For our style inspiration, there's Preeya Kalidis in a cutsie dress and Emeli Sande in her relaxed midi dress.
Preeya Kalidis had paired her dress with cut-out nude heels and bright red lips. But she, thankfully, decided to bring on a street vibe by adding a cropped denim jacket. Check how cleverly done it is.

Little White Dress with Denim Jacket
Crop jackets tend to draw attention to the upper body and can make one appear bulky. The solution – a broad belt clinching her slim waist and Voila! A sophisticated smart casual look!
Emeli Sande brought an edgy rocker chic appeal to her white dress with the help of a classic denim jacket. Completing the look are – black booties, smokey eyes and a killer hairstyle. Stunning!

White Dress Denim Jacket
To dress down your frilly nets, chiffon or lace dress, we suggest adding a slim tan brown belt along with the denim jacket. Throw in a hat for some cool element, we also like floppy hats for their relaxed bohemian style.

White Dress with Denim Jacket
Looking for something subtle yet pretty and feminine, then our next look is perfect for you. The little white dress has been paired with dark blue denims and a roomy handbag. For the finishing touches, a bright fuchsia pink belt and matching ballet pumps. Hola Bella!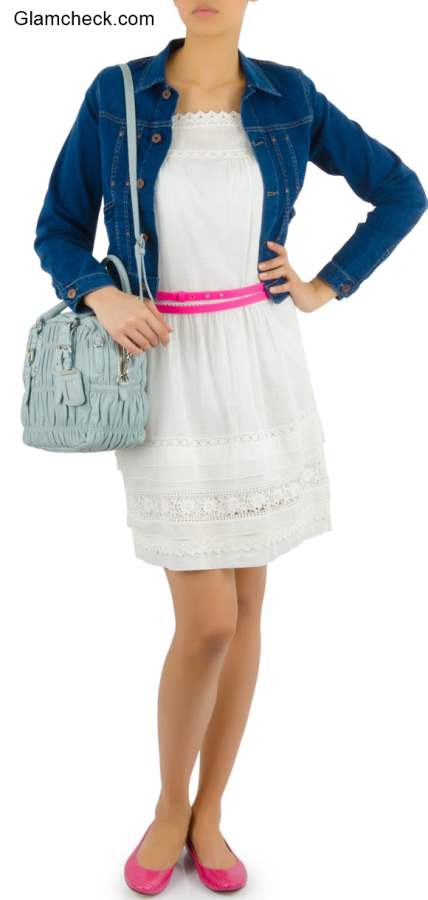 White Dress Denim Jacket Styling
Solaris Images