Wearing glasses is now considered a cool and hip thing. Thank goodness! Remember all those plain Jane to gorgeous belle transformation movies? The main revelation almost always used to be – the before look with glasses and the new dazzling look without glasses! That is so passé; glasses are now at its trendiest best. So today, we dedicate our topic on how to achieve the fierce and bold eye makeup with glasses.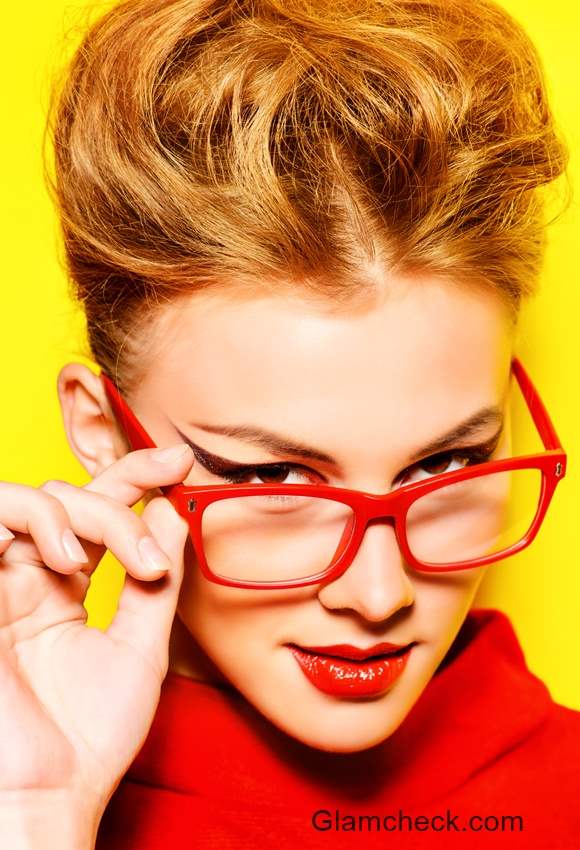 Eye Makeup with Glasses – Go Fierce and Dramatic
Glasses draw attention to the face, so your beautiful eyes tend to get lost behind them. The right makeup will help enhance and bring out the eye features. We've picked this dramatic cat eyes that makes for a stunning complement to the arresting red frame.
Eye-shadow color: A dark burgundy will provide that needed intensity and a subtle peach red will help soften the look. Perfect match!
How to apply the Eye makeup: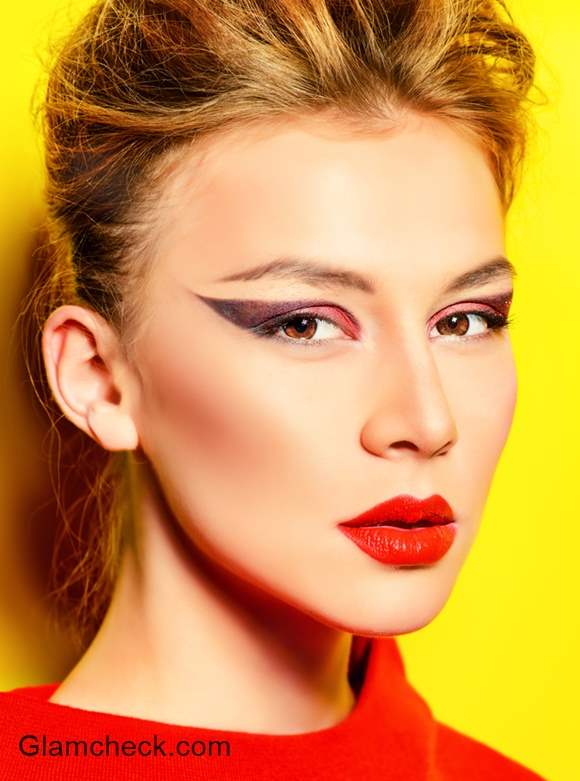 Eye Makeup with Glasses
Start with the peachy shadow and apply it over your upper lid.

Now using a thin brush define the creases of your eyes with the dark burgundy shade. Make sure they don't smudge or have a smokey effect.

Follow the shape of your lower lash line and flick a sharp wing extending well beyond the brow bone.

Join the tip of the wing with the defined crease line. You don't have to worry about drawing a shape, just keep it straight.

Now fill in the winged outline.
Get the brow game right:
Glasses define your eyes and the brow shape frames the glasses. So make sure your eyebrows are perfectly primed and arched.
Important tips:
Tip #1: Let the frame color decide the choice of your eye shadow. Black frame goes with almost everything.
Tip #2: Conceal redness on the nose bridge using a primer and a BB cream.
Tip #3: The eye makeup shouldn't look heavy, so keep the brow bone area clean and highlighted.
Tip #4: Never ignore the eyebrows when wearing glasses.
Tip #5: Glasses often highlight dark circles and puffiness. Use a well tinted concealer that'll help brighten the area.
Tip #6: Use a volumizing mascara instead of a curling your lashes.
Image: Shutterstock