How would you dress up when you can't decide between going classy, preppy and glitzy sparkle? Well, you include a little bit of all! This festive season, we'll show you the how to nail the sporty glam look using few priceless tricks.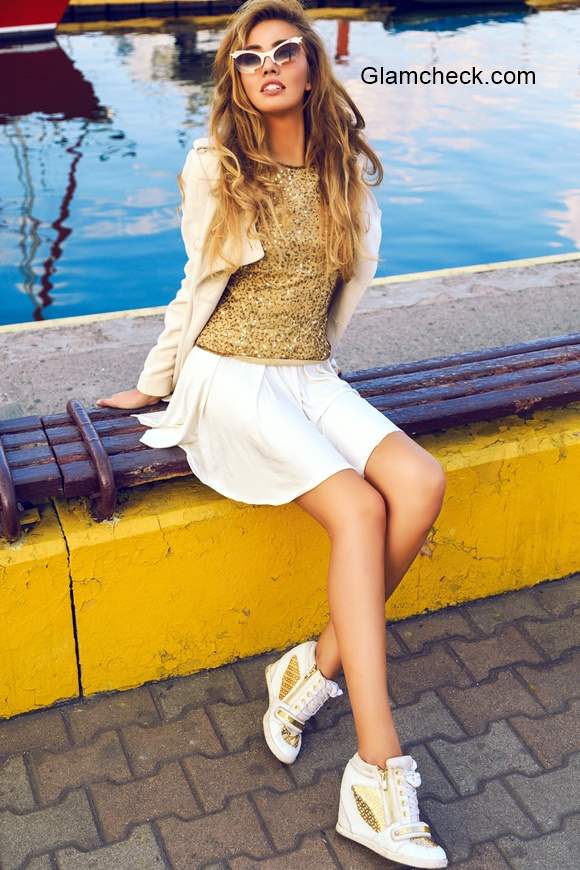 Festive Fashion – White and Gold
Gold sequins
The easiest way to add some sparkle and glamour is gold sequins. Instead of a head-to-toe shimmery dress, stay on the sophisticated side of sexy with a gold sequinned top. When it comes to shiny blouses or dresses, a higher neckline is your best bet. You get the best of the shimmer while the conservative neckline helps maintain the elegance.
When in doubt, choose white
Since you want that classy and preppy angle to your ultra glam outfit, avoid the sparkle overload by adding muted colors. An important fashion rule is that combining bright gold and bold colors could spell disaster. But a choice you can never go wrong with is – white. Hence, a high neck gold sequin top with a pretty white skater skirt makes for a perfect match!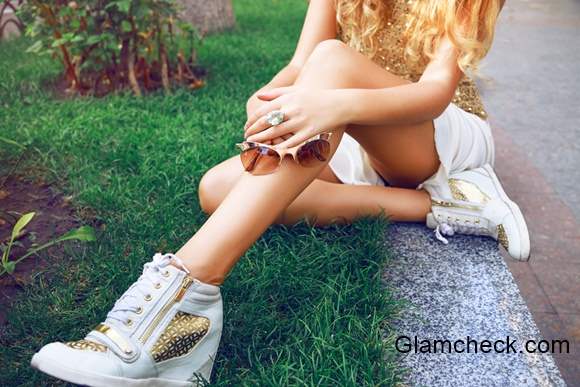 White and Gold Festive Fashion
Shoes
When it comes to fall shoe fashion, sneakers are something we cannot do without. They help keep our feet warm, are super trendy and look lovely with flirty skirts. But we want that high glamour as well since it is the holiday season. A pair of heeled white sneakers with subtle gold accents complements the gold + white outfit flawlessly. Won't you agree?
Layer up
Layering is a key autumn fashion trend, so never leave the house without a stylish jacket or trench coat. Besides being season friendly, a coat or jacket will really help balance out the shiny gold for a daytime look.
Accessories
There shouldn't be too much of bling and the choice of accessories could end up killing the look. Keep it simple and playful with a stylish cat-eyed sunglasses and a single striking cocktail ring.
That's it classy, sporty and full of glamour, a white and gold look for the holiday season.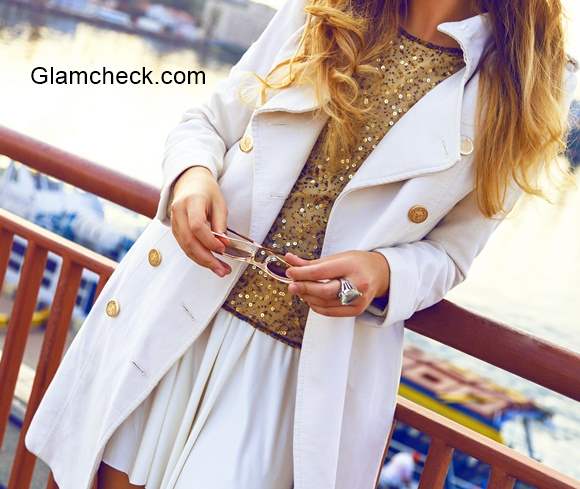 White and Gold Fashion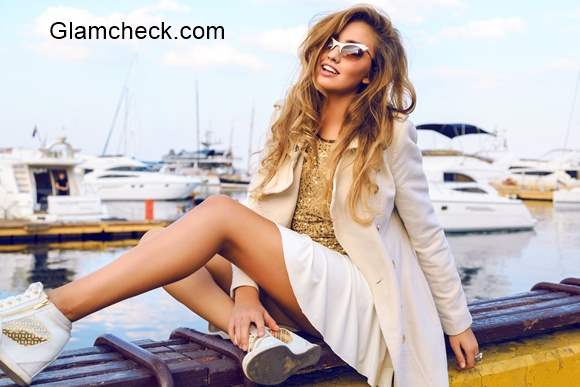 Wearing White and Gold
Image: Shutterstock