In what could be termed as vaguely reminiscent of her role as Sleeping Beauty in Maleficent, Elle Fanning turned up for the premiere of 'Trumbo' at Beverly Hills, California wearing a romantic floral Gucci gown. The ivory colored flowy outfit featured pretty floral prints and the bodice was done up in elaborate bird and floral embroidery, including appliqué detailing. A stunning whimsical gown from Gucci's Spring 2016 collection, Elle further picked 'Sylvia' shoes, a lovely pink edition, from the brand.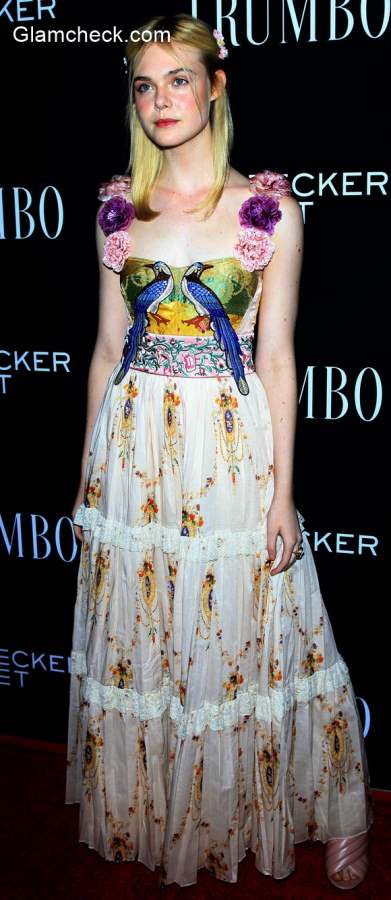 Gucci Gown Elle Fanning at the Trumbo Premiere
Rightfully, any heavy makeup or jewelleries would make this look overkill. So the pretty actress went for a natural dewy make-up with, mind you, a stunning brow game. Well, she did add her touch of girly style by the way of little floral hair clips and statement finger rings that somehow added to the whole romantic whimsical feel.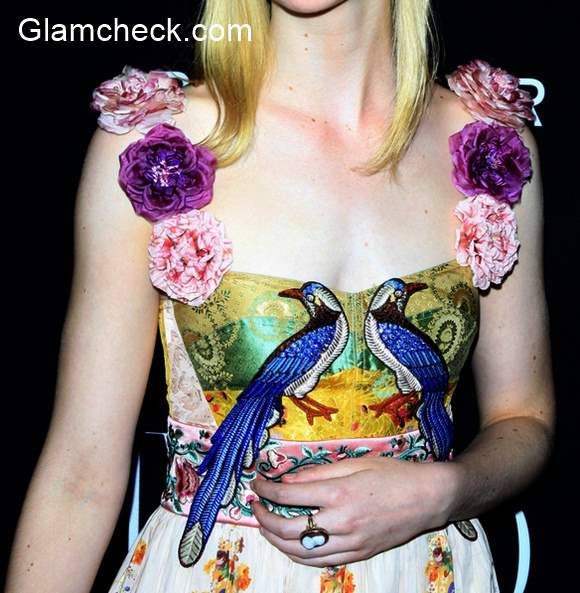 Whimsical Gucci Gown
A striking look, Elle's red carpet appearance at the Samuel Goldwyn Theatre on October 27th looked straight out of a princess-y fairy tale.
Elle Fanning wears whimsical Gucci at the Trumbo Premiere
Image: Shutterstock