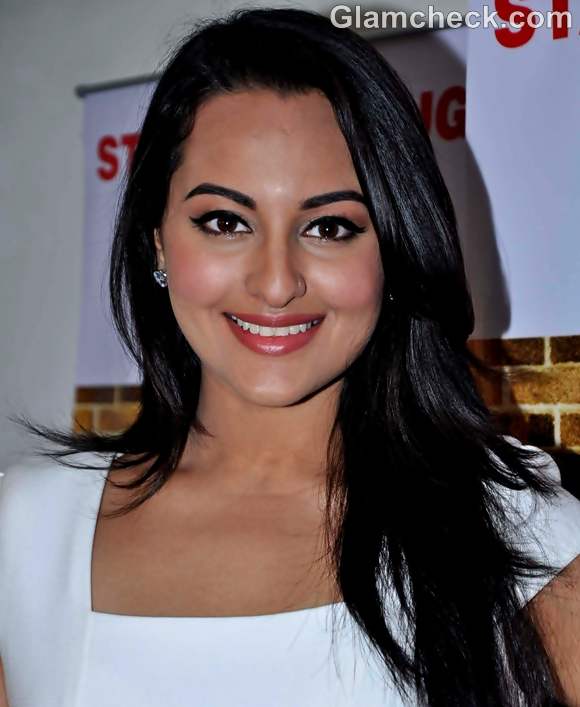 Sonakshi Sinha recently made an appearance on Dance India Dance for the promotion of her upcoming movie Joker. What appealed to many was the Zara peplum dress she chose to wore, but what appealed to us even more was her hair and makeup. It's usually hard to find looks and tutorials that take you through an everyday life with style. And when we spotted a great look, we had to share.
Sonakshi Sinha's Hair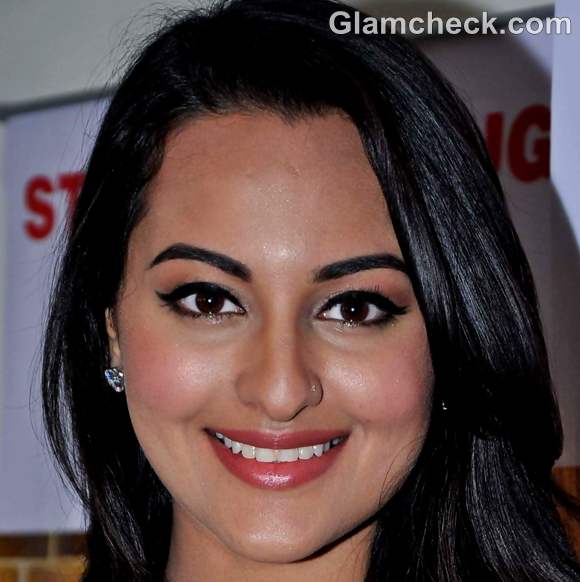 When doing your hair a la Sonakshi Sinha, the most prominent feature would be the shine.
Step 1 : Wash your hair with a shampoo which concentrates on softness and shine.
Step 2: If you have the time, mix 2 parts apple cider vinegar with 1 part water and rinse with it. Leave for 5-15 minutes. Rinse again with water
OR
Rinse with a bottle of strong beer. Leave on for 5-15 minutes. Rinse again with water.
Step 3 : Deeply condition hair from root to tip. Leave conditioner for 5 minutes or as directed on the product. Rinse well.
Step 4 : Towel dry hair if your hair are naturally straight or slightly wavy.
You can choose to blow dry them too, but it is not advised regularly and not without a heat protect-ant. If blow drying, flip the ends out while straightening the rest.
Step 5 : When the hair are semi damp, comb the strands at the crown backwards and towards the side. The parting need not show, but the hair should be comber visibly towards one side. Pull your hair forward on side of the shoulder too, leaving a few naturally to the other shoulder.
Step 6 : If you did not have time for step 2, apply shine serum to your hair for that slick look and avoid any volumising products for this look.
Sonakshi Sinha's Makeup
Tip: A base makeup is essential even on a daily basis. It evens out the complexion and any makeup put on lasts longer. You could even mix your foundation cream with your sun protection on your palm and apply evenly on the face and the neck.
The lips
Sonakshi wears a cardinal lip color which borders between a red and a pink. This particular color goes well with her dusky tone. Choose to apply a lipstick with shine in the right red color for yourself.
The eyes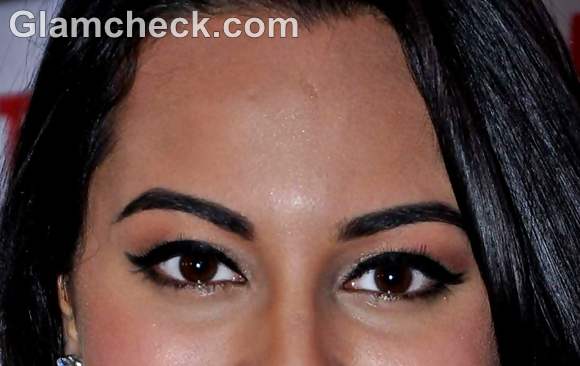 This look calls for strong eyes. Notice how her eyebrows have been plucked to perfection. She sports thick bold eyebrows in tune with the beauty trends of the moment.
Define your eyes with kohl, using thicker strokes towards the outer end of the eye.
Apply volumizing mascara.
Apply liner on the upper lash line while defining the corner of the eyes with a pointy stroke extending outwards.
The cheeks
Apply a blusher that works for your skin tone. As a guide, use the color of your lips or the color that your cheeks become when they are flushed after a work out.
Once you have the right color with you, always apply while smiling in the mirror. This would define for you the apple of your cheeks. Blending is the key here with the blusher disappearing towards the hair line as well as the nose. The most concentration is only at the sides of your apple.
IANS