"When in doubt, wear red"- Bill Blass
Red is the color of confidence and Mrs. Khan possesses oodles of it. Kareena sported this look at the 58th Annual Filmfare Awards sponsored by Idea.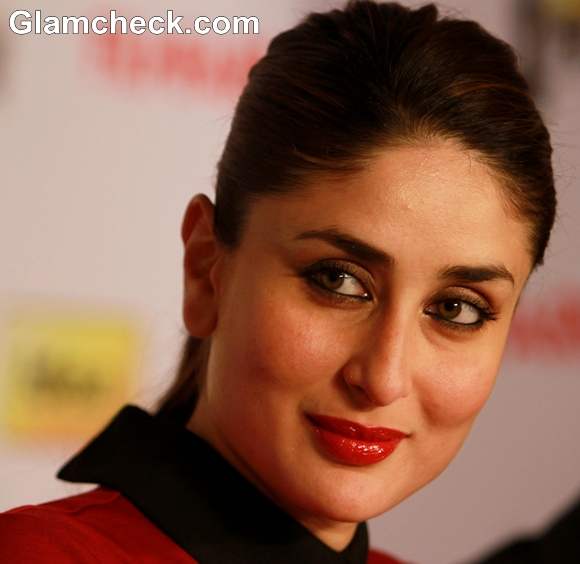 Red Makeup Look For Christmas inspired by Kareena Kapoor's Reed Makeup
As Christmas arrives and the party starts, we want you to look great while, hopping around town in your stylish ensembles. Kareena Kapoor Khan shows you how to get the red mouth look right. A bold red mouth is the way to go, if you have a well shaped pout. The order is to play up your mouth with subtle eye make-up. Kareena chose a shade of red which complemented her skin tone. Here, in our diy makeup section, we decipher Kareena's look for you.
Kareena Kapoor Khan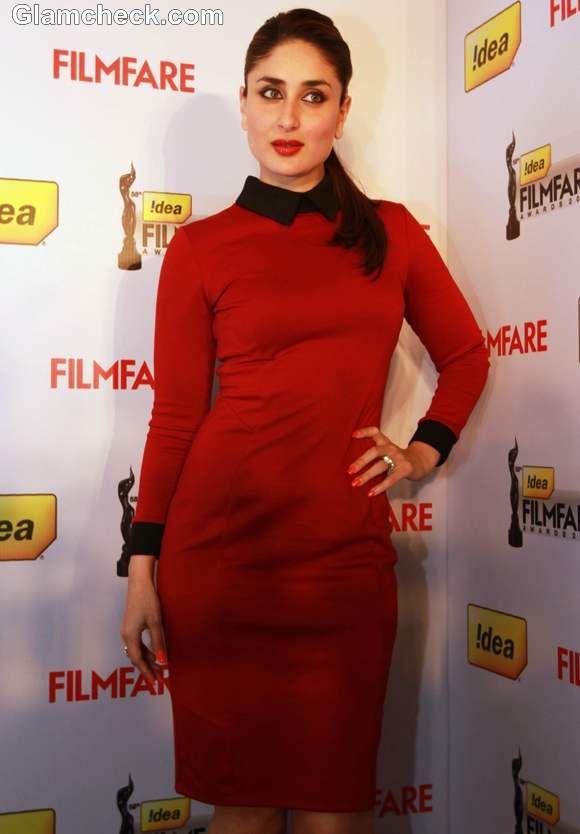 Kareena Kapoor was seen wearing a bright red mouth with a red sheath dress with a contrast colored collar and cuffs. The dauntless diva flaunted her red pout without any inhibitions and that is what we love about her.
Makeup: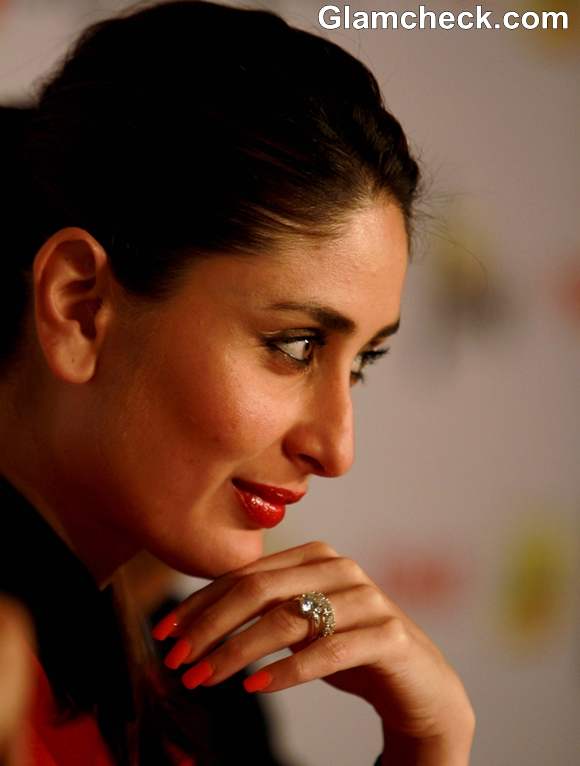 Kareena Kapoor Red Makeup Look For Christmas
A fresh face with a glow of health was the mantra for Kareena. Her make-up consisted of a vibrant red pout with a swipe of gloss, strong defined brows, flesh colored eye-shadow, kohl-rimmed eyes (winged outwards), a coat of mascara and natural pink blush on the apples of her cheek.
The eyes were subtly etched with kohl with a dash of flesh eye-shadow. This look was tailor-made for Kareena and she looked radiant in it. She was like a breath of fresh air at the 58th Annual Filmfare Awards.
Hair: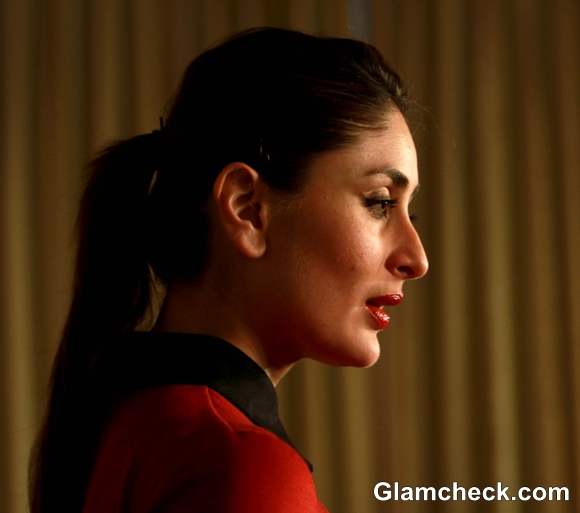 Kareena Kapoor swept back her hair and tied it up into a sleek pony. The neat hair-do was perfectly in sync with her bold look.
We at Glamcheck absolutely love her style!
DIY
You can wear it too by following these simple tips below: You need to have a know-how on what suits you and what doesn't. This Christmas you can sport the red make-up look and be the diva you always were.
Your Skin Tone
The first question is, "What is your skin tone?" Is it a yellow base or a paler one!
For a gold streaked complexion like olive, yellow and wheat,  wear a warmer shade of red lip color. It may be a brick red or deep reds like Burgundy/ Maroon
For a paler skin tone with pink flushes on the cheeks, choose a bright red or a pure red hue
Day or Night
Look at the time when you need to step out of the house for choosing the right shade of red
During the day, wear a light hue of red, so that your face doesn't look too loud
While stepping out at night, go for a rich shade of red to focus the attention on your mouth
The Makeup Ritual
After the general knowledge on your complexion and hues to sport, we share with you our tips to make you wear the red mouth with elan.
The Lips: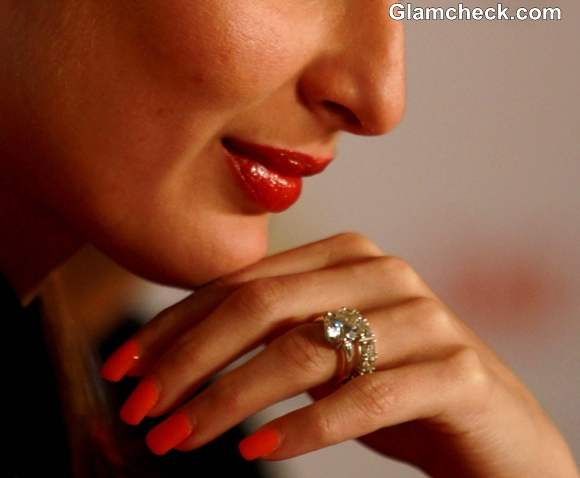 Kareena Kapoor red lips
As we are talking about the lips, let us start with the mouth first.
Choose a shade of red as per your skin tone. A pale complexion should choose the pure version of red, where as, a warm complexion must choose an orange or brown shade of red
It is always advisable to apply a fit foundation on the lips so that the color sits firmly on the lips and does not wear away soon
A lip liner is not necessary before the filling your lips with the color. But, if you might, then go for the exact same shade of your lipstick or the shade of your natural lip color
Apply compact on the sides of your lips so that the color doesn't bleed
Fill your lips with the shade you love and express them fully to yourself
Tip: Fuller lips look best in the color. Tightly pursed lips tend to look more thin in red.
The Face: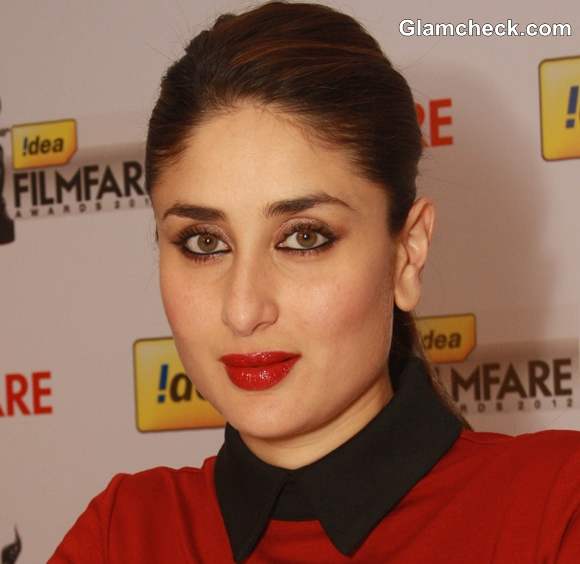 Kareena Kapoor red makeup
Keep your face clean to wear this look.
Apply a primer to your face, wear the shade which is nearer to your skin tone and blend it well.
A little flush on your cheeks will do no harm. Wear a hint of blush on your cheeks; choose a light pink tone for pale skin and a flesh shade for a gold undertone
Tip: A bare face looks apt with a red mouth
The Eyes: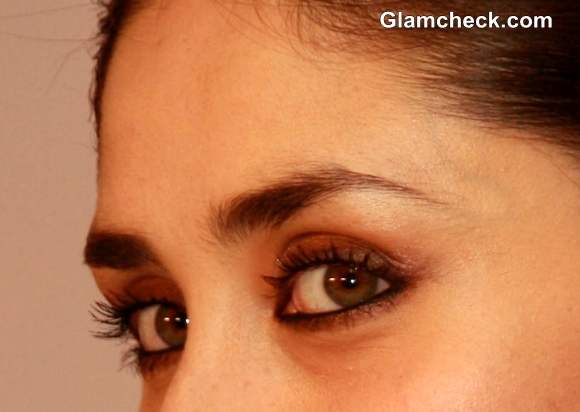 Kareena Kapoor eye makeup
Your eyes should speak subtly when you wear red.
Your beautiful eyes should be sparkling with health with your lips. Tone down the shade of eye-shadow and let the focus stay on your pout
Line your eyes with kohl to accentuate them
Do not wear a heavy black liner on your eyes because it will make you look over done
Stick to a nude eye-shadow if you just have to wear it. You can choose to give your shadow a miss
Apply a thick coat of mascara for long lashes
Tip:  Kohl will define your eyes and make you look sensuous
Do not get intimidated by the color. Red is one of the best colors to sport if you have a fuller pout. Make use of our wonderful and easy tips to get a gorgeous look like Kareena Kapoor.
Christmas Tip:
Always smile with confidence. It is the best tool for fending away fears. Enjoy Christmas and may the happiness spread in your life and make you smile from ear to ear. A merry Christmas to all the readers of Glamcheck!
Indian Photo Agency, IANS