The land of festivals – India celebrates perhaps its brightest and most widely celebrated festival Diwali every year. Celebrated on a no moon night or 'Amavasya', Diwali marks the end of Hindu month 'Ashwin' and beginning of the month 'Kartik'.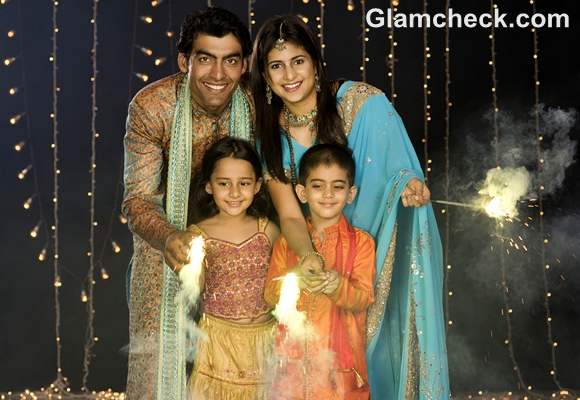 Diwali Indian Festival of Lights
Diwali, also known as Deepawali literally means a row of lights. Named aptly, this festival sees homes of poor and rich, young and old lit with oil lamps or diyas and decked with electric lights.
Diwali date 2012: Diwali falls on 13th November this year.
Legend behind Diwali
The most popular story behind celebrating Diwali is that it marks the homecoming of Lord Rama with his wife Sita and brother Lakshmana after spending fourteen long years in the forests (vanvas) and after vanquishing the demon king Ravana. People in order to welcome Lord Rama and his aides cleaned their homes, lit lamps and made sweets and celebrated the spirit of victory and joy.
It is also believed that this day commemorates the return of the five king brothers Pandavas from their period of exile.
In the Jain community, this day is known to mark the Nirvana or Moksha or freedom from earthly bounds of Lord Mahavira.
In the Buddhist community, Diwali is believed to be the day emperor Ashoka converted to Buddhism.
All the legends and stories surrounding the festival highlight how Diwali celebrates the victory of good over evil and how it inspires us to move from the darkness of ignorance, ill will into the illumination of good deeds and ultimately divinity.
A lot of other communities of Hindus such as Marwaris and Gujaratis celebrate the New Year on the day and a day after Diwali respectively.
Five days of Diwali rituals and celebrations
While Diwali per se is a one day festival, two days before Diwali and two days after it also hold great importance in every Hindu household. These days hold great significance and have rich history behind them.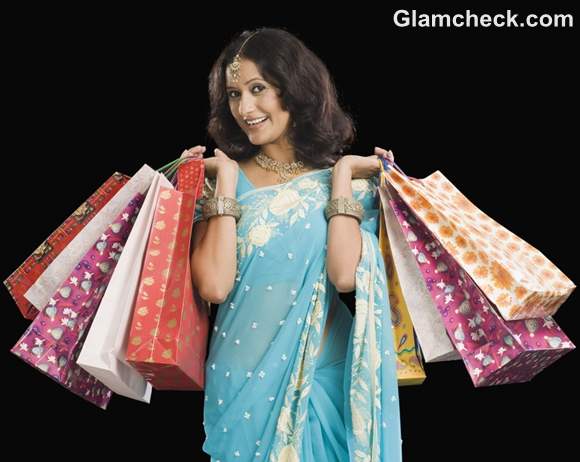 DhanTeras Diwali Shopping 2012

The first day of this five day period is known as the "DhanTeras". Falling on the 13th day of the second half of the lunar month ( hence known as Teras) it is considered auspicious to buy metallic things such as gold, silver or utensils as it is believed to enhance one's Dhan( money). This day is also considered auspicious as Lord Dhanvantri, physician to all Gods was born on this day.
The day after Dhanteras, the 14th day of the second half of the lunar month is called Narak Chaudas. This day is also commonly known as Choti Diwali. It is believed that on this day a demon named Narak was killed by lord Krishna. On this day, all Hindu households keep their homes clean and devoid of any garbage. This tradition is symbolic of cleansing ones hearts and homes of any negative thoughts and emotions. Southern part of India celebrates Diwali on this day by lighting lamps, bursting firecrackers, praying to lord Krishna and Vishnu , meeting friends and family and exchanging gifts and sweetmeats.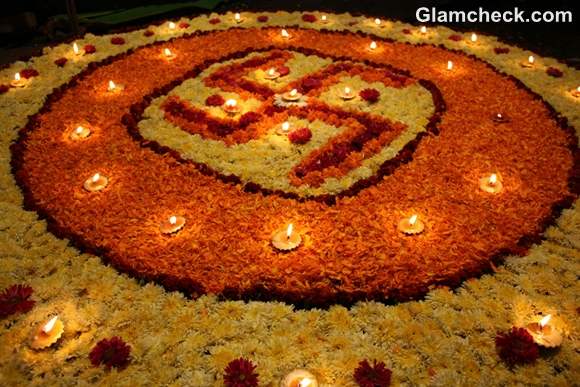 Diwali Rangoli
The 15th day or Amavasya (no moon day) sees celebration of Diwali. On this day, houses are decked with elaborate floor decorations or Rangoli. Various kinds of sweets and savouries are made and everyone wears new clothes and visit family and friends. It is common to hear firecrackers being lit from the crack of the dawn.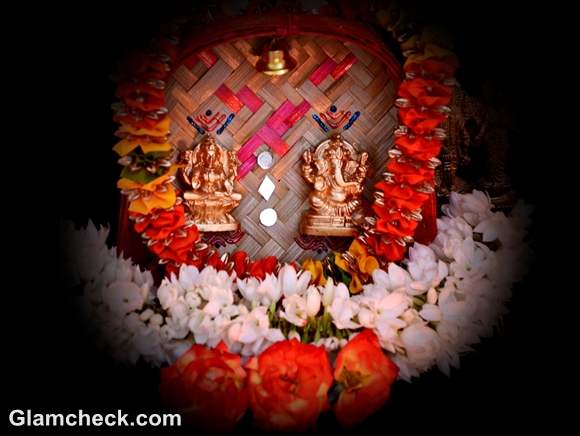 Lakshmi Ganesh puja Diwali 2012
Post dusk every household performs an elaborate puja of goddess of wealth Lakshmi and God Ganesha. It is believed that offering prayers wholeheartedly to these Gods would get peace, well being and prosperity into ones home.     
The day after Diwali marks the beginning of a new year for Gujaratis. In Northern parts of India this day sees Govardhan Puja, also known as Annakoot. It is believed that on this day, lord Krishna held the huge mountain Goverdhan on his little finger and offered shelter to save his followers and villagers from the wrath of lord Indra. In South India, this day is celebrated as Bali Pratipada, or the day when Lord Vishnu annihilated demon king Bali. Maharashta celebrates this day as a new day or Nava Diwas where wives get gifts from their husbands.
The last day of this five day festivities is called Bhai Dooj, when brothers visit sisters. Sisters prepare elaborate feasts and brothers usually give a gift to the sisters as a token of appreciation. The origin of this celebration finds roots in the legend of lord of death Yama visiting his sister Yami on this day to express his love and affection, having a meal together and then giving Yami a gift.
Other practices during Diwali
Apart from cleaning ones home, making rangolis, decorating ones homes by lighting lamps and using floral garlands, meeting friends and family, making sweets and savouries and burning firecrackers, Diwali witnesses a whole lot of frenzy.
It is common and infact a given practice to gamble on the night of Diwali. It is believed that on this night Goddess Parvati played dice with her husband Lord Shiva and decreed that whosoever gambled on this night would prosper in the following year.
 It is also commonplace to hold Diwali melas selling utilities for celebrating Diwali and other household wares and food. These fairs are held in communities and at other common places and are well attended by all and sundry.
Attire for festival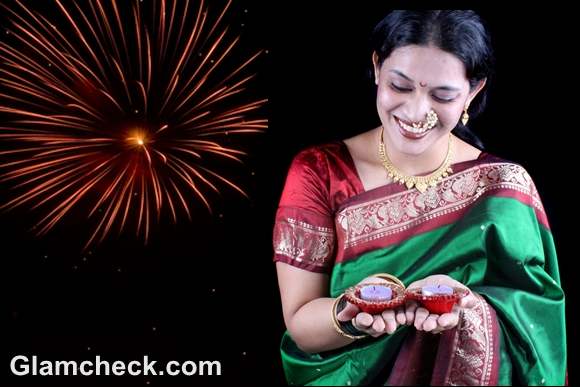 Diwali traditional clothes women
Not only it is common to wear your best traditional clothes on this day, most people wear new clothes to welcome peace, prosperity and wellbeing into their lives. Girls wear lehenga cholis, salwaar suits, boys and men wear achkans, band galas and kurta pajamas. Married women wear saris and ghaghras. Women adorn their hair with flowers and wear bangles, armlets, anklets and maang tikaas. It is a day to be happy and dressing up well ensures the same.
Diwali is a festival of lights. With the illumination of so many diyas and electric lights, let's hope and pray that the light of wisdom, good will, peace and prosperity touches all of us this Diwali.
Shubh Deepawali!
Glamcheck, Shutterstock