FDCI Wills Lifestyle India Fashion Week
The Wills Lifestyle India Fashion Week kick started on the 6th of October 2012 with 63 participating designers. We are looking forward to a new season of colours, embellishments, textiles, and much more.
Designer: Khushi Z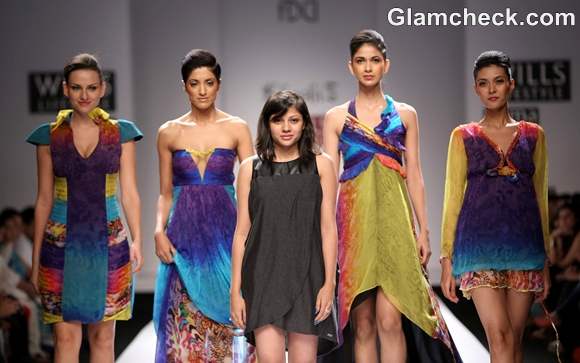 The inspiration behind Khushi Z's Spring/Summer 2013 collection was definitely marine. With sea greens melting into purples and violets, algae green crawling up to yellow and a dash of coral summed up this collection.
Pleats Please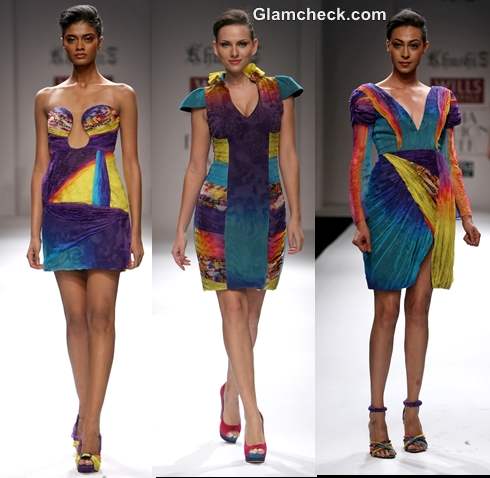 WIFW S-S 2013 Khushi Z Collection
Draped with pleats and colours these silhouettes brought life to the runway. The prints reminded us of marine life and their various forms. The display of pleats on the sides and bust of the silhouette gave structure to the dresses.
Cheery Yellows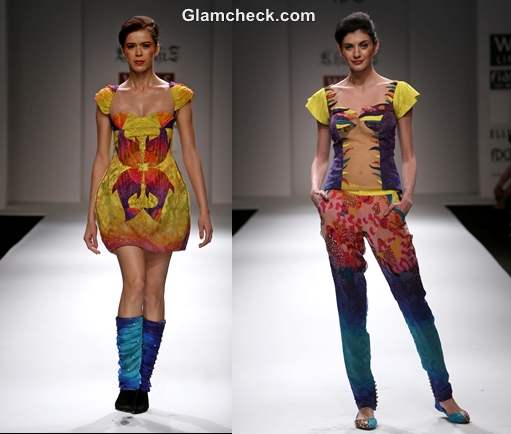 WIFW S-S 2013 Khushi Z Collection
The colour yellow played a strong part in the collection along with the shades of blue. The mirror-repeats of bold fish prints and appliqué resembling water-plants with printed trousers were cheery and playful.
Decoding Cuts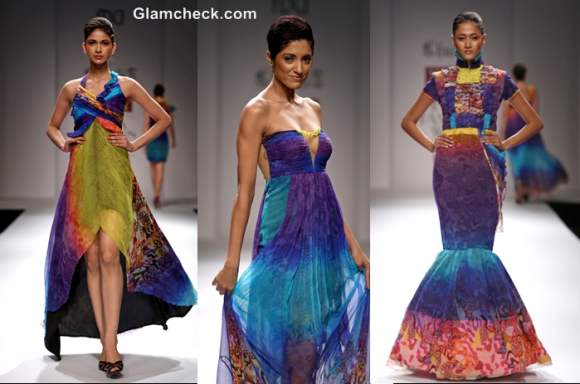 Khushi Z Collection WIFW S-S 2013
The cuts and shapes of the silhouette were flattering. Deep necklines, high-necks, fish-tail and asymmetrical hemlines formed the base of this underwater collection. Mish-mash of colours ruffles on the neck, sheer chiffon gowns added oodles of appeal to the line.
The bubble silhouette narrowed down towards the ankle giving a very unusual shape to the garment. Empire-line maxis with fabric appliqués were also seen.
Sheer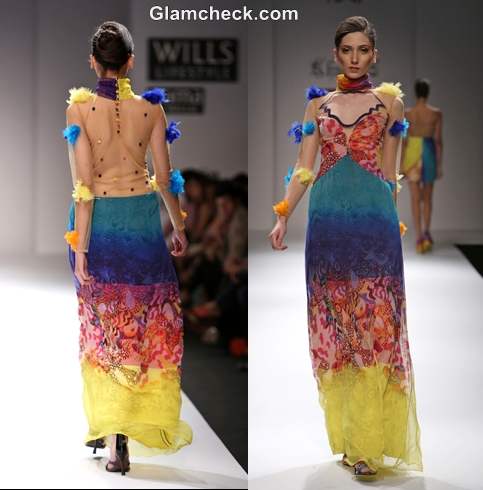 Soft net was used in the back of fluid gowns. Sleeves were sheer too with feather appliqués and fabric dots adorning the net.
The Show-Stopper
The show-stopper gown was a mix of fabric and feather collage. The appliquéd gown resembled floating fishes, water plants and flowers swimming together in a cluster. The appliqués were tied to each other by single strands of pearl.
The hair and make-up was kept non-fussy with the models sporting chignons, glossy lips and peachy cheeks.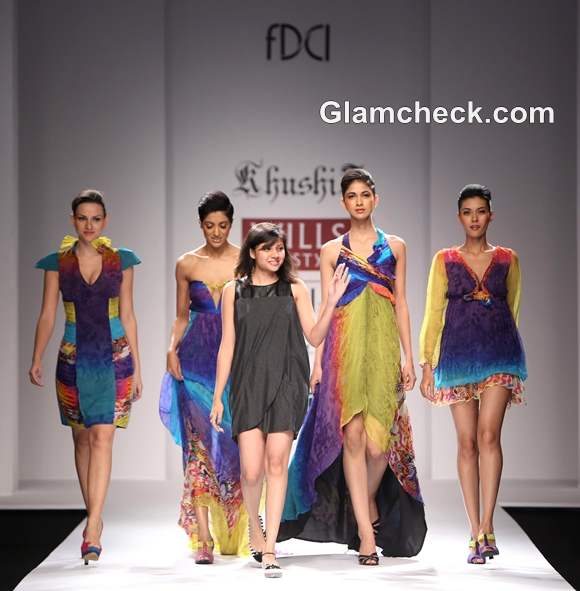 The pretty designer chose to wear a black tulip dress for the event. All in all, Khushi Z justified her theme with her collection.
This collection boasted of fluid silhouettes, cuts, deep necklines, and mish-mash of colours and psychedelic prints. There were a lot of underwater elements and the colours reflected just that.
Indian Photo Agency