The sultry Bipasha Basu embodied the careless beauty of a woman when she attended an event in a shimmery gold gown and loose curls. Her flawless skin, artistic eyes and ethereal body gleamed like a thousand suns!
Grecian Goddess
Bipasha Basu wore her locks in a neat mess, her chignon was loose and curls floated along her face and grazed her shoulders. The hair was secured with a golden hair-band that sat prettily on her crown.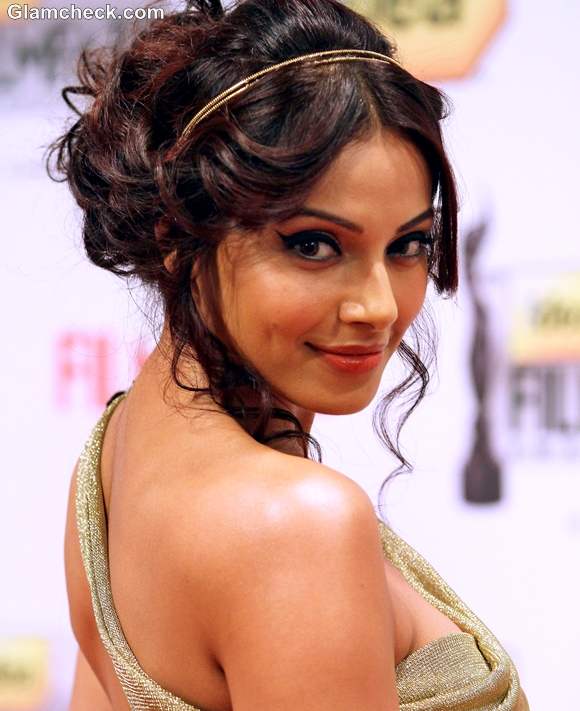 DIY Bipasha Basu Grecian Hair & Dewy Makeup
The lady sported a winged-eye and soft dewy make-up that went perfectly with her incandescent skin. She completed her look with soft coral lips and a hint of blush.
Beauty! Beauty! Beauty!
Get the Look
This heavy-duty look can be achieved in just a few simple steps. Read our tips below:
A Soft, Messy Chignon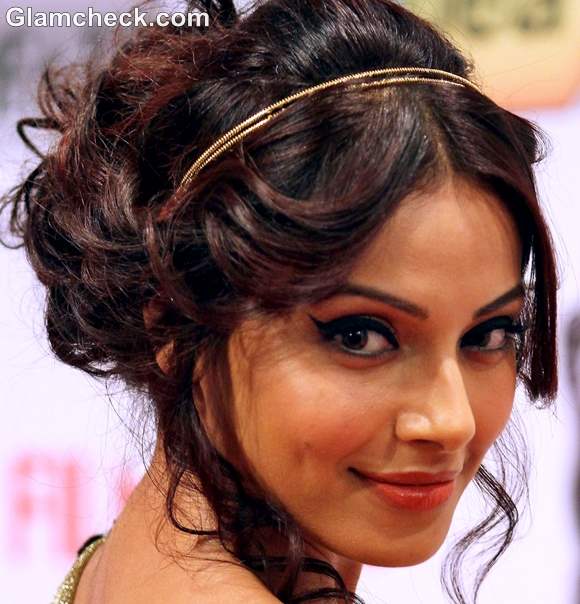 Bipasha Basu Grecian Hairstyle Dewy Makeup
The hair needs to be held up in a slightly messy chignon. For that, you need to shampoo and condition your hair first
Use a mousse to soften and protect your hair from heat. Curl your hair with tongs
The curls should be wavy and soft
After curling your hair, pull it up with your hands and make a chignon
Do not put effort in making it neat
Secure a pretty shimmery hair band on your crown and take out a few curls down your shoulders
Your chignon-ed up do is complete and you can now follow-up with the make-up tips.
The Incandescent Face and The Winged-eye Look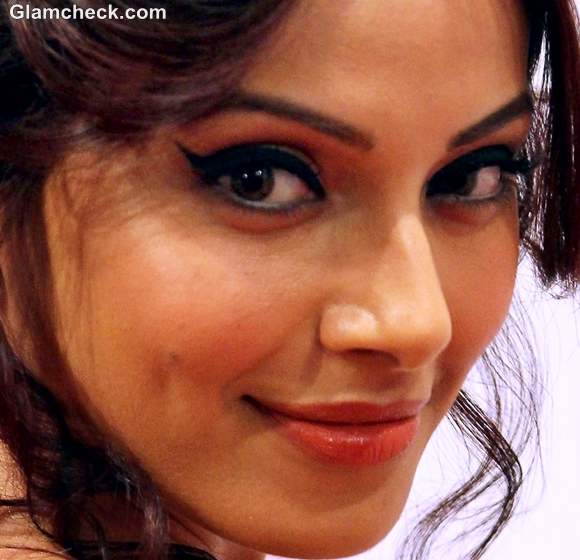 Bipasha Basu makeup winged eyeliner
Cleanse tone and moisturize your face. We always tell you to follow this regime religiously to have a healthy, glowing skin
Be very careful of the products you choose. Test the products on your skin before buying them
Always go for reputed brands that don't use animals for experiments; support brands that are animal-friendly
Now, start with the primer. Apply it well on your face to wipe out the blemishes
Foundation is the next step after the base primer. Blend it well on your skin and use your finger tips for smoothness
A compact can be used to blend the foundation on your skin
Use a thick brush while applying your blush. Apply a pink or peach blush on your skin, according to your skin type
Use a white liner to line the inner lid so that, your eyes seem big and beautiful
Now, use a thin line of kohl to rim the lower lid
A thick black liner should be used to give a winged effect to your eyes
Be careful of the shape you give to your eyes. Do it with steady hands
Apply a light peach eye-shadow on your eye-lids. Blend it well
Mascara is essential for long lashes. Wear at-least two coats for thick and long lashes
Line your lips with a coral lip-liner and wear the same shade of lip color
A coat of transparent gloss will complete your look
Care to show the world your true beauty? Then, follow these beauty guidelines and look like a Grecian Goddess like Bipasha Basu. And do not forget to sport that gorgeous smile! The world will be on their knees to carry you to the clouds. Have a happy day dressing-up in style!
Indian Photo Agency