Basant Panchami, also written as Vasant Panchami, is an important Hindu festival. It falls on the fifth day (panchami literally means fifth day) of the month of Magha or Magh according to the Hindu calendar which corresponds to January or February in the regular English calendar. Vasant means spring, and as you may have guessed by now this festival heralds the coming of the most widely-loved season of the year. In 2014, Basant Panchami falls on February 4.
Why Basant Panchami is Celebrated
Many Indian festivals are celebrations of certain gods and goddesses, and Basant Panchami is no different. The festival celebrates the birth of Saraswati – the goddess of art, music, culture and knowledge.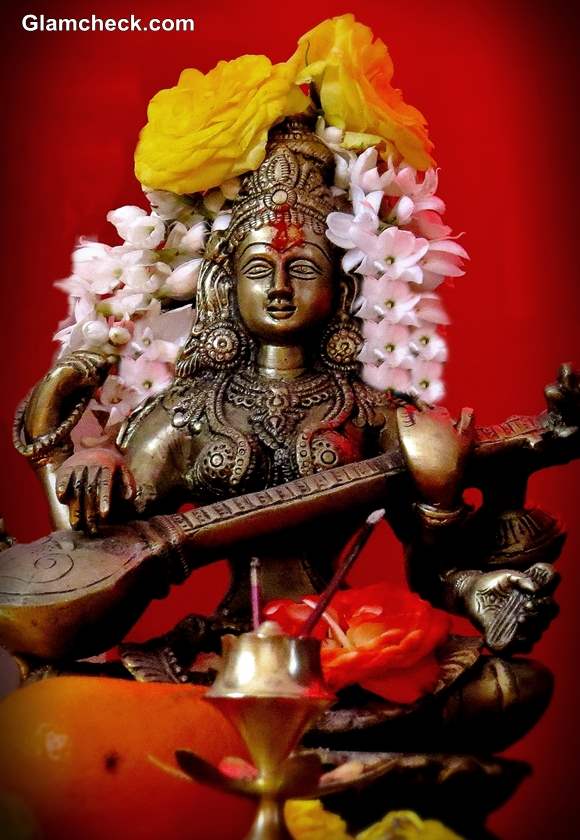 Maa Saraswati Puja on Basant Panchami
As with many festivals, there are stories behind this one too. The most popular one goes that the great poet Kalidasa tricked a princess into marrying him. But when she discovered that he was stupid, she threw him out. Feeling dejected, he thought of committing suicide and to that end went to the river Saraswati. There, the goddess herself appeared and told him to enter the river. Following the goddess' advice, he submerged himself in the water and emerged a wise and knowledgeable man. He then began to write the poetry that he is widely known for today.
The festival heralds the advent of spring, which is a good time for farmers. That's why this is such an important festival for farmers in North India. They perform several rituals for Saraswati and pray for a good crop.
Education
Since Saraswati is seen as the goddess of learning, the festival is seen as the perfect day to initiate reading and writing among the very young. However, those who are already students refrain from studying on Basant Panchami. Also, educational institutes or schools choose to either break ground for foundations or launch on this day. It is also common for schools and colleges to perform a small puja.
Clothes Worn on Basant Panchami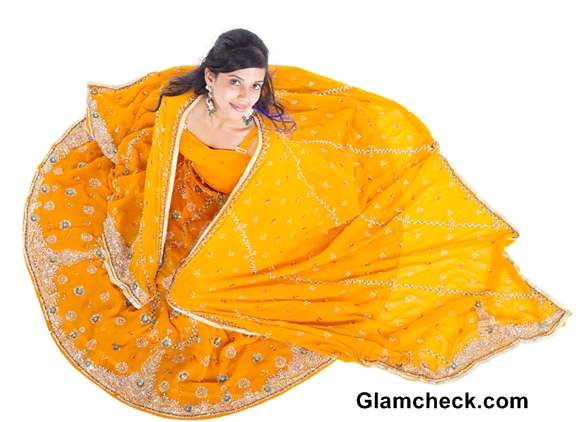 Basant Panchami
White is supposed to be the color of goddess Saraswati while yellow represents rich fields of mustard flowers. So men, women and children will dress in white or yellow clothes and even dress the idols of Hindu goddesses in white. White may not be worn all day long but it is worn during the puja or worship.
Food and Sweets
No Indian festival is complete without its food and sweets. Many of the delicacies prepared on this day are generously distributed to family, friends and neighbours after making an offering to the goddess, of course. Interestingly, most of the sweets are yellow in color as a dedication to the festival. A special sweet rice dish is prepared which is colored yellow with saffron.
Kite flying
Spring is associated with many positive feelings – play, fun, frolic, hope and general bonhomie being just a few. Flying kites is an activity strongly associated with Basant Panchami because it is a representation of all those happy feelings. The flying of kites in North India in particular is quite a sight and is even a tourist attraction.
Other rituals associated with Basant Panchami
Ancestor worship
Lunching with or making offerings to Brahmins 
Image: Shutterstock, Glamcheck