Glamcheck brings you two traditional looks to try this Durga Puja for our male brigade.We wouldn't leave you guys behind! We at Glamcheck have surveyed the streets and designers to bring you the latest in fashion this festive season.
Durga Puja is a celebration where you can spend time with your family and friends checking out the pandals and Goddess Durga's idols. They make some very creative pandals in West Bengal, I must say! The whole ambience is magical. You should visit Kolkata during this special festival. You will experience something very new and would love it too!
Aristocratic Male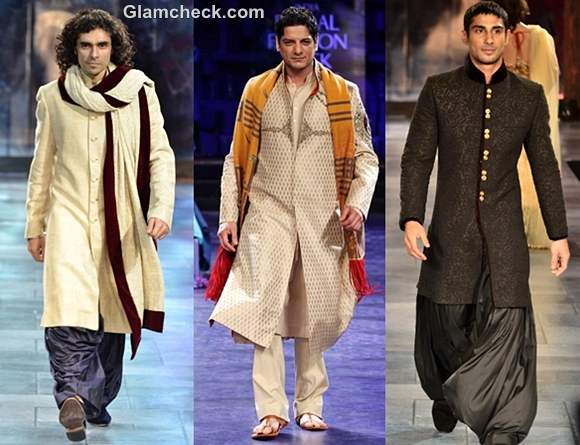 Traditional suits for men Durga Puja 2012 Indian Festival
The royal vibes that would emit from the brocade sherwani you will be wearing for the Ashtami evening will take you a notch higher in style. Narendra Kumar, Shantanu & Nikhil, and Manish Malhotra are all vouching for the baroque look in Indian Menswear. Rich brocades, bandhgalas and dhoti-styled pyjamas are seen across the ramps.
Ways to Wear the Aristocratic Male look:
Choose a bandhgala brocade kurta in colours like off-white, midnight blue, magenta, ochre yellow, coal grey or maroon
Well-fitted clothing will see you through the evening looking gallant and stylish
Pair the kurta with a dhoti-styled pyjamas. There has to be a lot of fabric fro the dhoti pyjama. The crotch will preferrably be lower and will be easy to wear
Carry an embroidered shawl or men's stole for that royal aura. Look at the picture above (extreme left). Imtiaz Ali carries off the sherwani really well
You may choose a pipe-edged kurta where piping will be done at the lapel edges and hem to give a striking look to the garment
 Wear embroidered or velvet Nagra shoes with this look
Tip: You will love the opulent vibes that your look will emit. Gold buttons on the cuffs and front flap will simply up your style quotient by three-folds. Wear that strong attitude and groove the night away!
The Impressive Host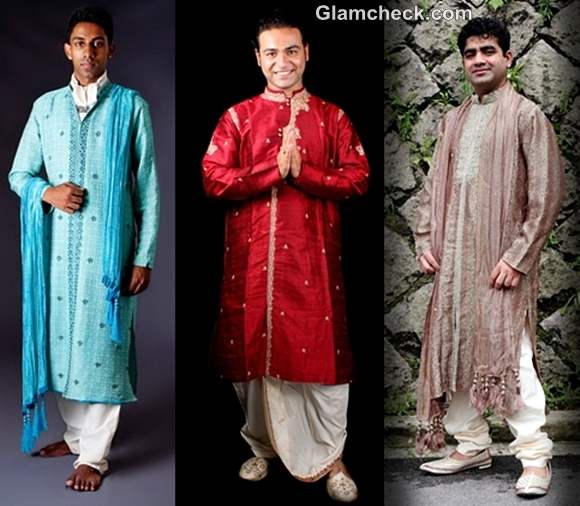 Traditional Menswear Looks for Durga Puja 2012 
Hosting Durga Puja at your ancestral home where generations have been spending the Puja days valiantly serving the Goddess and guests alike can be a daunting task. Glamcheck provides you with some amazing options to spruce up your puja look. Printed, embroidered, two-toned kurtas are all the rage this season.
Ways to Sport the Impressive Host look:
Wear a printed matka silk kurta with embroidered panels fitted to the hem
Choose a Bengali style ( Fatua) neckline, see the picture above (centre)
Wear a pre-draped cotton dhoti underneath
Pair your ensemble with kohlapuris for traditionality
Look for rich colours like maroon, violet, ink-blue or sober colours like beige, grey and off-white
Tip: Groom yourself well for the Durga Puja. A bit of face clean-up won't do any harm. A bright face and an engaging smile will take you miles away from stress and will make you happier. Enjoy the festival with family and friends as this comes only once a year.
We at Glamcheck understand your valuable 'chuttis'. So, make the most of it.
We wish you a very happy Durga Puja
Indian Photo Agency, IANS