We loved the styling of Bollywood actress Kareena Kapoor's look recently. Her hair and makeup were immaculate and just right for the red carpet event she was attending, but the reason we fell in love with it was because it could just as easily be sported anywhere else.
Elegant Everyday Twisted Bun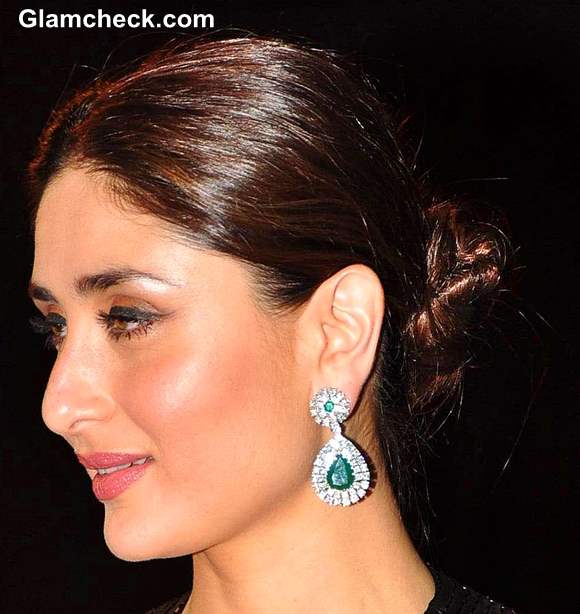 Kareena Kapoor's twisted bun hairstyle 2013
How many times have you stood in front of the mirror in the morning wondering how to do up your hair for the day? If you're like most people, then we can safely guess that that's a pretty common occurrence. If you can get the hang of a few basic hairstyles, you can be on the go in a jiffy and looking stylish all the way. Kareena's was precisely such a hairstyle.
Her highlighted tresses were swept back to the nape of her neck and simply twisted into a bun that sat low on her head, out of her way, while still contributing oodles to the look.
How to
This is one of the simplest hairstyles to create, although it looks all fancy.
Sweep all your hair to the nape of your neck and tie it off into a ponytail with a transparent rubber band.

Twist that ponytail over and over till you come to the end of it.

Now wrap that twisted ponytail into a bun.

Use bobby pins to secure it into place.
Versatile Makeup Look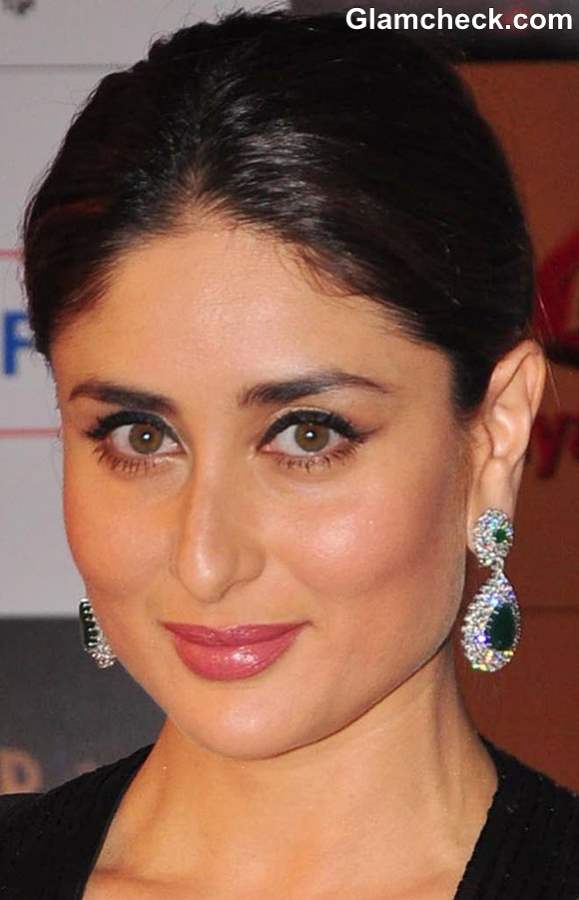 Kareena Kapoor 2013 Makeup Tutorial
Kareena's cheeks held a hint of color. The two points of focus were her eyes and lips, but not in so dramatic a way that they overwhelmed each other or fought for attention.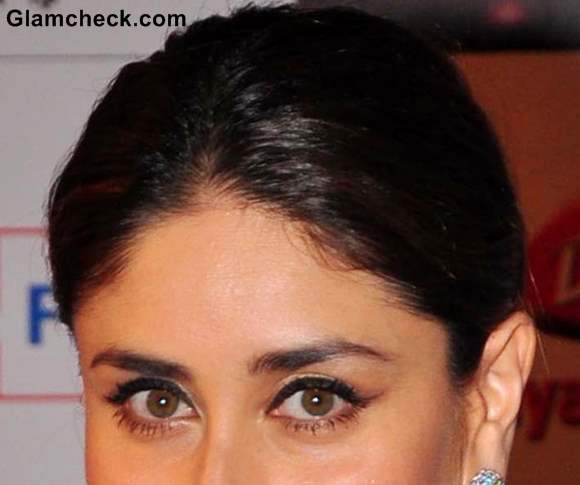 Kareena Kapoor winged eye makeup 2013
She accentuated her peepers with eye liner only on the upper lid, which made its way into a very subtle cat's eye sweep. She completed her look with a pretty pink lippie.
How-to
Apply your moisturizer, primer and concealer so that you have a clean base to work on.

To get the perfect winged look, you should start by applying your liner (preferably a liquid one) as close to your lashes as you possibly can. That way, you can build on it with another application and another one till you get the thickness you desire.

Start on the inner corner of your eye and gently sweep your brush all the way to the outer corner in one smooth flow, allowing your brush to go just a little beyond the end of your eye for the cat's sweep.

Repeat with the other eye.

Compare to make sure that the cat's eye sweep is of the same length on both eyes.

Finish off with your look with a pink lipstick that suits your skin tone, one that is two shades darker than your natural lip color.
How to Sport The Look
Kareena's look is so simple to create and such an elegant one that it is bound to become your go-to for many occasions. What's more, it's actually designed to suit several looks too. It is, in fact, even suitable for daily wear. Whether you're hopping over to the mall for a shopping spree or to hang out with friends, rushing to work or decking up for a formal do, this hair and makeup look will round off your ensemble perfectly.
Indian Photo Agency