The festival of Nag Panchami falls on the fifth day after Amavasya (new moon) in the month of Shravan according to the Hindu calendar, which is around July or August by the Roman calendar.
Nag Panchami in 2013 – August 11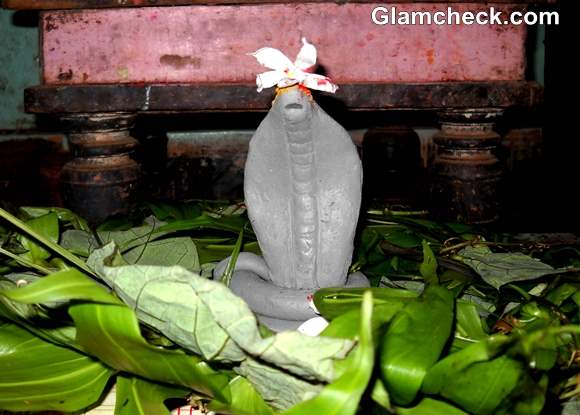 Indian Festivals – Nag Panchami
Nag means snake and Panchami means fifth. So Nag Panchami is literally, you guessed it, a festival dedicated entirely to the worship of snakes on the fifth day after the new moon.
Nag Panchami is celebrated widely in India as well as in Nepal. Like many Hindu festivals, Nag Panchami too has a rich cultural story behind it, more than one, in fact. The most popular is one about Lord Krishna (a Hindu god). The story goes that several deaths were occurring in and along the Yamuna river (in India) and no one knew why. One day, Lord Krishna went into the Yamuna and killed the nag called Kaliya who was responsible for the deaths. And that day is marked each year on Nag Panchami to celebrate the death of evil.
Another popular story revolves around a large lake which was drained as people started settling down around it. This made the snakes living there very angry. For revenge, they prevented it from raining for many months (they controlled the rain). Of course, this led to a severe drought. The King of that land asked priests to appease the snakes so that it could rain again. The serpents agreed, and the king then declared that from that day on the fifth day after the new moon in the holy month of Shravan would be dedicated to the worship of snakes.
How Nag Panchami is celebrated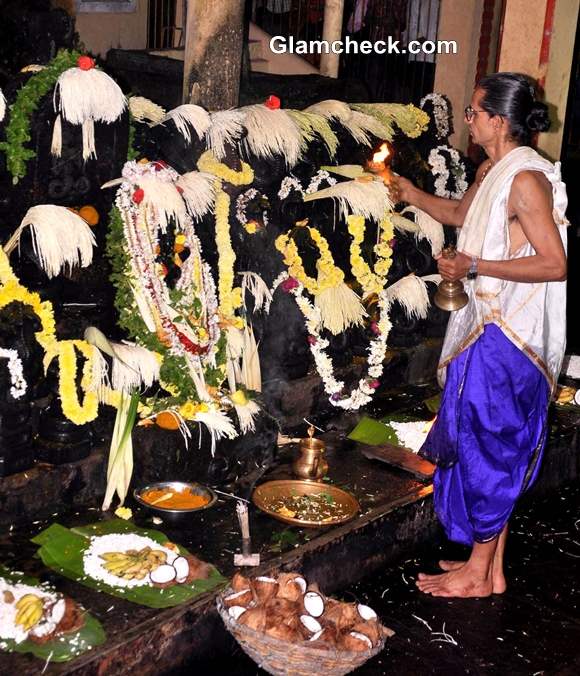 Nag Panchami 2014 Indian Festival
Indian festivals are a blessing for modern times. Because the whole country is working so much and living away from family, the festival is an excuse (like all Indian festivals) to visit family, celebrate with family and basically get back to the things that really matter in life – family, fun, food and prayer.
That being said, Nag Panchami is actually a pretty female-oriented festival. Married women wake up earlier than usual, have a bath and dress in new clothes. The clothes are not elaborate, just regular cotton saris but really colorful ones. Although new clothes are bought for Nag Panchami, the only requirement is that the clothes should be clean.
That is followed by a puja for the snake. Now the location of this puja will differ from place to place. In some villages, people will actually go out and look for snakes beforehand and bring them home where they will be put in a safe place until the day of the festival. Then on the morning of Nag Panchami, the puja is performed before the snake after which it is set free. However, animal rights activists campaign against this method of 'worship' as it can be quite disorienting for the snake. So it is not that common anymore.
Rather, pujas are performed near an ant hill (considered the home of the snake). But again, this too is only possible only in rural or semi-urban areas where there is some sort of natural landscape left which has not been grazed to the ground by construction or other forms of 'progress'.
The most common place to do the puja is in a temple that is devoted to snakes.
If there is no access to a temple or the outdoors, then the puja is done in front of the image of a snake or a snake head made of silver.
A part of the puja involves pouring milk over the image of the snake. The same is done in temples and at ant hills or mounds where snakes are known to live. Sometimes, a bowl of milk is left for the snake to drink.
After the puja, it is common for married women to pay a visit to their parents' homes where it is very likely that the extended family will have gathered. The day is spent with family, usually chatting, making an endless array of laddus (sweet balls made of jiggery/sugar and another ingredient like peanuts, semolina, dates, gram flour, etc) and eating.
A rather fun ritual of this day is that women get to swing on trees. No, not like Tarzan. Big ropes are tied from the branches of trees to create makeshift swings which married women will take turns swinging from. Again, this is not so common in cities where the main issue is finding a tree in the first place!
As with many festivals, there are certain things that are followed only if you want to but are not a compulsory part of the holiday.
Fasting is common on Nag Panchami, although it will be more of a partial fasting like having just one meal in the day instead of three or eating only once the sun has gone down or avoiding certain types of food (fried dishes, for example). 

Speaking of fried, some people will not even put a frying pan on the stove on Nag Panchami.

In some South Indian families, they avoid food which requires the use of a knife.

Sweets form a huge part of Nag Panchami. The laddus mentioned earlier are just a fraction of the sweetmeats that are made on this day.

Some women will apply mehendi on their hands for the festival. However, it is done a day or two before for the sake of convenience.

An image of a snake is put up on the top of the front door frame. This is thought to prevent evil from coming into the house.

In modern times, it is common for fairs and fetes to be organised on Nag Panchami, usually near the temples where the snakes are worshipped so that you can go do your puja and then join in the celebrations with other worshippers. These fairs are usually attended by the entire family.

In recent years, several charities for young girls and children will hold campaigns on this day to spread awareness of the issues faced by them. The rallies or sit-ins are peaceful.
Image: Indian Photo Agency