The shoot for Ali Abbas Zaffar's Gunday has been scheduled for West Bengalwhere the two stars were spotted recently. Priyanka Chopra was seen in a blue cotton sari looking as lovely as ever. She waved to the crowd who had gathered in large numbers outside the shooting arena to have a glimpse of her.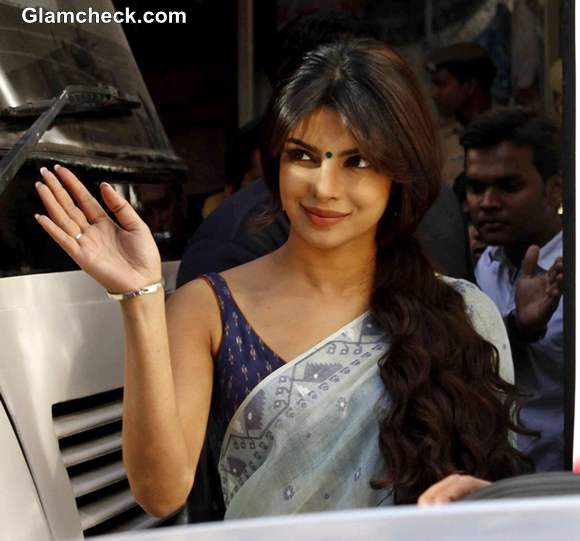 Priyanka Chopra 'Gunday' 2013 movie
Priyanka displayed a girl-next-door charm in the sari look. The violet sleeveless blouse paired with the pastel blue sari looked apt on the village belle character that she portrayed. Her hair was styled voluminously and curled at the edge. A green bindi and a gold bangle completed her look for the shoot.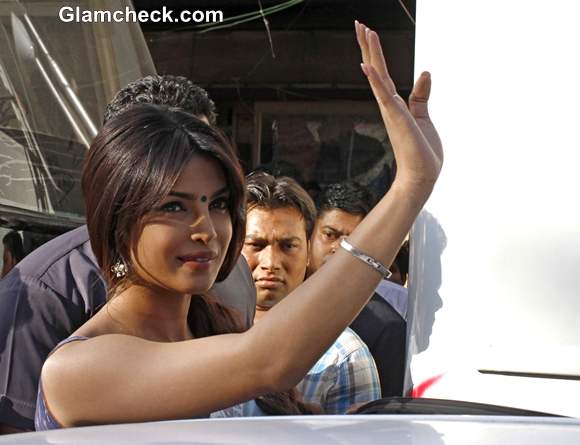 Priyanka Chopra in Gunday 2013 movie
Her makeup was as simple and subtle as the lady herself. A flawless face with minimal makeup to suit the character was done on her. A pink pout was complimented with a swipe of a black liner on her eyes. So simple and beautiful!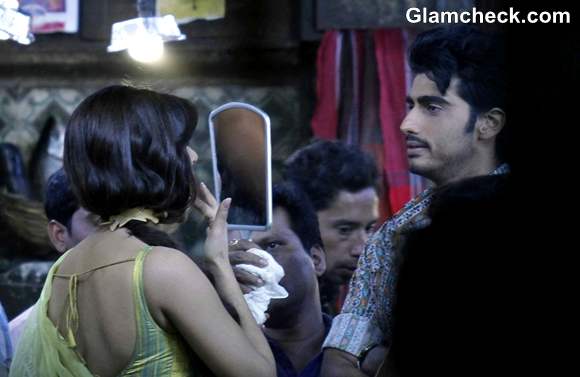 Priyanka Chopra & Arjun Kapoor Shoot For Gunday
Arjun Kapoor, on the other hand wore a printed cotton shirt and stared into the mirror, probably thinking about his next scene. The character portrayed by Arjun is that of a coal mafia who rises from the streets committing petty crimes. After a wonderful show of his acting prowess in Ishqzaade, we expect a lot from this actor. We are sure he won't disappoint us!
The film also stars Irrfan Khan and Ranveer Singh in lead roles.
IANS