Diwali- the festival of lights has come with much fervor and joy. It is the festival that Indians look forward to. Diyas are lit all across the house to celebrate Diwali. It has its own cultural significance and dates back to the era of Ramayan. Glamcheck wants you to look your best so, we have assembled a few looks for you to try out this Diwali.
Graceful Aarti Look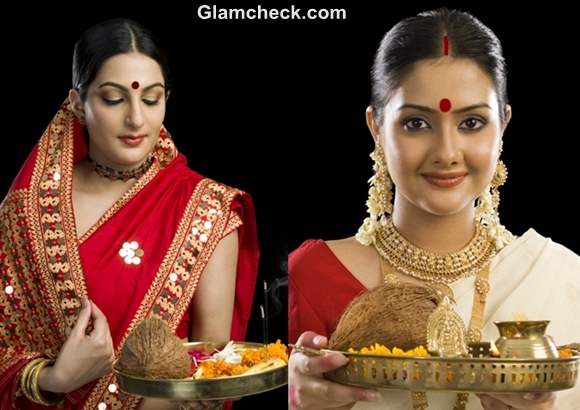 Hairstyle & Makeup for Diwali Puja 2012
The puja thali in your hand and a beautiful smile on your lips will make the puja experience better for you and your family.
Tips to Have the Graceful Aarti Look:
The large red bindi forms a part of the Indian culture. Wear the bindi with your traditional attire
Adorn yourself with jewellery like gold chokers and jhumkas. You are definitely not stacking your gold for wearing them at a better occasion, are you?
A morning fresh face looks so beautiful. Just a touch of kohl on that lovely eyes and matte reddish lips will complete your look
Wear a sweet smelling gajra on your hair to spread fragrance wherever you go
Your neat bun will keep your hair away from your shoulders. And help you in the puja preparations
Celebration Look
Diwali Hairstyle &  Makeup 
Diwali is a festival where you celebrate with your friends and family. There is always a get-together at your relative's place and there is, of course, exchange of gifts. So, this is the look you should sport.
Tips to Have the Celebration Look:
The embroidered sari or the embellished Anarkali deserves a few compliments. The maang-tika is a great way to focus the attention your face
Define your eyes with mascara and liner
A shade of plum or peach eye-shadow can be paired with a matte lipstick of the same shade
Complete your look with a stylish chignon
Watch the VIDEO – 3 Glamorous Hairstyles for Diwali
Chic Madame Look
This look is a Sabyasachi classic. The mid-parted hair gives classiness to a sari look. This look should be tried for a dinner with your loved ones.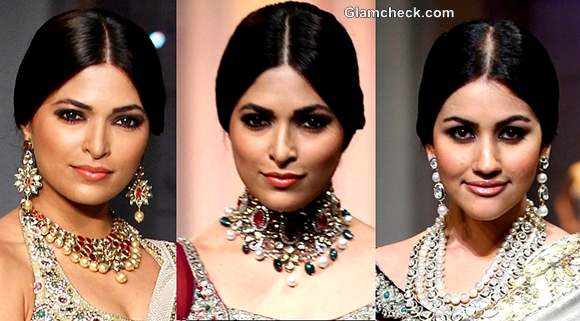 Diwali Hairstyle & Makeup –  Beauty Looks
Tips to Have the Chic Madame Look:
A mid-parted hair adds strength and keeps you apart from the crowd
Bold brows adds definition to the face
Use kohl to rim your eyes
Add mascara to lengthen your lashes
A smoky eye will definitely up your style quotient
Bejewelled danglers and neckpieces does glamorize any ensemble
Your pout will love some colour. Colour your lips with the season's hottest colours and see the difference
Glamour Personified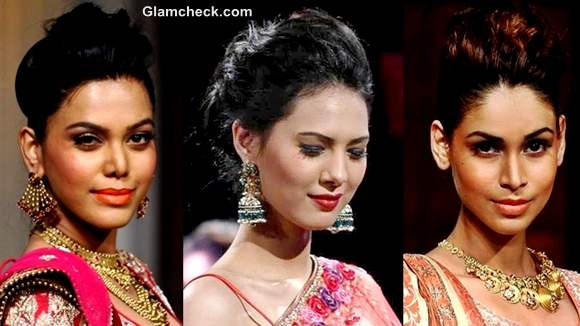 Diwali Hairstyle & Makeup with saree Or lehenga
Glamor is something you cannot escape especially with the season of festivities. Designers have more than made up for the lack of fabulous traditional ensembles in the market. Wear a gorgeous designer sari or that coveted lehenga to look like a glamazon. You can sport this look on your Diwali night.
Tips to Look Glamorous:
The rich-hued lipstick in matte confers sensuality. Wear one in peach, crimson or plum and see the girls turn their eyes with envy
A pink blush on your cheeks or a bronzer will highlight your face
Wear jhumkas or a statement neckpiece along with bangles to jazz up your look
A chignon adds glamour. Tie your hair in a chignon and become the talk of the town
You can sport statement pieces on your ears and neck. Wear a gorgeous jhumka or a gold statement neck piece to adorn your look.
Eye-Magic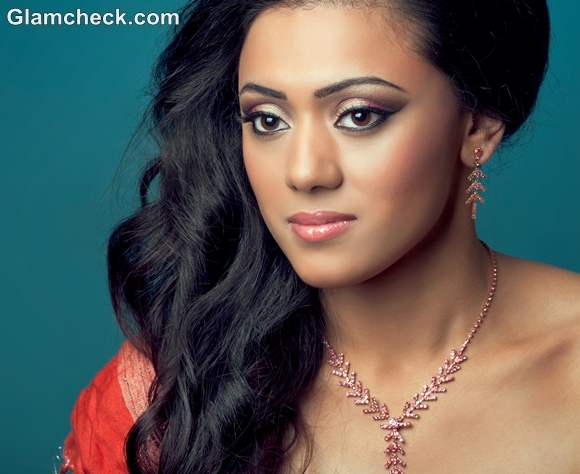 Diwali glamorous Hairstyle &  Makeup

The sultry eyes can be achieved with a few simple steps. Just add a bit of blush and highlighter to your face along with a glossy pout. This look can never fail you no matter what!
Tips to Have the Eye-Magic Look:
Define your eyes with a liner. Line your upper lid and wing it outwards just like the picture above
Line your lower lid too the same way and merge it with the wing
Apply a metallic shadow on your lids. You can mix two shadows simultaneously
And you are done with the Eye-Magic look
Side sweep your locks and burn the place with your style!
Looks for Young Unmarried Girls
Side-swept Expressions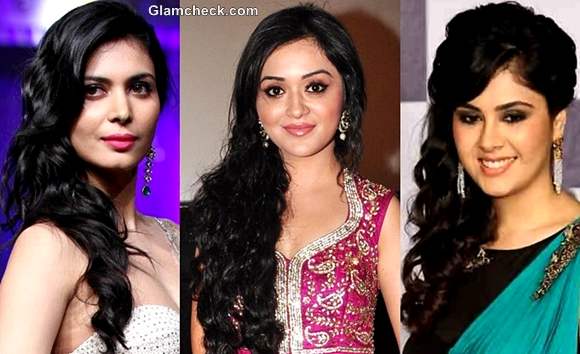 Diwali Hairstyle & Makeup with Anarkali Dress
Express your mane in the well-received hair-do of the season, i.e. Side-swept. Celebrities are endorsing this style so, how can you be far behind.
Tips to have the Side- Swept Expressions look:
Sport this look in the evening with a fresh face and bold eyes
Well washed and conditioned hair and a good blow-dry will let you keep your locks open. Curl the bottom of your hair and keep the them side-swept
Add colour to your lips. Keep it glossy for a better approach
Get a smoky eye with this look and you will be prepared for the evening
A light blush will complete your look
Anarkalis or patialas will take this look forward
In Vogue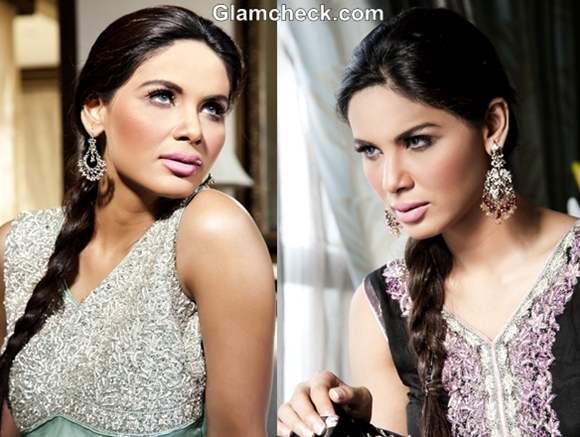 Diwali 2012 Hairstyle &  Makeup for  girls
The braids form a stylish part of your mane as celebs bring this trend on the red carpet as well. Diwalis nights and days are always filled with get-togethers. Your relative or your friend might have that big bash going on at their house. Wear this look and show-off your superb style.
Tips to Have the In Vogue Look:
Braid your hair in French plaits and keep your bangs loose on your forehead
The dewy make-up paired with kohl eyes will beautify your look
Add a pink or peach blush on the apples of your cheeks and top it up with a pink pout
Wear a rose pink eye shadow to cover your lids and define them with kohl
Port this look with traditional Indian attire, like Anarkalis or churidars-kurta
Blush Pink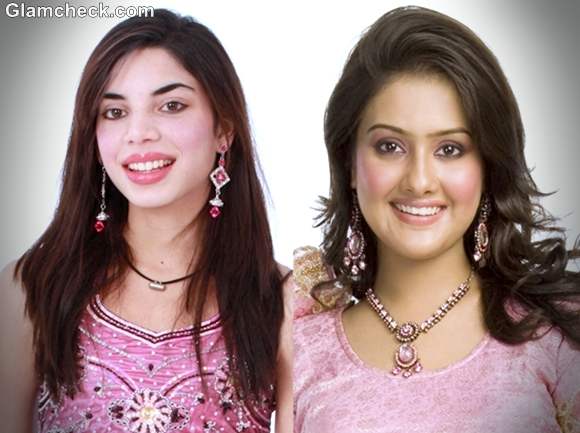 Diwali Makeup & Hairstyle with lehenga 2012
You need to keep your attendance for the puja as well as sneak out with your friends to the nearest adda place for some fun. During that time, this look can come in handy.
Tips to have the Blush Pink Look:
Pink can be your colour code for the Diwali night. Wear a fuchsia Anarkali with a golden brocade border
A lovely shade of pink eye-shadow should be brushed on your lids
Kohl rim your eyes and wear a light pink blush on your cheeks
Neat eye-brows and a clear face will definitely make you feel beautiful
Keep your hair open and get a good blow-dry
Sport this look with lovely light weight lehengas.
Also read a separate article on: Diwali Dressing Tips.
Glamcheck insists you to try on these lovely looks on the auspicious night of Diwali. We are sure you will come out looking like a Diva. We can bet on that!
Indian Photo Agency, IANS, Shutterstock