Bollywood actress Bipasha Basu is one of the most stylish women in the industry, and indeed one of the most fashion-savvy women in the country too. The dusky hottie sported a very trendy messy side braid at an event recently, making her look even more phenomenal than usual.
A side braid is a chic, quick and practical way to look awesome! Learn how to style your hair in this feminine hairstyle and up your trend factor.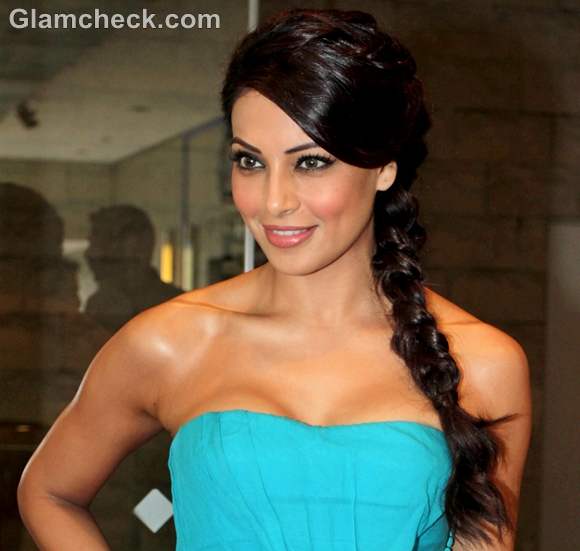 Bipasha Basu Hairstyle : Messy side braid
It may look complicated, but the messy side braid can be accomplished in a few really simple steps. Ready? Here goes.
Sweep all your gorgeous locks over the shoulder that you want the braid on.
Spray on a hair product that is designed to impart texture.
Part the hair on the side opposite to the braid. For example, if you have swept your hair over your right shoulder, make a parting on the left side of your head.
Next, create three sections and make a braid. Remember that this is supposed to be a messy braid so don't worry about getting it all neat and tidy. The more amateurish your efforts, the better. Also ensure that your braid is not too tight. You'll see why in just a bit.
Once done, use an elastic band to tie the end of the braid.
OK, now you have to get your mess on. This can be achieved in a number of ways and different hair stylists will have their own methods. The simplest one is to use your fingers to pick strands out of your braids. What?! Destroy all the hard work you just put into creating that work of art!? Don't worry, it'll look great, we promise. Besides, the idea is more to tease bits of tresses from different parts of the braid to impart a messy look rather than to remove whole sections of your hair. Remove some tresses entirely from the braid, and in some places just pull them out a bit so that it looks like you just got out of bed. This is where the tightness of the braid will matter. If you made a very tight plait you're going to hurt your hair and perhaps even cause breakage.
Finally, spritz on a bit of holding spray.
Voila! Your sexy messy side braid is ready.
Sport your messy side braid at work, to parties, at the movies, or when you're out shopping. Let us know how many compliments you get.
Image: Indian Photo Agency