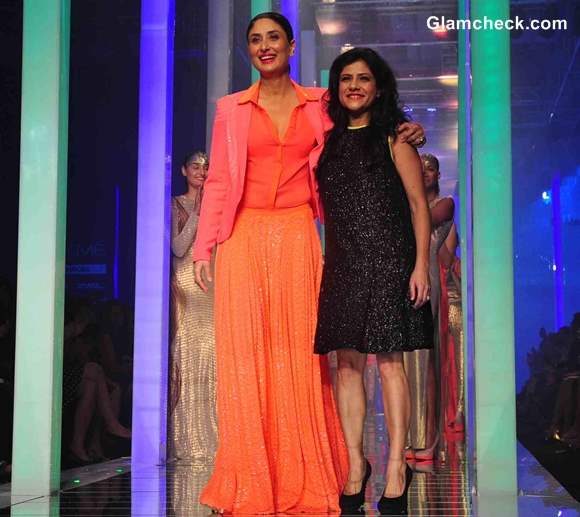 Bollywood actress Kareena Kapoor supported fashion designer Namrata Joshipura by walking the ramp in one of the latter's creations on the last day of the Lakme Fashion Week Summer/Resort 2013, in Mumbai, India on March 26.
Her Look
Resort
What she wore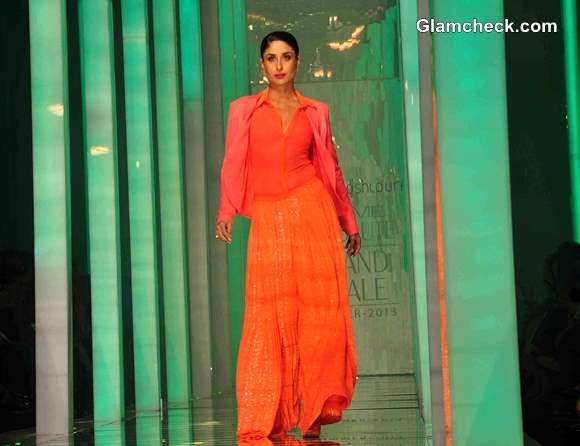 Kareena Kapoor at LFW Summer Resort 2013
Kareena sported a very cool outfit, and looked totally hot while doing it! She wore a pair of sequinned orange palazzo pants that were so flowy that they looked like a lehenga with a modern silhouette.
The relaxed but glitzy bottoms found the perfect mates in an orange-pink shirt and a matching blazer, the latter bringing its own brand of glitter to the runway. A cocktail ring on each hand accessorized the ensemble while a pop of exciting fuchsia lipstick and a slicked-back updo rounded off the look.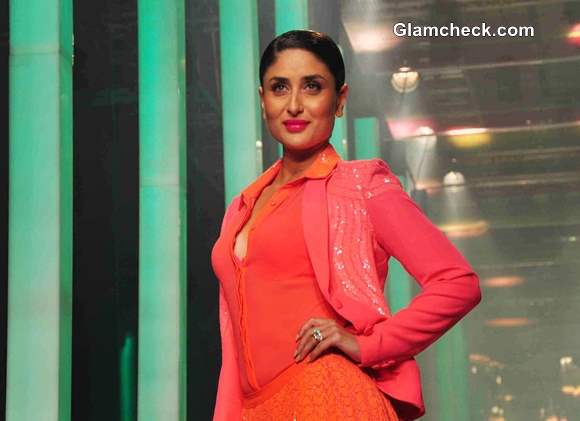 Kareena Kapoor Walks for Namrata Joshipura at LFW Summer Resort 2013
The brunette beauty is simply stunning here! The colors are life-affirming and in-your-face without being garish. We love the strong lip color too!
Namrata's whole collection was as vibrant as the show-stopper, which is uncommon for her since she usually sticks to black. The designer said she wanted to do something different this time; since summer allows for a lot of color and color makes people happy, she was determined to try something new to capture the spirit of the season.
We think she's done a stellar job! Hers was one of the most resplendent and overall cheerful collections of the whole week. It was also a very youthful and fun-loving line with short skirts, stringy tops and flowy dresses alongside more formal attire – all in neon shades of blue, green, pink and orange.
Indian Photo Agency