Many Indian designers are bringing the focus back into the beautiful and versatile saree. It's amazing how much you can play around with your look with just the drape of the saree or with your choice of blouse. Our style inspiration of the day, Amalraj Sengupta shows us why this 9 yard saree should be a wardrobe staple. As seen during the 25th edition of Amazon India Fashion Week, we bring our favorite three looks from the designer's show which was held in New Delhi on March 29, 2015.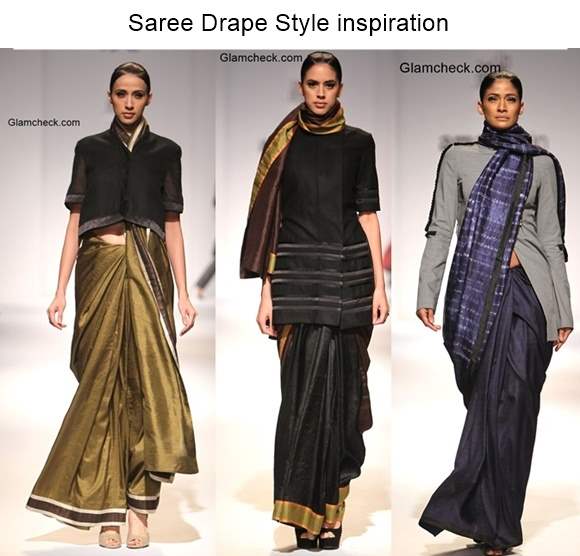 Saree Drape Style inspiration – Amalraj Sengupta collection at Amazon India Fashion Week 2015
Look 1
Here, the designer uses the saree pallu to drape it around the neck much like how one would tie a scarf. A half-sleeve jacket adds futher punch to this no-nonsense look. Try this look for your next corporate meeting instead of the formal suit. Not only do you ooze power but also make along a stunning style statement along the way.

Amazon India Fashion Week 2015 Saree Drape Style inspiration – Amalraj Sengupta
Look 2
This next look is more on the casual, playful side. The pallu of the saree is brought to the front after pulling it around the neck instead of the normal style of letting it fall at the back. A loose crop top is thrown over the saree. It's a young and fresh look which would make quite a fashion statement. Imagine this with a colorful or fully worked pallu and a complementing sheer crop top, can't get blamed for those compliments, can you?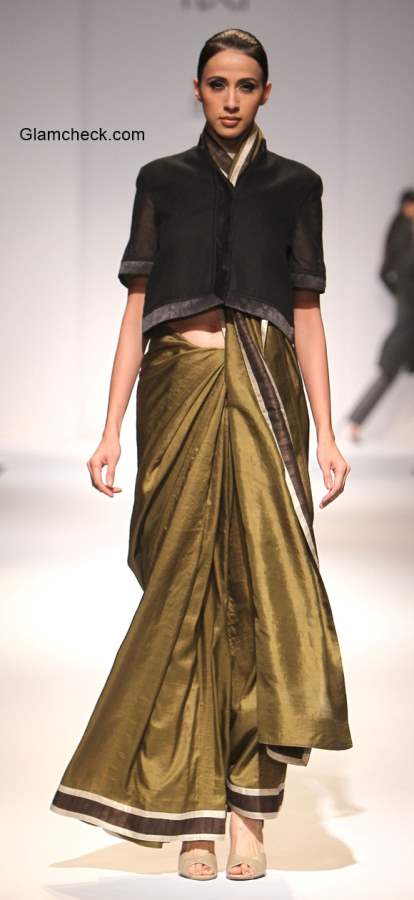 Amazon India Fashion Week 2015 Amalraj Sengupta
Look 3
This look is perfect for the on-the-go modern corporate woman. The designer adds a front buttoned long jacket to go with the saree. For this look, the jacket has to be worn before the saree drape is pulled up so that the jacket lies beneath the pallu. Finally the pallu is pulled over the neck like a scarf. Easy yet so sophisticated, it's a perfect look for an office environment. What's more you can bring on a casual feel just by opting for a slightly edgy and colorful cardigan or jacket.

Saree Drape Style inspiration
What do you say? Are you ready to go saree shopping or better still, pull out your mom's gorgeous vintage sarees?
Solaris Images