Diwali or Deepawali is one of the most auspicious festivals in India. It is celebrated over 5 days -each of which marks an important occasion from Indian mythology and has its own set of rituals. There is a general feel of celebration and harmony all around. This article is a walk-through for each of the 5 days so that you know how to make the most of the occasion and plan accordingly. The following covers everything from Diwali trivia to dressing tips, and rangoli ideas to what sweets to consume during this festival. In short, it is all about the facts, food, fashion, fun and frolic.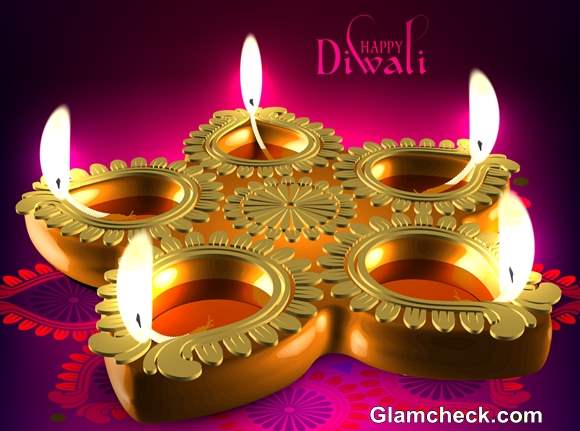 Diwali Celebration Guide
Glamcheck presents to you all that you need to know about Diwali.
Day 1 – Dhanteras
Dhanteras marks the auspicious start of the five days of Diwali festivities. On this day, goddess Lakshmi and Lord Kubera, who are both revered as the goddess and god of wealth respectively in the Hindu pantheon, are worshipped for prosperity and well being. In fact, the word itself is made of two conjoins, Dhan – wealth and Teras – the 13th day according to the Hindu calendar, consequently it is celebrated as the day to worship wealth.
One of the key ways of worshipping on this day includes purchases of precious metals, and therefore it is considered auspicious to buy gold and silver items as well as new utensils. A lamp and tiny diyas are lit in the evening in households to welcome Dhan-Lakshmi and drive away evil spirits. People decorate their houses with colorful and pretty rangoli designs adorned with traditional motifs. Footprints of Lakshmi are drawn with vermilion or rice flour all over the house. This signifies that the goddess is walking all around the place and blessing it. 
Glamcheck has a well prepared Dhanteras shopping list for you so that you don't miss out on any of the fun.
Dhanteras Shopping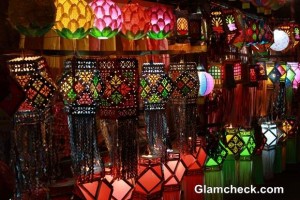 Dhanteras is a day when we can go all out and SHOP. Yes, after all there are not very many
 Day 2 – Choti Diwali
Choti Diwali, literally meaning Small Diwali, is celebrated on the day prior to Diwali. The day is also known as Naraka Chaturdashi and people celebrate it by lighting up their houses and bursting crackers, however on a smaller scale than that done on Diwali. This signifies the riddance of negative and evil energies by brightening the surrounding with light and sound.
Houses are decorated with rangoli and Lakshmi footprints – in fact this goes on till actual Diwali. During the evening, an arati is performed in front of the mandir in the house, and then diyas are placed in the doorways and around the Tulsi plant – if there is one in the house.
We have some interesting rangoli designs and home decorating ideas to help you decorate your house on choti diwali as well as to welcome Diwali the next day.
Diwali Home Decoration Ideas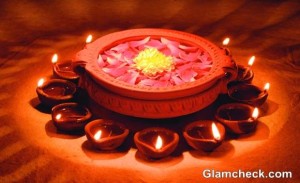 It goes without saying that Diwali – The Festival of Lights, should live up to its name in the way
Day 3 – Diwali Celebration
Diwali is the most revered and celebrated festival in India and also known as the Festival of Light. Nearly the entire country is bathed in light. Most of the houses are decorated with diyas or electric lights – which makes for a wonderful sight. Everyone decorates their home in the best of their capability with rangolis and earthen clay lamps. In fact, neighbours and relatives do their best to outdo each other in terms of rangoli designs. In the evening a puja is performed to worship – Ganesha, the three forms of Lakshmi namely Mahalakshmi, Mahasaraswati, Mahakali, and Kuber. After the puja, there is an elaborate session of bursting crackers and fireworks. There are also exchanges of gifts and sweets.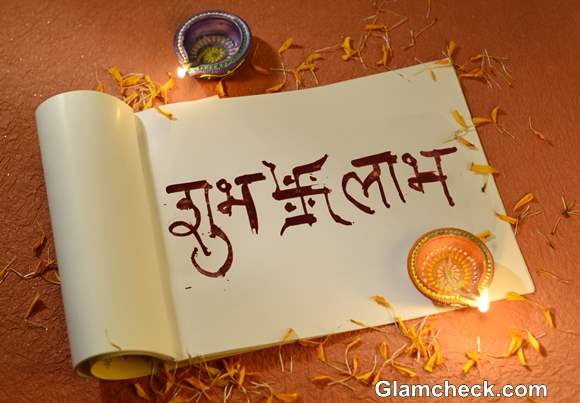 Diwali Celebration
However, Diwali is not only about the puja but also all the wonderful things that we get to do along with. This means new clothes, great food, buying new jewellery as well as scourging around for ideas and things to do up the house with the prettiest rangolis.
So, do you have your list ready for all the Diwali planning that needs to be tackled effortlessly? Because, we agree that inspite of being fun, the "to-shop" and "to-do" list can go really big. This is precisely why we have a list to help you with various ideas so that you can celebrate Diwali with the utmost gusto.
Diwali Fashion:
Well, if you don't know what to wear on Diwali then you wouldn't know what to buy – right? So, here are some great ideas for Diwali clothing. Nothing marks celebration more than wearing new clothes and finery.
Traditional and Modern Looks for Diwali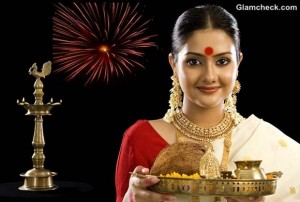 Diwali is celebrated in India with Diyas, sweets and gifts. New dresses are bought   and there is a lot
Diwali Beauty:
Without the right makeup and hairstyle, Diwali would certainly be incomplete. After all, it is the festival of lights, and your face and look should also be bright and glowing with radiance to befit the occasion. Glamcheck has some really nifty beauty tips. 
Hairstyle & Makeup: Beauty Looks For Diwali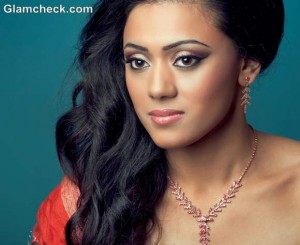 Diwali- the festival of lights has come with much fervor and joy. It is the festival that Indians look
Diwali Food:
What is a festival without food, especially snacks and sweets, and Diwali is quite synonymous with good food. We have a whole list of titbits that you should definitely be trying out and indulging yourself with, during this Diwali. Calorie counting can go out of the window for now!
Tips on How to Serve Indian Snacks
Serving and consuming food is central to Indian culture on many levels.  'Atithi devo bhava' or 'guest is god'
Tips on How to Serve Sweets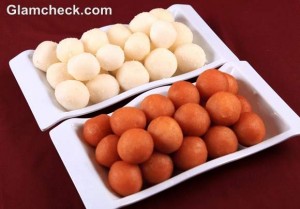 The season of festivities and celebrations is here, as we all prepare ourselves for a merrier time, parties and
Diwali Fun:
The best way to engage in a fun activity during Diwali is making rangolis around the house. So, chit chat away and catch up with your family and relatives while you go about making pretty patterns together. And of course, we have some beautiful rangoli designs for you.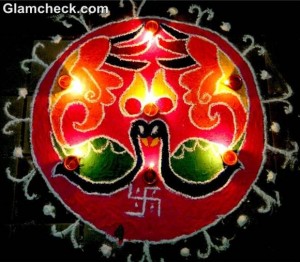 Rangoli Designs for Diwali
Rangoli, alpana, kolam – you may call it by any name, the essence remains the same. These are essentially
Diwali Celebration:
And, while you are at it – do not forget to remind yourselves why this festival is celebrated. It signifies the victory of good over evil, and that is what we all stand for, isn't it?
Diwali – The Indian Festival of Lights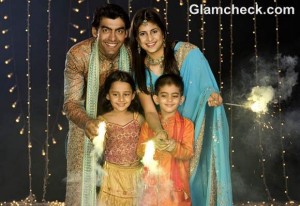 The land of festivals – India celebrates perhaps its brightest and most widely celebrated festival Diwali every year. Celebrated
Day 4 – Govardhan Puja
Govardhan Puja, also known as Annakut, usually falls on the day after Diwali. The day is a celebration of the defeat of God Indra by Lord Krishna.  On this day food items and delicacies made from rice, wheat and other cereals as well as curry and leafy vegetables are offered to Lord Krishna. This festival is celebrated with a lot of zeal and enthusiasm particularly in the Northern part of India.
Day 5 – Bhai Dooj
The fifth and final day of Diwali celebration is called Bhai Dooj. This festival signifies the love between sisters and brothers and is an occasion to celebrate the same.
Sisters put an auspicious tilak made of vermilion on the forehead of their brothers as well as perform an arati in front of them to pray for their long life and protect them against evil forces. The brothers, on their part, shower sisters with lavish goodies and gifts as well as their blessings. 
We have some interesting Bhai Dooj celebration tips and trivia for you.
Bhai Dooj – Festival to pray for ones brother's long life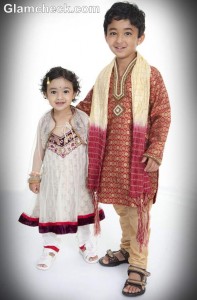 The country of festivals India, celebrates each occasion with great gusto and joie de vivre. On the second day
These 5 days of Diwali bring together family, relatives and friends. Those who live in different corners of the world make it a point to meet at a designated place so that all the near and dear ones can celebrate this beautiful time together. 
Image: Shutterstock