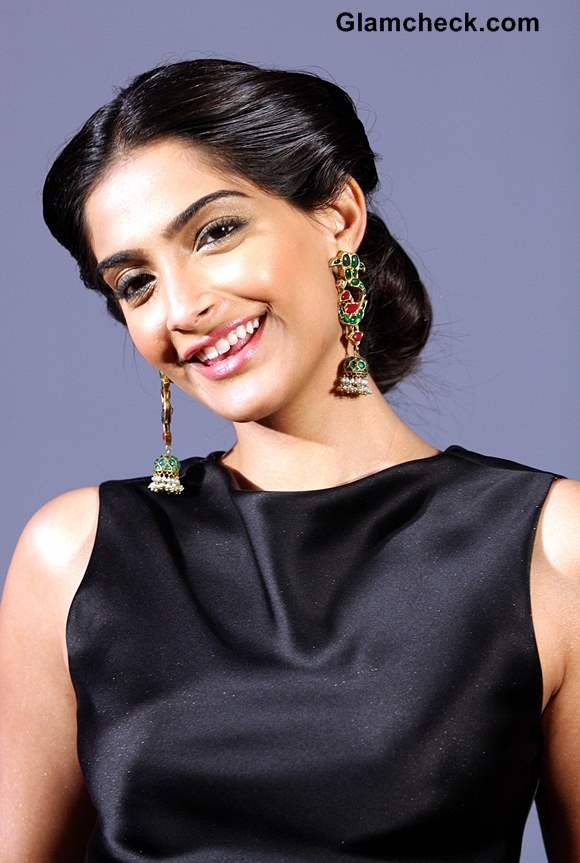 Bollywood actress Sonam Kapoor was recently seen at an event in a playful chic avatar. Her black attire was beautifully contrasted by a pair of Kundan Meena earrings. We really liked the hairstyle and makeup that the trendsetter sported, and bring you simple steps to do it yourself.
DIY: Get Sonam Kapoor's Hairstyle
Sonam Kapoor's sleek chignon has a timeless appeal and can be easily done at home.
Comb your hair well to get rid of all the tangles.
Make a middle parting in your hair.
Now gather the hair on one side and twist the entire section, pinning it at the back of the head. Follow the same step for the other side.
Gather all the hair at your nape and secure with a hair elastic.
Make a chignon. The simplest way to make a chignon would be to twist all your hair together and then swirl it around close to the nape of your neck – a lot like making a bun. Secure in place with bobby pins. You can also try taking individual thick strands, twisting and turning them and holding in place with bobby pins. Do the same with the remaining strands as well. This type of a chignon will give a dressier look.
DIY: Get Sonam Kapoor's Makeup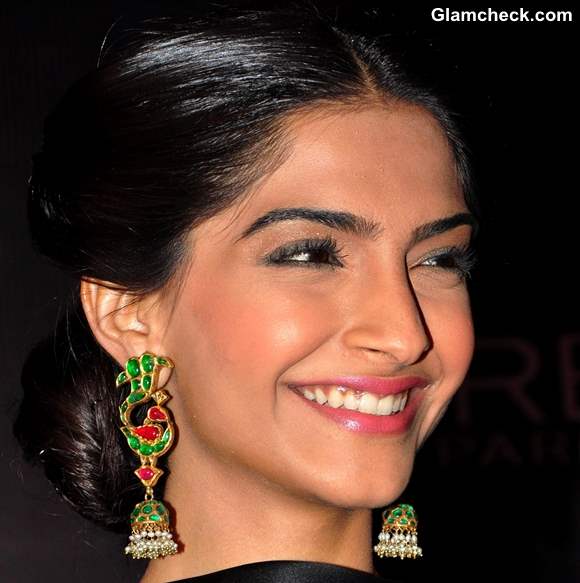 Sonam Kapoor Timeless  Makeup 2013
The makeup has been kept simple. In order to get started you need a good foundation, eye-brow pencil, nude shimmery eye shadow, grey-black eye shadow, nude shimmery eye shadow, kohl, mascara, pink blush and a baby pink lipstick.
Start by preparing your face for makeup by applying the base. Apply the foundation deftly all over your face and neck.
Fill in your eye brows with the eye brow pencil, using light strokes. Take care not to use a heavy hand; the eyebrows will look unnatural then.
Apply the nude shimmery eye shadow all over your upper eyelid.
Next, apply the grey-black eye shadow along the upper lash line and below the lower lash line. Extend it slightly at the corners to give your eyes an elongated look.
Line your upper and lower eye rim with a thin line of kohl.
Finish your eye makeup with 2 coats of mascara.
Apply the blush on the apples of your cheek.
Fill your lips with the baby pink lipstick, and you are done!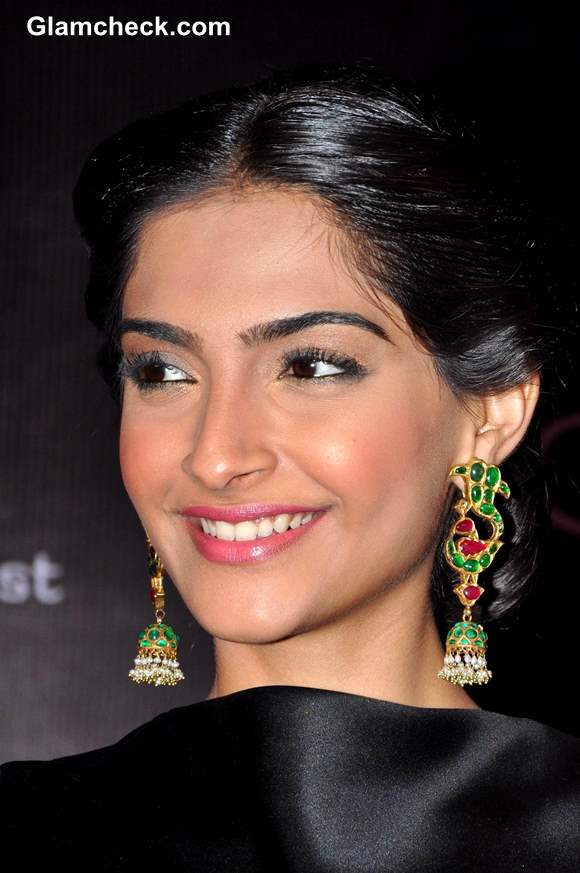 Sonam Kapoor Makeup & Hairstyle  DIY 2013
Achieving Sonam Kapoor's hairstyle and makeup is as easy as this. We hope you have fun while doing it yourself!
Indian Photo Agency