We loved Bollywood actress Sonakshi Sinha's hair and makeup a few days as she promoted her film "Lootera" in a blue sari. She wore her hair in side-swept curls, choosing only eye liner, mascara and a natural pink lippie to round things off. She had sported the same with a Western ensemble some time ago, which proved to us the versatility of the look.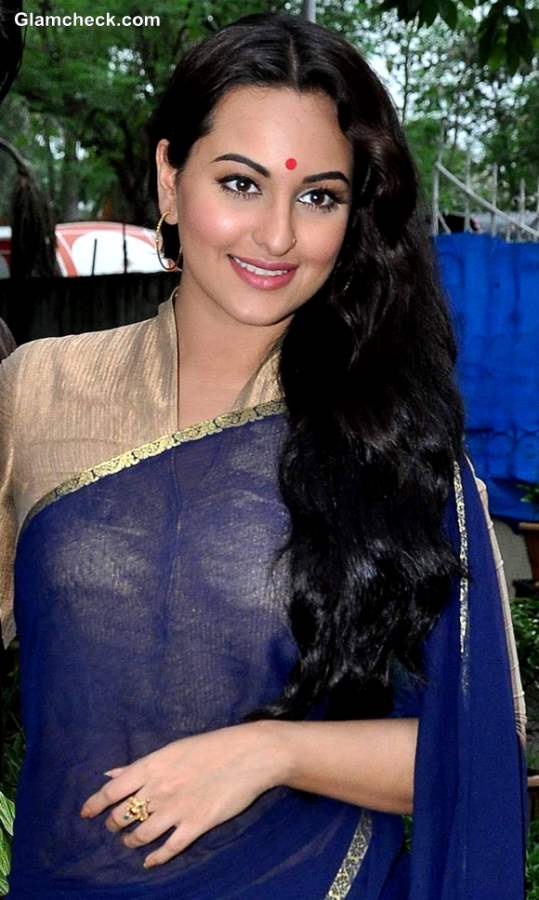 Hair DIY Sonakshi Sinha's Everyday Traditional Indian Look
Let's take a look at how you can go about emulating this laidback, low-maintenance but stylish look.
The Hair
Always work on clean hair to the shiny, glossy look that the celebs sport so effortlessly.
After your bath, while your hair is still damp (but not dripping), part it where you wish and apply a leave-in serum which imparts shine but mainly which holds curls in place.
Blowdry your locks, but not so much that they are fully dry. There should still be a slight dampness to them when you touch them. While blow drying, scrunch your hair in your fist to encourage it to become curly.
With your hands, bring your hair over to one side.
The Makeup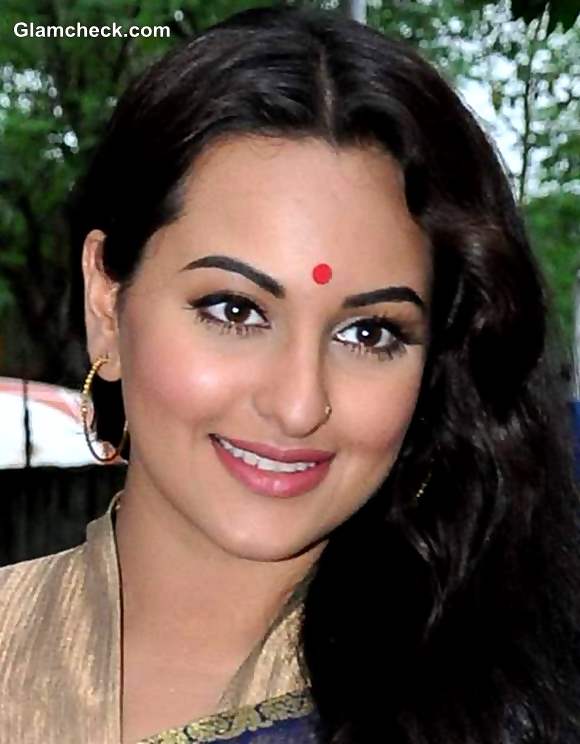 Sonakshi Sinha's Traditional Indian Look – makeup & hairstyle
Sonakshi's flawless skin is the reason this almost-natural everyday look looks so good on her. So it is important to conceal spots and smalls car with a concealer or a light water-based foundation if you need heavier coverage. A primer underneath your foundation can really make a difference.
Next, create a base for your eyes with nude eye shadow a shade darker than your skin tone so that it is barely perceptible except at close range.
Then apply liner thickly on your upper eyelid, and a thinner application on your lower one.
Finally, give your eyes a few swipes with the mascara wand so that they look perky and well-defined.
Lightly dust the slightest bit of blush on the apples of your cheeks.
Complete your look with a natural pink lippie.
Stick on a bindi if you are sporting a traditional ensemble.
IANS