These huge international events are the bomb! We love them solely because we get to see our very own B-town celebs in their Sunday best. Now what could be more satisfying than watching a bevy of beauties make their way down the red carpet in outfits that are designed to make everyone else turn green with envy? Nothing, we tell you.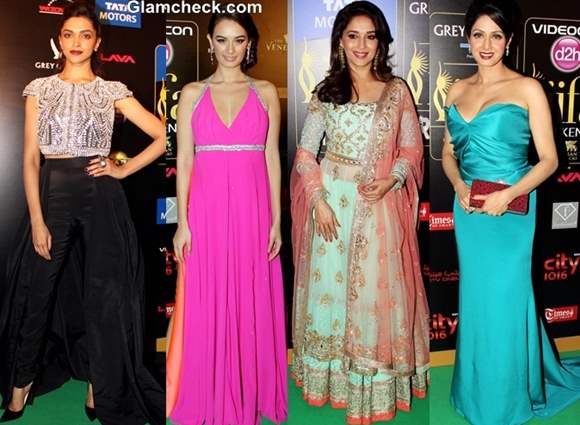 Bollywood Celebs at IIFA Rocks 2013
So without further ado, let's take a dekko at Bollywood's darlings at IIFA Rocks 2013 in Macau, Hong Kong on July 5.
Deepika Padukone was in the running for show-stopper of the evening.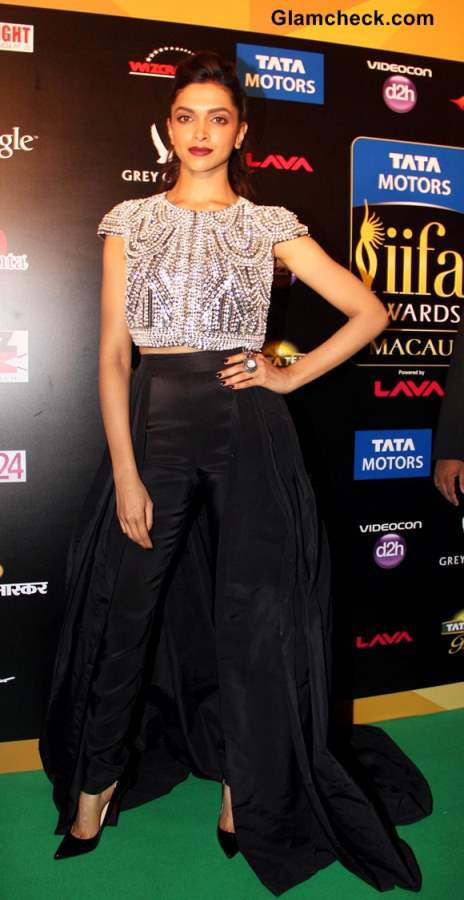 Deepika Padukone at IIFA Rocks 2013
Her half-skirt, half-pants black bottoms vied for attention with her crystal-embellished crop-top, giving her a vibe that seemed natural for her model looks, rockstar demeanour and glamorous persona.
Former beauty queen Dia Mirza looked as sophisticated as always in a shimmering sleeveless black dress that fell to just below her knees.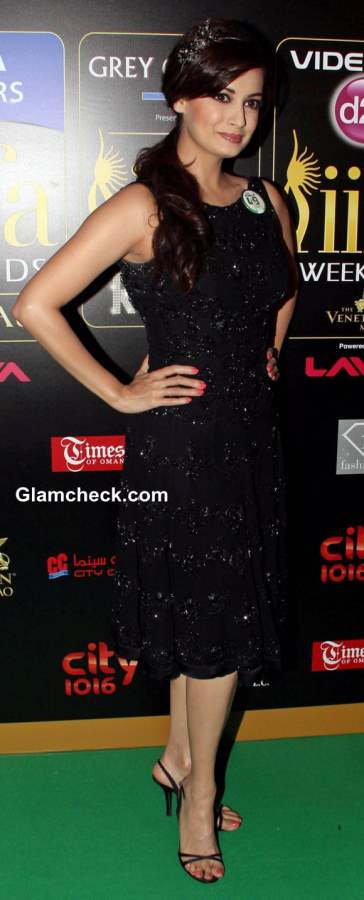 Dia Mirza at IIFA Rocks 2013
Her side-swept ponytail drew the eye to a pretty and understated black headband that gave the look an elegant finish!
Evelyn Sharma dared to be different in a brilliant fuchsia evening gown which featured a silver glittery halter neck and waistline, and peach ruffle detailing on the floor-sweeping skirt which also happened to have a short train.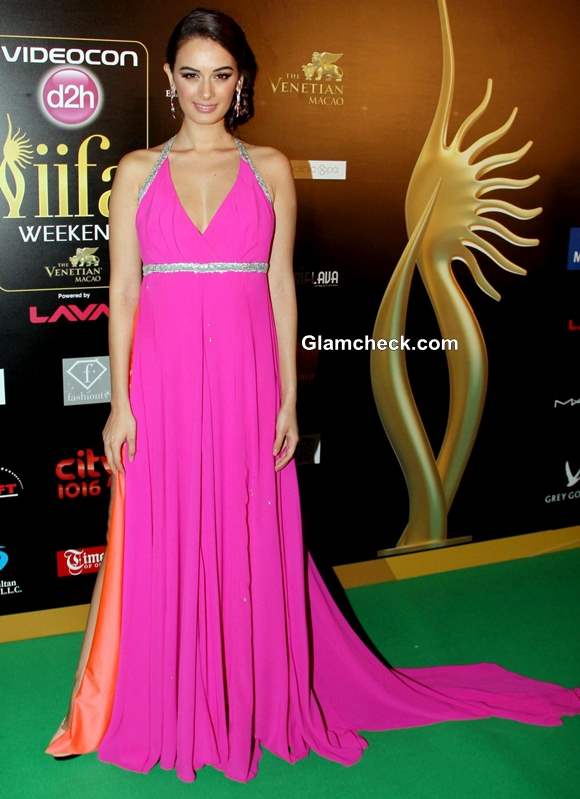 Evelyn Sharma at IIFA Rocks 2013
We love the exuberance and the contemporary feel of this look. Kudos to her for avoiding the safe black-dress look.
Brocade looks out of this world on Indian attire, and we love the detailing on the bodice of Huma Qureshi's lehenga-choli. The gold and copper tones against a black background were stunning, as was the striking red lippie that the curly-haired beauty styled her look with.
Yowza, Jacqueline Fernandez! Oodles of sex appeal brimmed over as this Sri Lankan beauty arrived on the green carpet in a strapless scarlet corset dress with an hour-glass silhouette.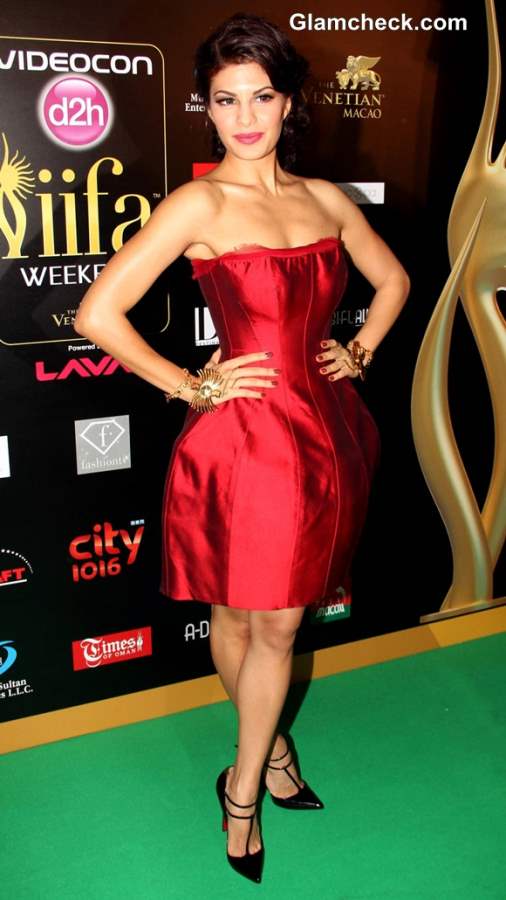 Jacqueline Fernandez at IIFA Rocks 2013
Her black pointy ankle-strap pumps and statement gold bracelets had a slightly dominatrix edge which was nothing less than mind-blowing!
Lisa Haydon took the wild route in an animal print, floor-sweeping evening gown with a thick black belt to emphasize her waist.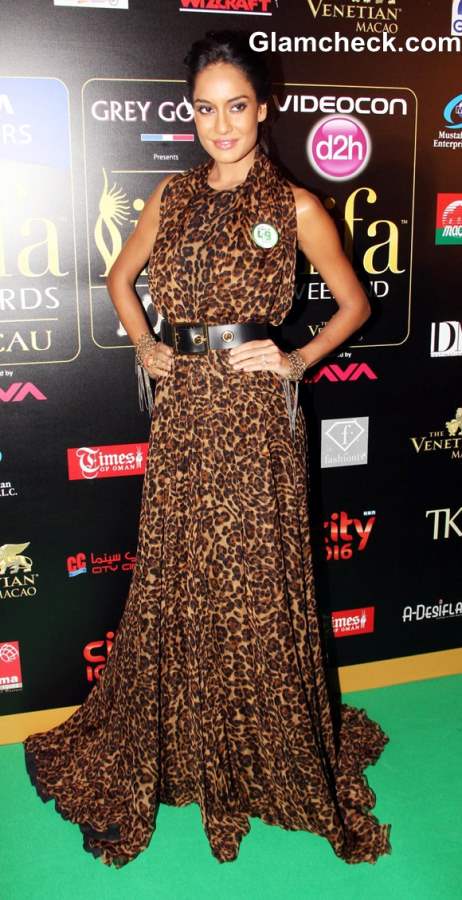 Lisa Haydon at IIFA Rocks 2013
We're huge fans of the print ourselves, but feel that this would have looked better if that neck wasn't so high.
Madhuri Dixit Nene picked a traditional number for the evening. She donned a pale mint green lehenga choli with gold embroidery detailing and peach accents on the hem and dupatta.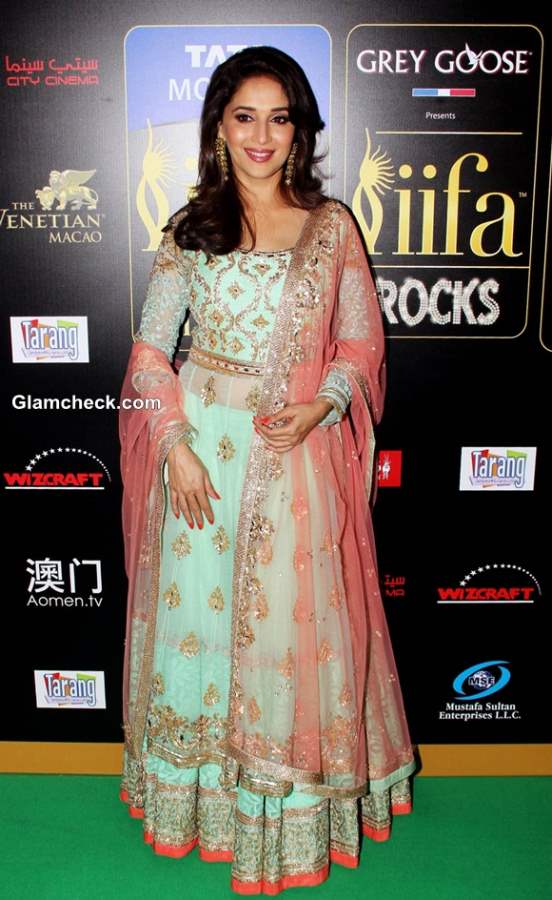 Madhuri Dixit Nene at IIFA Rocks 2013
She wore her hair in loose curls which made her look exactly as heart-breaking as she did over a decade ago.
Minisha Lamba played it safe in a little black dress, although she didn't go simple with her look. Her knee-length number had a sequinned bodice, draped knee-length skirt and a feather detailing.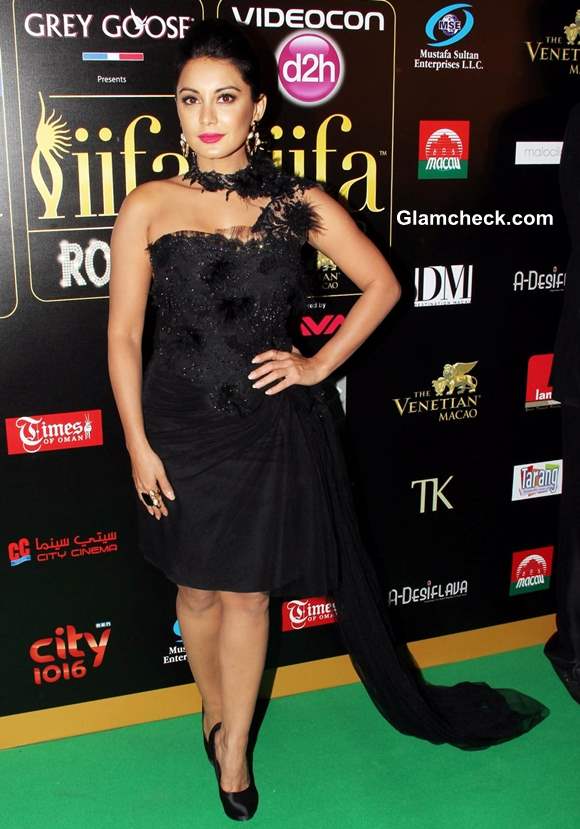 Minisha Lamba at IIFA Rocks 2013
It also boasted what seemed to be a cape which flowed from around her throat to the floor behind her.
Neha Dhupia went with a wonderfully vintage ensemble – a floor-length black dress with sheer lace sleeves and a separate white statement collar.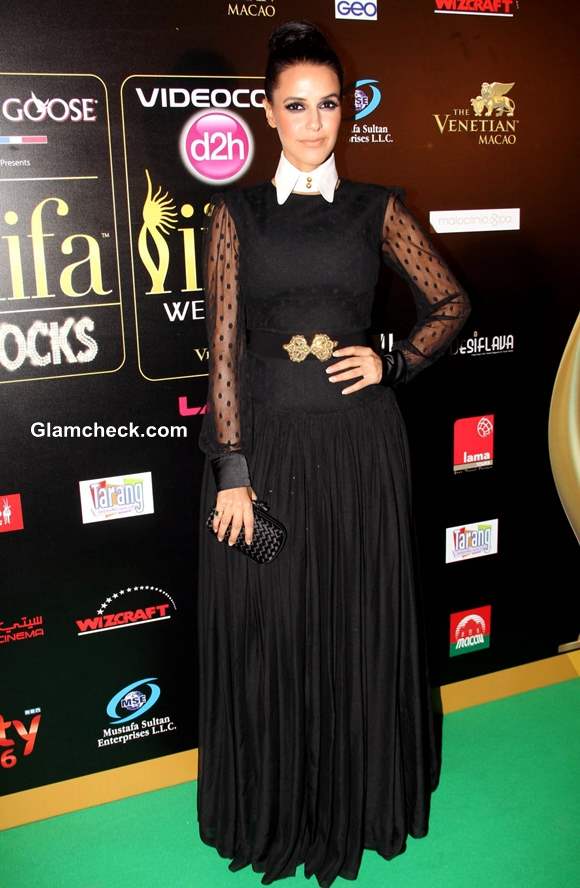 Neha Dhupia at IIFA Rocks 2013
Her neat high updo, smokey eyes and black clutch gave the perfect finish to a look that seemed borrowed straight from a historic Victorian romance novel.
Parineeti Chopra was another star who chose to play it safe with black although her outfit definitely didn't have anything vintage about it.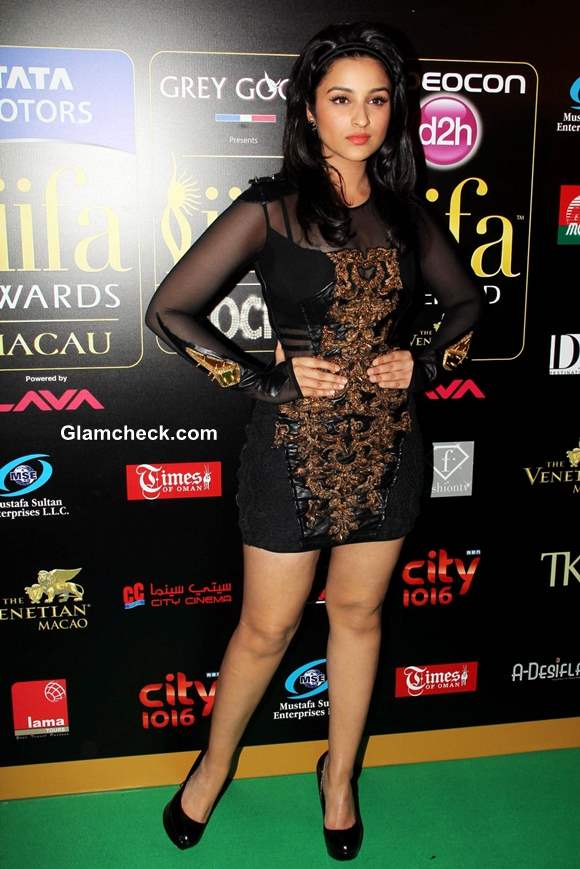 Parineeti Chopra at IIFA Rocks 2013
It was, in fact, futuristic with its high hemline, copper on leather detailing running vertically down the front and similar detailing on the forearms of the otherwise sheer, full sleeves. However, her slightly bouffant hairdo was a bit retro, but the two vibes went well together.
Richa Chadda had sported one of the most unique ensembles at the event.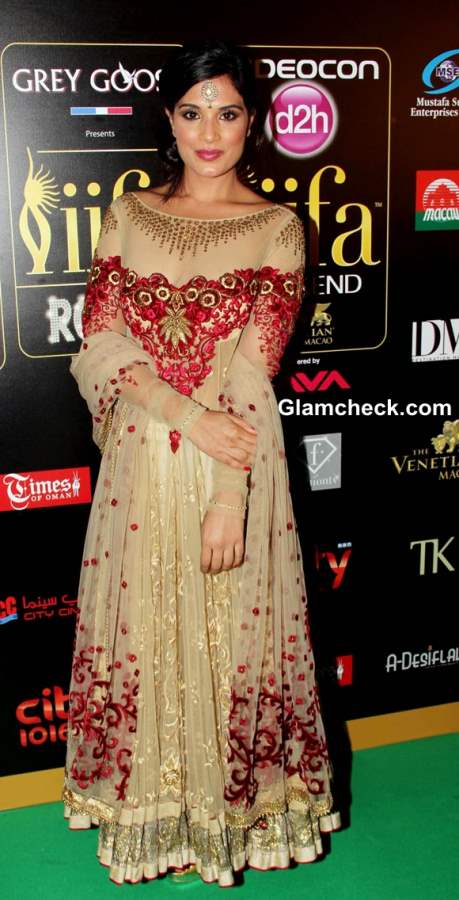 Richa Chadda at IIFA Rocks 2013
Her beige anarkali outfit with its red embroidery had us gasping in awe and admiring her fashion sense. It was no doubt a thing of beauty, but there was also a lot of grace to her look precisely because of the ensemble.
Sophie Chaudhary sure knows how turn heads.
Sophie Chaudhary at IIFA Rocks 2013
Images: Indian Photo Agency
The embellished bodice, statement shoulders and layered skirt of her dress emphasized the red carpet veteran's toned curves and inherent poise no end!
Yesteryear's Sridevi sported a contemporary strapless teal evening gown that encased her curves beautifully but which also had her almost spilling out of them.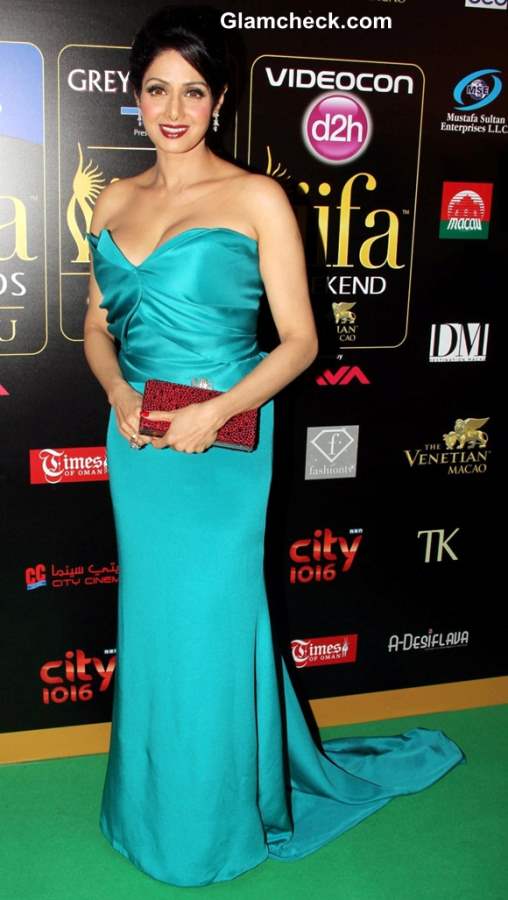 Sridevi at IIFA Rocks 2013
Her red clutch and matching lips combined with her updo and diamond danglers made for a classic vibe that outshone that of most of the younger celebs at the event.