Silver-blue lighting subtly lit up the ramp. The archway from which the models emerged boasted a doorway of a Rajasthani fort – elegant, intricate, colorful, celebratory yet formidable. And so began the presentation by Birdhichand Ghanshyamdas Jewellers at the India International Jewellery Week 2013 at the Hotel Grand Hyatt in Mumbai, India on 7th August.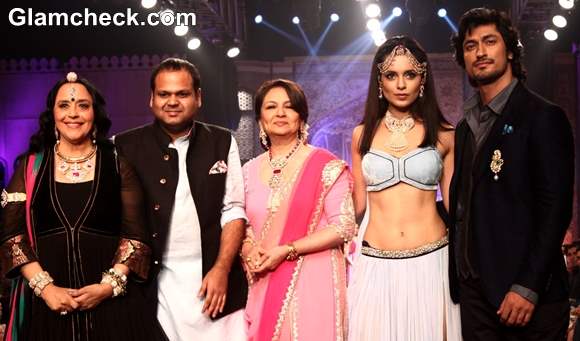 Celebs for Birdhichand Ghanshyamdas Jewellers at IIJW 2013
Called Amer – Art Reincarnated, the line brought to life the beauty and grandiose spirit of the famous Amer Fort in Jaipur, Rajasthan which has captured the imagination of artists for generations.
That's perhaps why Rajasthani folk singer and actress Ila Arun brought the house down when she appeared on the runway modelling a set from the collection.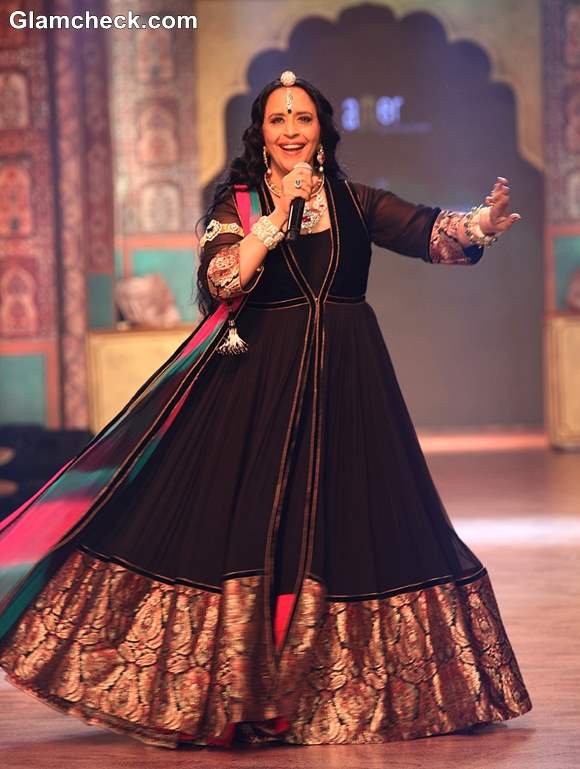 IIJW 2013 – Birdichand Ghanshyamdas- Ila Arun
Chunky and vibrant, the gold and diamond necklace, bracelets, earrings and hair ornament she wore were as life-affirming as her performance. She belted out a few folk numbers which were more than appreciated judging by the unbridled adulation and shouts for an encore. That definitely set the right mood for the show!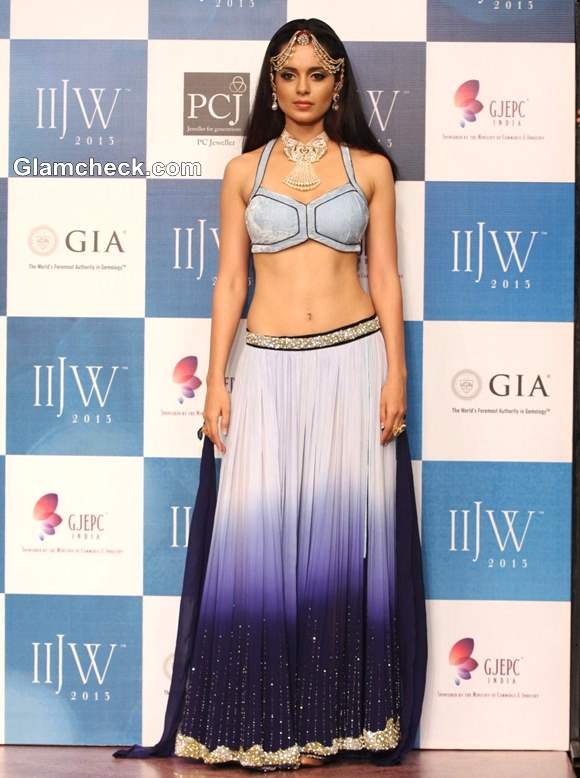 Kangana Ranaut IIJW 2013 for Birdichand Ghanshyamdas
She wasn't the only celeb to make the audience go into overdrive. Bollywood actors Kangana Ranauat, Vidyut Jamwal and Sharmila Tagore also walked the ramp for Birdhichand Ghanshyamdas. It was hard to say which one garnered the most attention.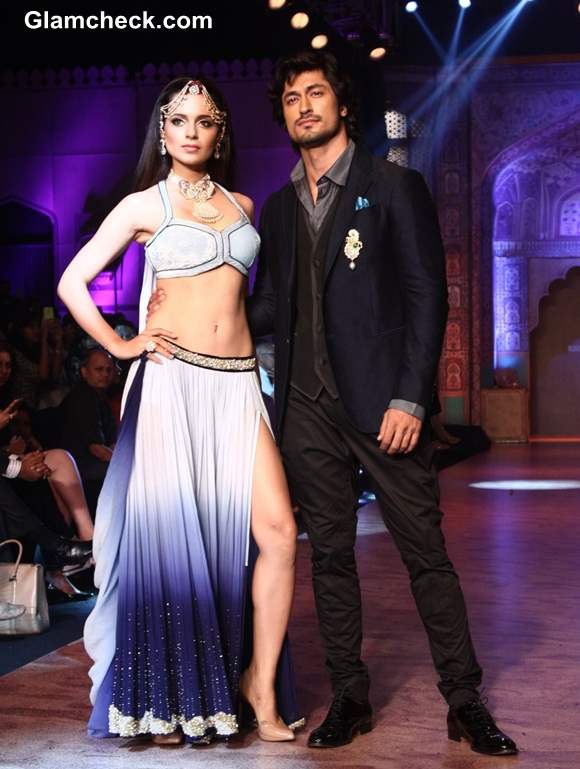 Kangana Ranauat and Vidyut Jamwal IIJW 2013 for Birdichand Ghanshyamdas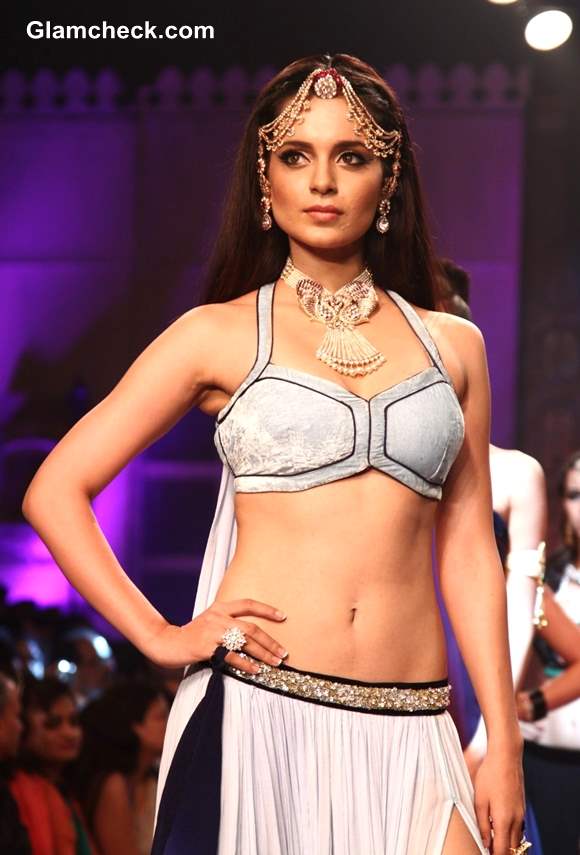 Kangana Ranauat at  IIJW 2013 for Birdichand Ghanshyamdas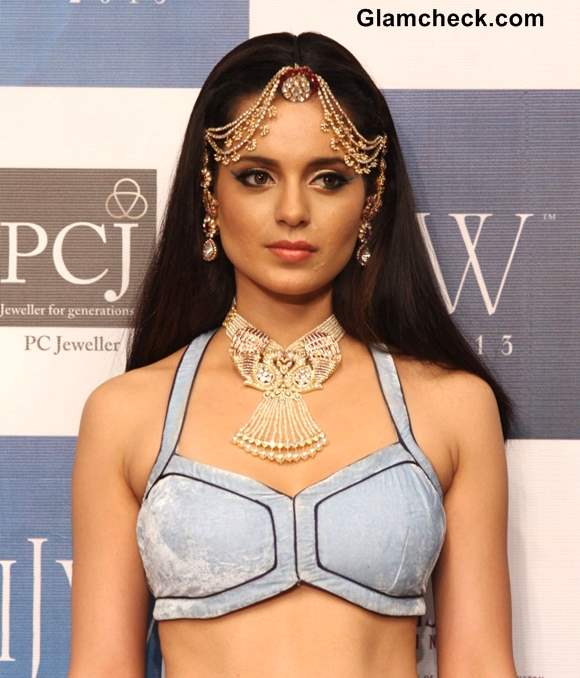 IIJW 2013 Kangana Ranauat for Birdichand Ghanshyamdas
Kangana was doing what she does best – scorching the runway in a grey-ish silver lehenga choli, the former sitting low on her hips and showing off her pins with their really deep slit. Exuding the vibe of a princess on her way to the throne, her look was made for the crafted gold and pearl necklace and story-telling hair ornament that rounded it off.
And what was Vidyut doing, meanwhile? Complementing the sexy Kangana, of course, but also sprucing up his ensemble with a pearl drop, emerald-encrusted gold brooch.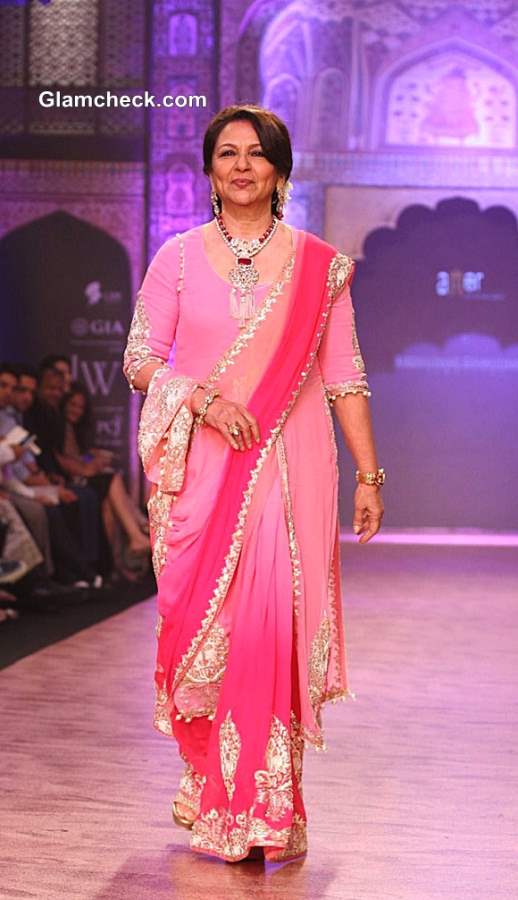 Sharmila Tagore  IIJW 2013 for Birdhichand Ghanshyamdas Jewellers
Sharmila, the graceful veteran, stole hearts with her timeless beauty as she classily paraded a ruby and diamond encrusted set which screamed of sophistication.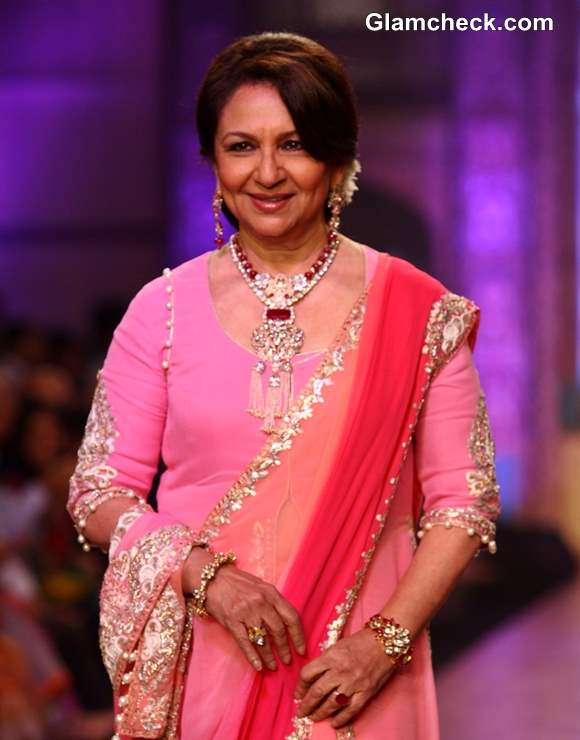 IIJW 2013 Birdichand Ghanshyamdas- Sharmila Tagore
The makers of this line were trying to infuse the wealth of beauty that makes up the Amer Fort. And we have to say that they succeeded in capturing both the rustic and royal elements of the imposing structure.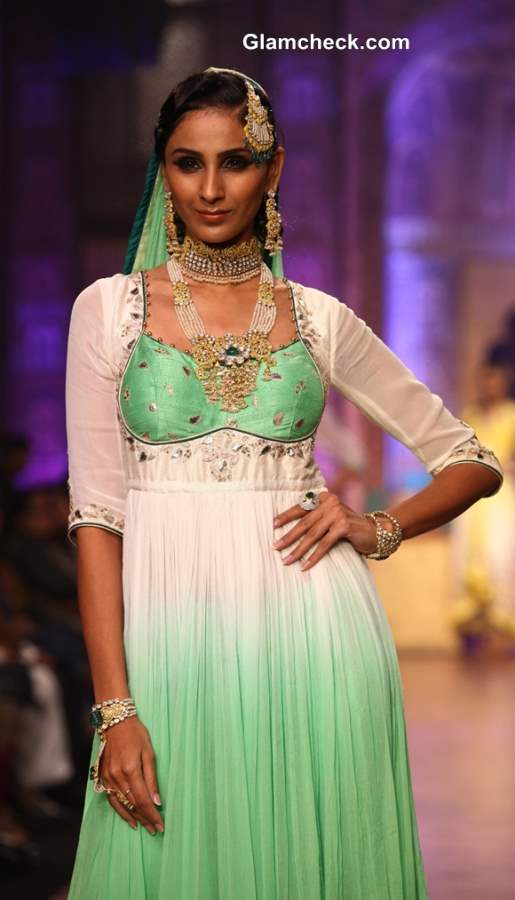 IIJW 2013 Birdichand Ghanshyamdas
Diamonds and gold were the primary medium with several precious stones making a guest appearance on a few pieces to alter the vibe ever so slightly.
Dramatic and cinematic, sexy and suave, ethnic yet versatile, Birdhichand Ghanshyamdas' collection managed to elicit gasps of awe from even the most highly-discerning in the audience.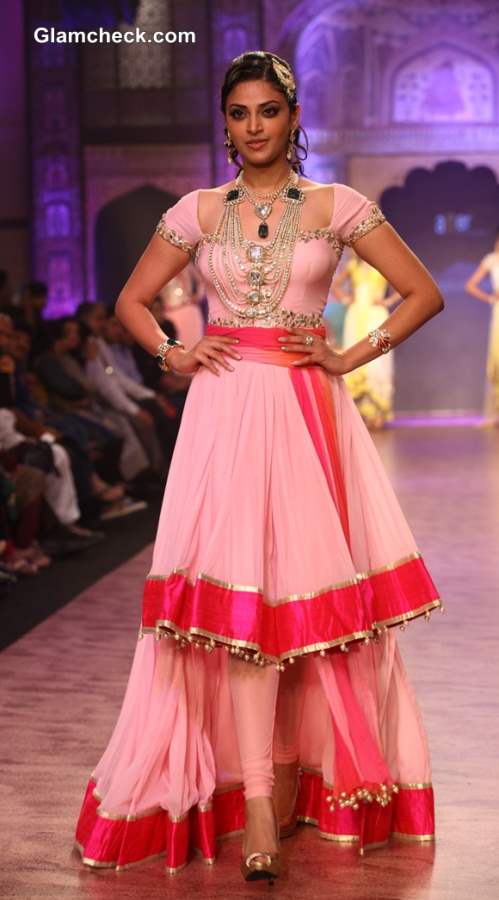 Birdichand Ghanshyamdas IIJW 2013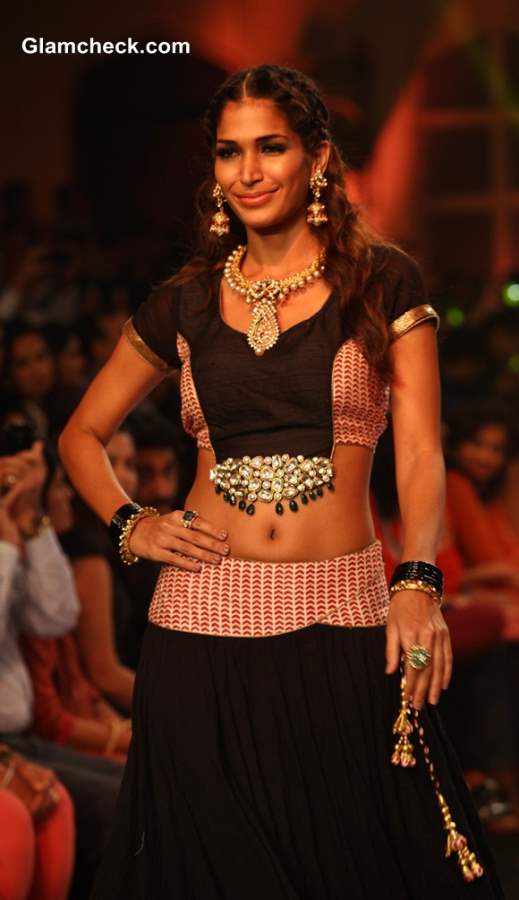 Birdichand Ghanshyamdas at  IIJW 2013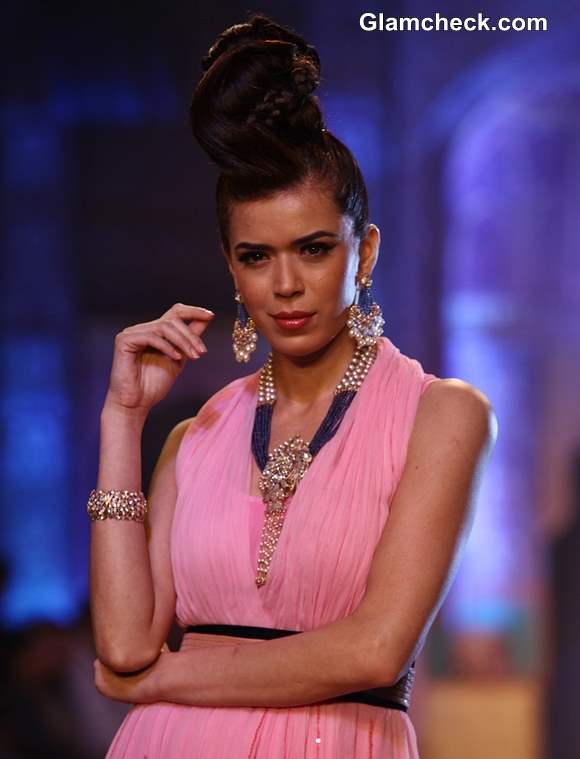 IIJW 2013 Birdichand Ghanshyamdas jewelry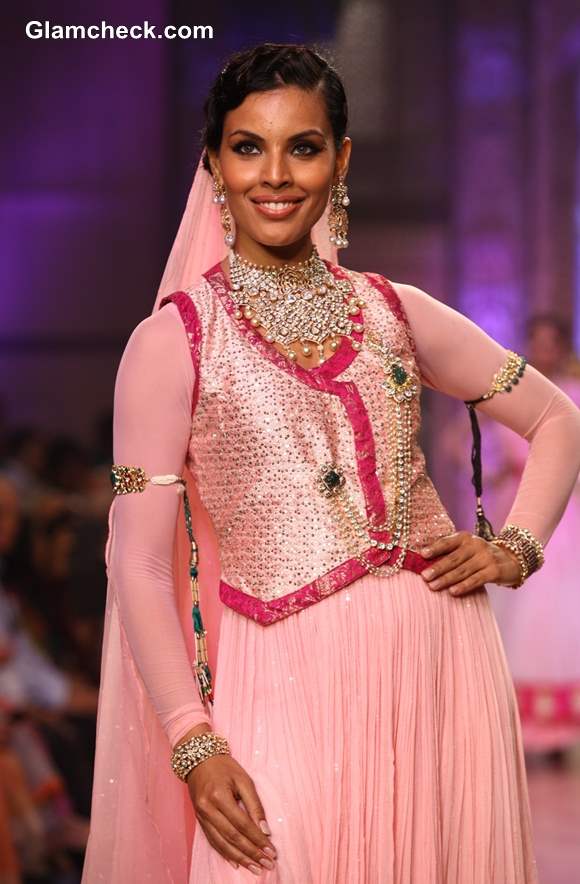 IIJW 2013 Birdichand Ghanshyamdas jewlery collection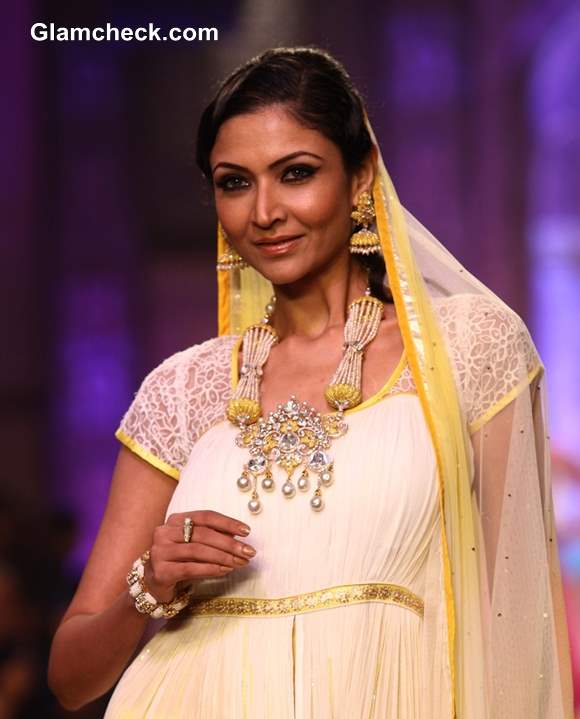 IIJW 2013 Birdichand Ghanshyamdas show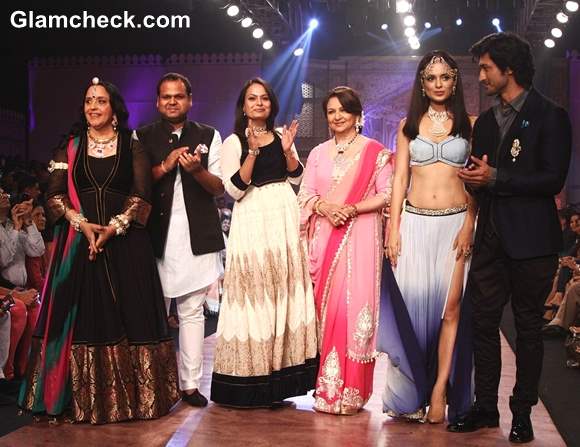 Celebs Birdhichand Ghanshyamdas Jewellers at IIJW 2013
Image: IANS, Indian Photo Agency