Bollywood actress Sonakshi Sinha inaugurated the India International Bullion (IIBS) in Mumbai, India on October 5, 2013. The Bombay Bullion Association Ltd., which commemorates its 65th Foundation Day this year, launched the first India International Bullion Summit at the event.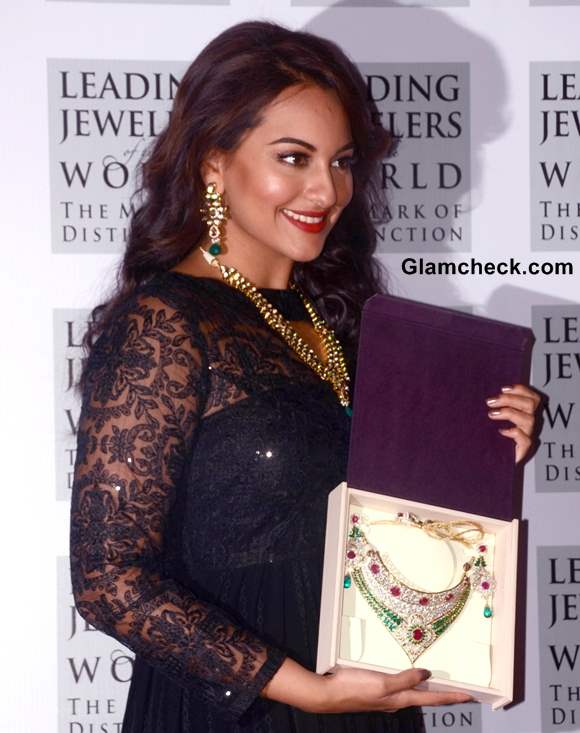 Sonakshi Sinha 2013 at  IIBS Inaugural Event
The Clothes & Accessories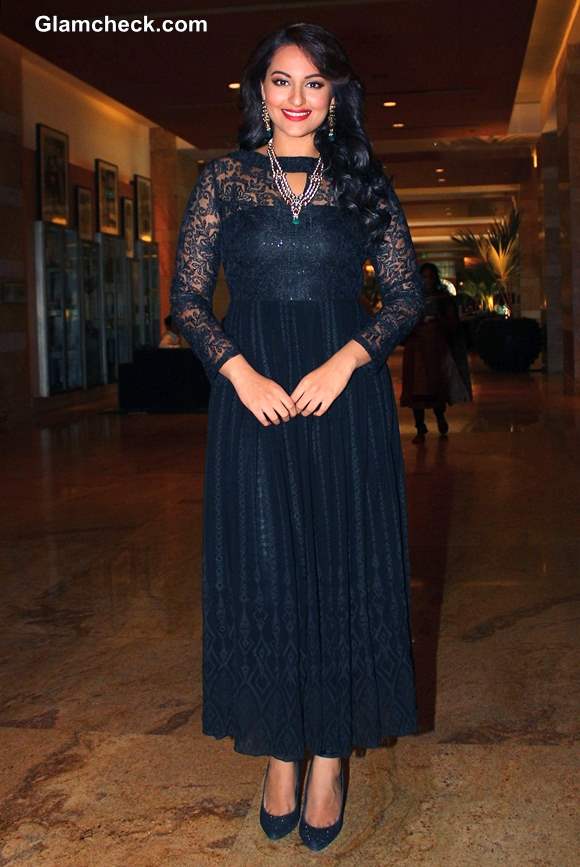 Sonakshi Sinha in Black Dress at IIBS Inaugural Event
Sonakshi was in a bit of a retro mood, and we think she was totally channelling veteran actress Rekha in the ensemble she sported that evening. The Dabangg 2 star wore a black maxi dress with lace detailing on the sleeves and neckline. It had a very Bollywood glam feel about it and seemed to suit her quite well since her physical features are classic old school.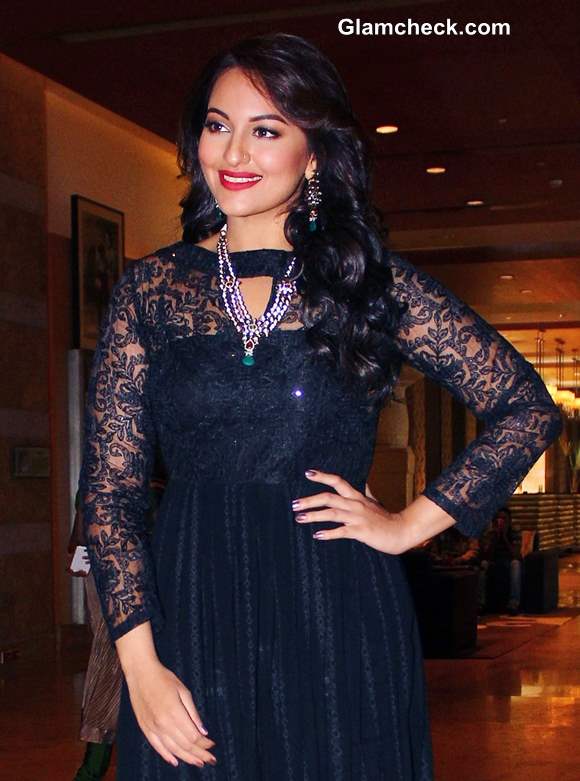 Sonakshi Sinha 2013 pictures
Her gold, emerald-stone dangle earrings and matching necklace too were proudly proclaiming their retro vibe. But we would have preferred if she'd ditched the neck piece since there was already plenty going on around the neckline for the accessory to stand out. She rounded off the ensemble with steel grey pumps.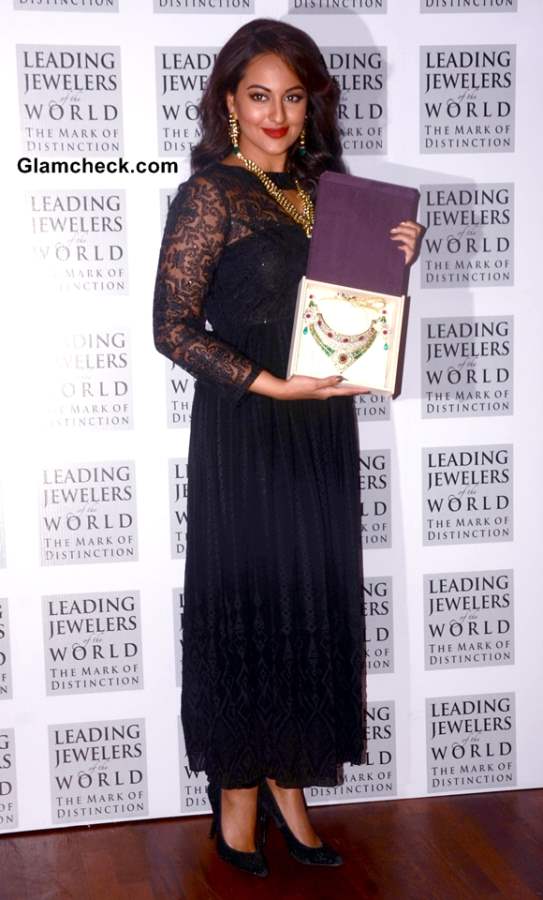 Sonakshi Sinha Sports Black Dress at IIBS Inaugural Event
The Hair and Makeup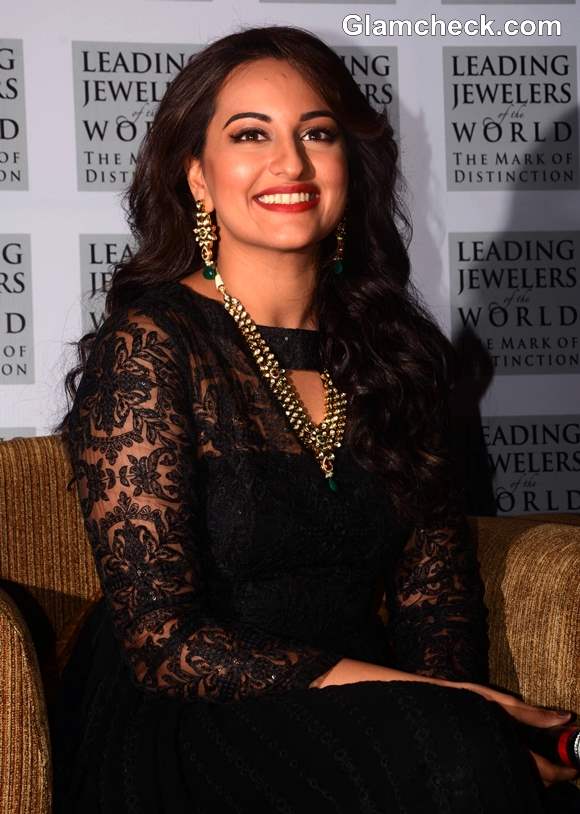 Sonakshi Sinha 2013 hairstyle makeup
The 26-year-old's styling of this look was perhaps what made her most resemble the iconic Rekha. First, there were her tumbling, voluminous loose curls draped carefully over one shoulder. And second was that perfect shade of red lipstick that every woman should own. A healthy infusion of pink blush and cat's eye makeup completed her look.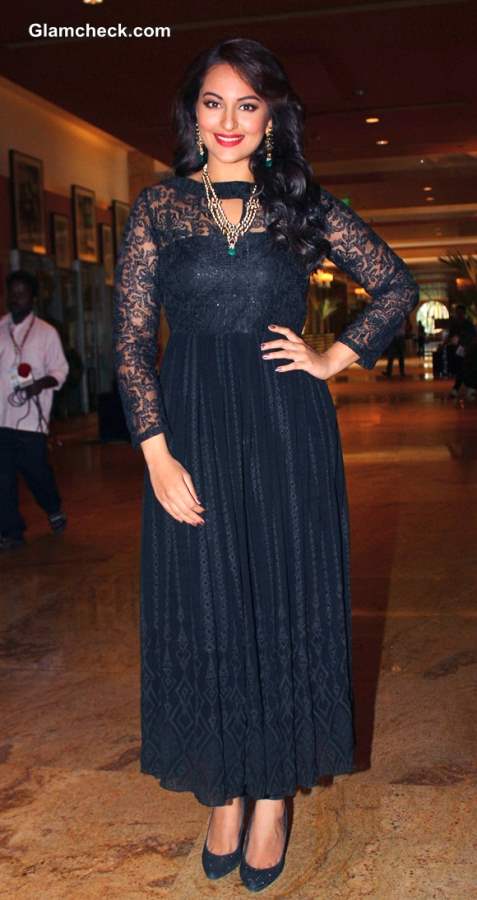 Sonakshi Sinha 2013 in Black Dress at IIBS Inaugural Event 
Solaris Images