Good news for Akshay Kumar fans, the trailer of his latest film also starring Sidharth Malhotra was launched in Mumbai's Juhu PVR this Wednesday, June 10th. Present during the event was producer Karan Johar, actor Jackie Shroff and actress Jacqueline Fernandez who plays the role of Akshay's wife in the movie.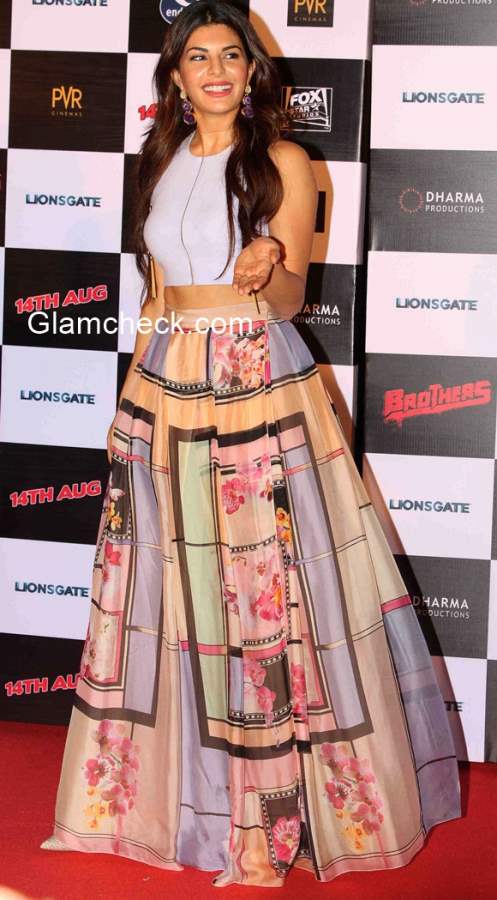 Jacqueline Fernandez in Brothers
With Jacqueline looking all prim and perfect, time to decode what she wore at the event. Her beautiful, voluminous, printed skirt is from Alberta Ferretti. She is wearing an Elizabeth and James lavender color crop top. With her flawless skin and hair done in beachy waves, Jacqueline added Louboutin pumps and Curio Cottage earrings to complete the look. This one counts among our favourite looks from the actress. She looked fab!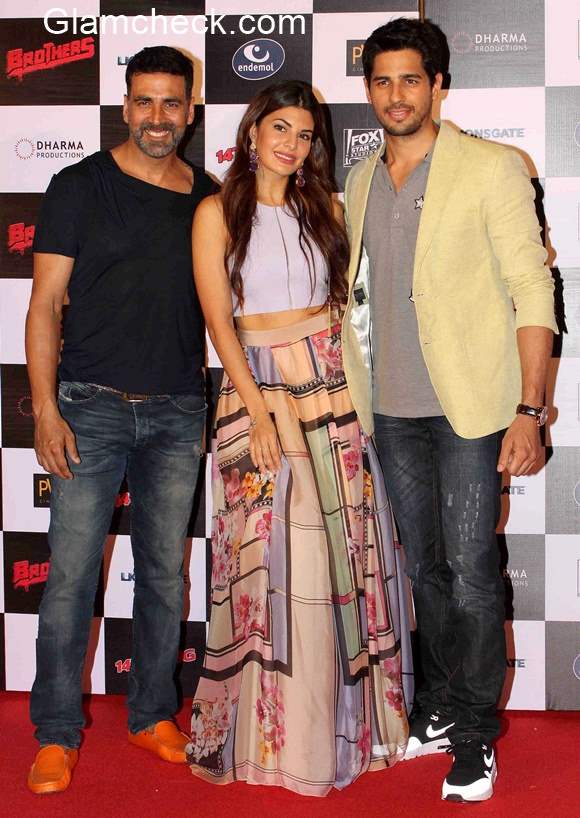 Trailor launch of film Brothers
The men, Akshay and Siddharth who play brothers in the film, looked smart in their rugged denims and shirt.
Directed by Karan Malhotra, 'Brothers' is a remake of film 'Warrior' where the brothers are pitted against each other. Calling it an emotional drama rather than an action film, Karan Johar joked that he made such a film in Kabhie Kushi Kabhi Gham. Though in the film the brothers didn't fight but cry, it's his way he said, that he makes them cry not fight!
Now that the young Sidharth Malhotra is working for the first time with superstars Akshay Kumar and Jackie Shroff, it was not surprising when he said that he was really anxious and nervous at first but he learnt a lot from them. Sharing the amazing experience he had working with the senior actors, he called it similar to a Punjabi joke book where some of the jokes were slightly non-vegetarian!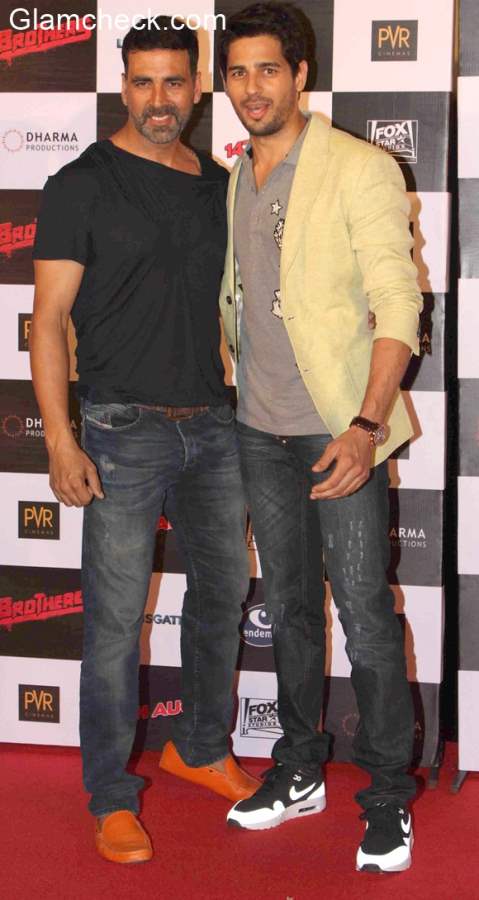 Akshay Kumar and Siddharth in Brothers
To that, Akshay quipped they were not slightly but pure non-vegetarian. Akshay was also all praise for the actor saying that Sidharth has worked hard on his body and on learning the required martial arts skills. He added that until then, he thought only he alone worked hard. Akshay also clarified the action sequences in 'Brothers' was not boxing but mixed martial arts.
Playing the father of two on-screen brothers will be Jackie Shroff. On being quizzed about how he felt playing dad, he replied that he was asked to play the father of two grown up men and he did just that.
The film will also feature a special appearance by Kareena Kapoor Khan.
Brothers is slated for August 14, 2015 release.
Solaris Images