Whether for vision correction or other beauty reasons, Contact lenses definitely help you get rid of the thick glasses and add allure to your eyes. Now some of the basic questions that every contact lens wearing women asks are:
Can she wear an eye makeup with contact lenses?

Should the lens be inserted before or after applying makeup?

Does the eye makeup harm contact lens?

What kind of eye makeup is best?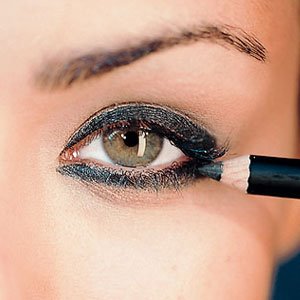 If you wear contact lenses, you should know that you have to be careful about choosing the right kind of makeup for your eyes. Does that mean one can apply eye makeup with contact lenses?
The good news is "YES". In fact, you can make your eyes more attractive and appealing with a proper eye makeup. If you are wearing colored contact lenses, eye-makeup allows the lens to gel up with your skin tone making the lens look much natural rather than fake.
Should the lens be inserted before or after applying makeup?
Many women prefer wearing contact lens before applying eye makeup. There are also women who wear the lens after applying the makeup. There are pros and cons to both the ways.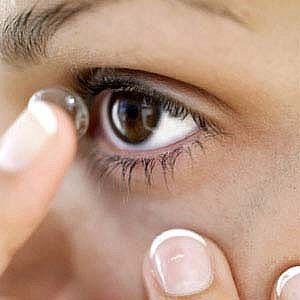 If your prescription lenses are very strong and you cannot focus without corrective vision help, you have no other option then wearing your contact lens before you apply makeup. One of the biggest drawbacks to this method is that tiny flakes and powder granules of the makeup may fall into the eyes and stick on to the contact lens causing irritation. In this case, you will have to remove them again and clean your lenses, flush your eyes with water and start again.
Usually while putting on the contact lens, some tear drops come out of the eyes, which is very normal. Now once you have your makeup done and start putting the contact lens, the tear drops can spoil your kohl, and mascara. In this case you will have to clean up the applied makeup and re-do it all over again. Though, you can avoid this problem by using waterproof mascara and kohl but there is one disadvantage of waterproof mascara. It cannot be easily removed with water and may stain soft contact lenses.
I personally prefer wearing contact lens prior to the application of eye makeup. The reasons are: I have a strong lens prescription, while putting the contact lens I have lot of tears dropping down my eyes and also I cannot take the risk of staining my lenses by using a waterproof mascara.
While applying eye makeup, I am therefore, extra conscious not to allow any makeup particles enter my eyes. One of the tricks is to blink a lot while applying the makeup with lenses in. Blinking does not allow the particles to settle onto the lenses.
Does the eye makeup harm contact lens?
You should always remember that a contact lens is a foreign substance inserted into your eyes. Any dirt particle, powder granules or other fallout from your makeup can be harmful to your contact lens as well as to your eyes. In addition, you may contaminate your lenses with the oils, residues and possible bacteria found in cosmetics. Some simple precautions can minimize the chance of contamination.
Tips for applying eye makeup with contact lenses
Below we have discussed few points to keep in mind while choosing an eye makeup and application process to minimize the chances of makeup irritating your eyes when you're wearing your lenses.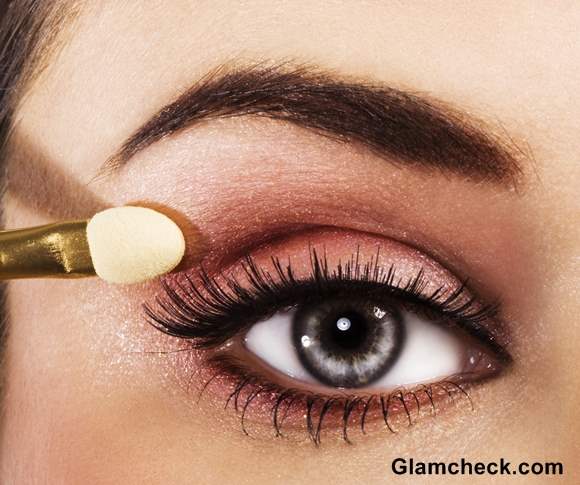 Tips for applying eye makeup with contact lenses

Wear contact lens before applying the makeup.

Always wash your hands thoroughly before touching your contacts, this way you won't transfer any oils, lotions or creams to your lenses.

Using waterproof mascara can stain your soft contact lenses. Therefore, avoid them.

Use a soft pencil liner.

Make sure the eyeliner is sharp enough to avoid any scratching of the eyes with the wood pencil.

Never apply the pencil liner in the inner rim of your eye. This can cause irritation to eyes.

Never use lash builder mascara. The nylon / rayon fibers can irritate the eyes if they accidentally drop into the eye.

Don't apply mascara too close to the eyes. Apply it only at the lash tips.

It is good to use cream eye shadows instead of the powder ones. The powder ones can flake into your eyes causing irritation.

Water- based cream shadows won't irritate your eye even if you accidentally get some into your eyes.

Use press powder and gently dab on your cheeks, chin and nose. Keep your eyes closed during the application and gently brush off any excess powder before opening your eyes.

Before using the hair spray, make sure to close your eyes. Once you have applied the hair spray, leave the room until the spray diffuses out of the room.

Similarly, while using a perfume, you need to shut your eyes.

Remove the contact lenses before removing your makeup.

Never remove your lenses or apply makeup in a moving vehicle.

Remove your makeup daily with an oil free, hypoallergenic makeup remover.

Keep replacing your eye makeup products frequently. Over time bacteria gets into the product and then into your eyes, where it can cause an infection

Never share your eye makeup / cosmetics with others.
Wearing contact lenses does complicate your choice of makeup products. However, with some inside knowledge and easy tips and tricks, you can choose products which minimize the risk of infection and irritations making you look the best with a clear vision.
Also Read: 
Colored Contact Lenses – How to choose the Perfect Color

Have you ever wondered how the eye color of most of the actress changes every time you spot them on […]
Contact lens irritation: causes and solutions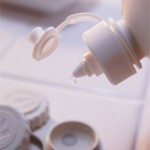 Contact lenses not only help one to get rid of heavy glasses but are also comfortable to wear. However, contact […]