Harem pants are loose fitting garments that are gathered at the hemline, which is usually at the ankles. They may have upper fullness or volume and a tapering to a narrow leg or cuff. Some harem pants may have greater lower volume. Harem pants, especially the cropped ones, are also known as balloon pants.
They can be made of cotton, rayon, lycra, georgette, chiffon, silk and also some sheer fabrics.
The style is quite Bohemian. The shape and cut is playful. Rustic, smart, sexy and rebellious is the look and feel of the garment. They make for an exotic wear as well and help add fun and variety to your collection. Fresh, invigorating and freely draping, Harem pants are there to occupy a space in your wardrobe as an essential clothing item.
They are very comfortable and trendy. The garment is loose fitting and light in weight. You can wear them to meet any occasion and purpose. Wear them while shopping, dinning, traveling or while lounging at your home on a lazy evening.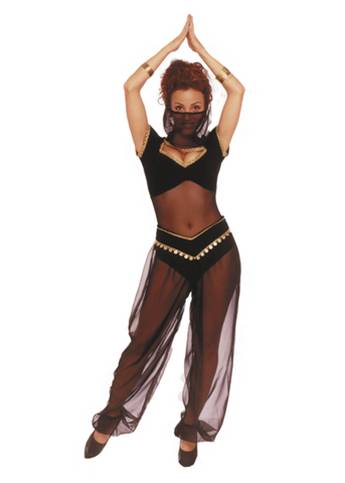 Harem pants are also quite popular among belly dancers as the garment provides free and unrestricted movement and ensures comfort.
Harem pants and body types:

They suit taller and slimmer women the most. Petite women may get some volume to their bottom half by wearing harem pants with a controlled volume.

Women with banana body shape must take care of the volume as greater volume of extra fabric may highlight their lack of curves.

Women with wider hips and bottom, apple and pear shaped, may find the garment quite flattering to their body type, if they keep the volume controlled.

Pear shaped women must wear styles that are looser and gathered at the hemlines as this may help your legs and hips appear in proportion. Wear quarter-top pockets, if any featured in your harem pant.

The hemline of the Harem pants may reach up to your ankles or end at your mid-calves. Women with longer legs may wear ankle length sizes but shorter women must avoid this length as the pant may completely over-whelm your personality.

Plus size women must wear dark solid colors and bigger prints whereas petite women must wear lighter colors and smaller prints.
Wearing harem pants: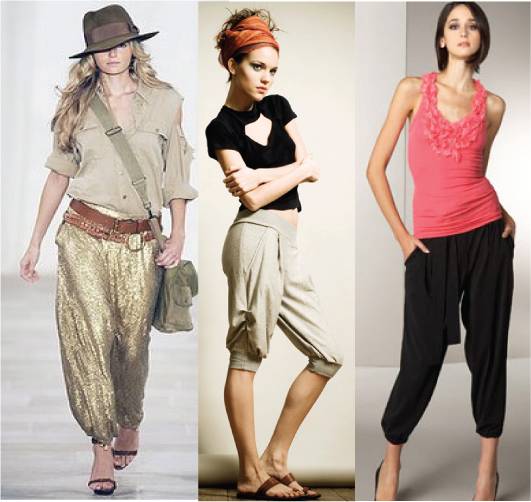 Elegance is not the key look when it comes to Harem pants. Be bohemian, bold, rebellious but charming, feminine and sexy.

Pair harem pants with cropped tops and jackets for a complete rustic, independent, iconoclastic look. But, keep the top short and simple altogether as the pant is sufficiently attractive.

Avoid wearing printed versions. Personally, plainer ones are more forgiving and easy.

Accessorize Harem pants with a piece of chunky statement jewelery. Wear colorful slim bangles or a chunky bracelet. Keep the item large but a few in number. Wear rope necklaces with chunky pendants and add dazzle to your ensemble. Don't overdo.

Don't forget to give a definition to your waist. For this matter, you can wear tops baring the mid-riff area. Also, you may wear some jewelery or belt at your waist.

As for footwear, try to wear heels if you don't have the height to carry the garment. Taller women can wear flats as well. Ballets and ballerina flats may also look good. You can also experiment with some fetish items for a bohemian look. Remember, the harem pants are meant to add comfort and heels can be plain.

You may also wear a sexy hat or a cap made of straw, leather or some fabric and visit the outdoors on a warm and sunny afternoon.