An Indian wedding is a very elaborate affair and is marked with at least two to three days of boisterous festivities, before and after the actual wedding ceremony. The festivities are attended by   the extended family members and close friends of the bride and the groom with great enthusiasm and fervour. Not for nothing the term 'the big fat Indian wedding' came about into being!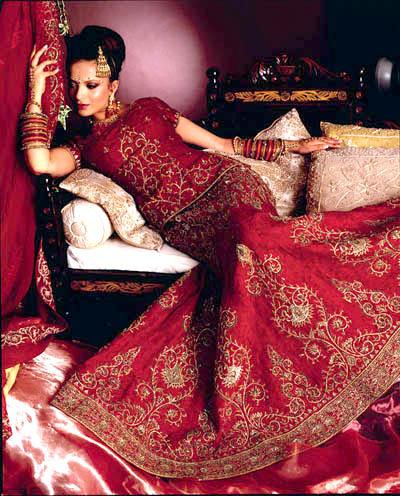 Brides normally try and have different 'looks' (by altering the makeup, accessories and clothes) for each of these events. Dresses for each function are  planned in detail with regards to colour, cut, jewellery and the accessories.
Years ago, a would- be bride used to  be involved in selecting the saris and dress materials and most of the stitching of the blouses and salwar kameez would be done by the local tailor. Not anymore ; today's brides have a lot to choose from for their wedding day and trousseau, unlike her mom or grand mom. Girls want to look different on their wedding day and go to the best of designers, shops and retail outlets for the trousseau shopping. The planning for the trousseau may begin as far ahead as 9-12 months from the wedding date.
So what is it that the brides of today want to wear on the special day and the kinds of clothes that make into her trousseau? In this article, we look at the different events for which she will need different outfits and some staples that will make her trousseau truly special!
The festivities normally are 'mehendi and sangeet' – loosely translated as applying Henna, music and dance (it is popular to call this event as a cocktail party these days), the wedding day and the reception day (or welcome meted out by the grooms family to the newlyweds where they invite their side of family and friends to meet and greet the new couple). Barring the mehendi / sangeet event, the other two are considered strictly formal.
Lehengas and cholis
These are long skirts( lehengas, also known as ghaghras)  teamed with tight mid riff revealing corsets ( choli) and with long yards of fabrics or 'odhanis' worn by the brides mostly on wedding day or the reception day. The lehengas can come in a variety of colours, materials and embellishments. Bollywood movies serve as the best inspiration for this item of clothing.
Colour and embroidery
Traditionally, scarlet and vermillion red and shades of red such as maroon were popular to be worn. However, modern brides are now preferring subtler, natural colours such as shades of pink, peach, wine, mint green, blues and even white and cream( a colour married women still hesitate to wear in India, considering it to be inauspicious). Metallic tones of gold and silver are also very popular. You could also have contrast colour or dual colour (orange and  pink; blue and green, red and green etc. ) ensemble to give a unique colour theme to the outfit and to look different from the others.
The lehengas, cholis and odhanis usually have heavy embroidery on them, making the wearer stand out. There are various forms of embroidery – the more the manual work, the more the price that the ensemble will command. Traditionally, all embroidery was done with very thin silver and gold wires, however, this is now rarely practiced owing to the high cost. Embroidery with thin copper wires which are wound closely together to resemble a tight spiral is still popular and this kind of work is called 'zardozi'.  Broad silver or golden tapes or zari can also be artistically used to add charm to the lehengas.  Other forms of embroidery may include 'aari' embroidery or dabka (metallic thin pieces are inserted through the fabric to shine like small specks). You could also have delicate hand embroidery using shiny self colour or contrast colour threads. Machine embroidery variations are also available for those with budgetary constraints. Embroidery with sequins, mirrors, rhinestones, crystals and beads are also very commonly used.
Cuts
The skirt or the lehenga normally comes in 4 kinds of shapes.
A-line lehenga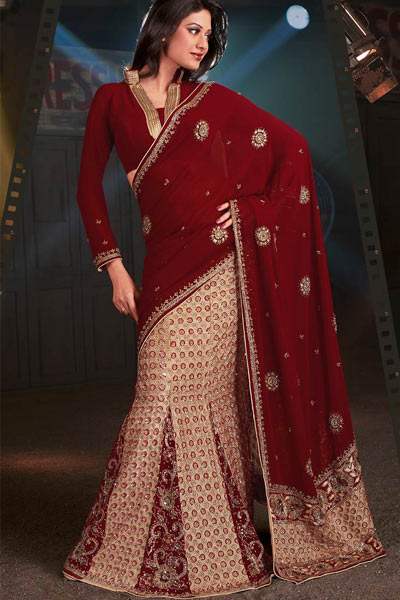 A-line lehenga is a skirt which flares from waist to the hem, roughly resembling  the shape of the letter A. The skirt could have vertical or triangular panels inserted to give more room and add more hem width. This shape is very common and can be worn by the thin as well as curvaceous brides.
Fish tail lehenga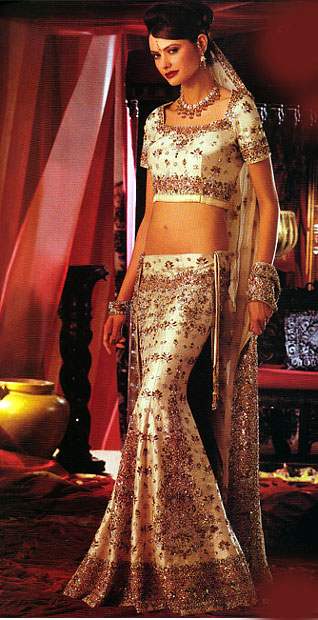 A fish tail lehenga is fitted till the knee when it flares suddenly giving a lot of room at the hem, resembling the tail of a fish. The shape shows off the waist and the hips and is hence recommended to be worn by people with hourglass figures.
Straight cut lehenga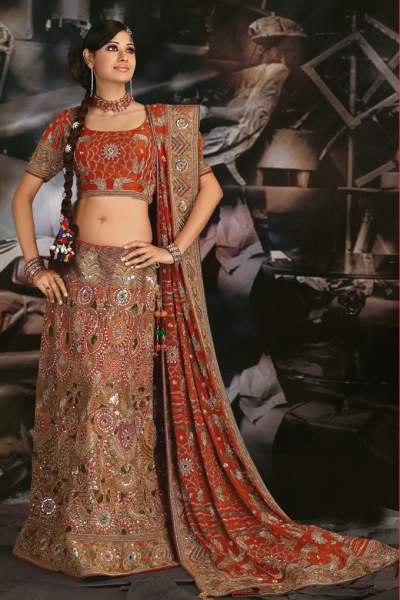 Straight cut lehenga is straight from the waist to the hem and may have small slits at the side for ease of movement. This resembles a straight wrap around skirt. This has a slimming effect on the wearer and can hence be worn by most body types.
Flared lehenga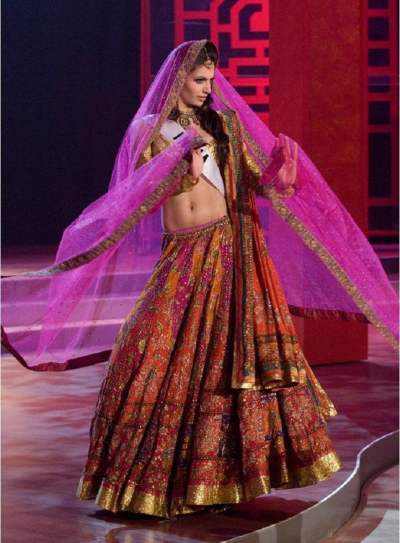 A lehenga which has pleats at the waist area to have added fabric flaring out at the hem. This suits the very thin brides due to the presence of pleats, which may add volumes to the waist and hip circumference. This looks very classy.
Shararas / Ghararas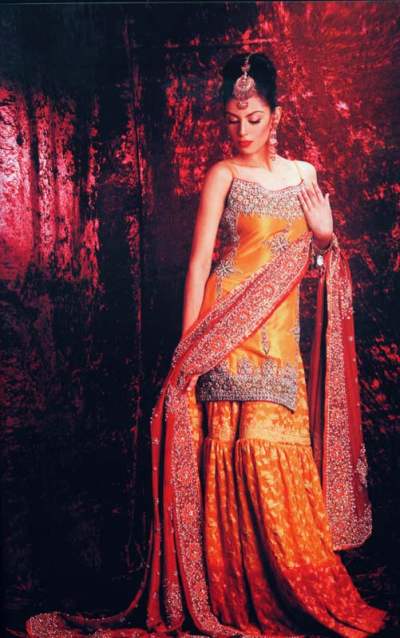 Lehegas which are separated into flared trousers at the crotch are known as Ghararas or Shararas. These are the traditional dresses worn by Muslim women for their wedding or 'nikaah'. Normally these are teamed with slightly longer versions of cholis.
The lehengas could have drawstrings at the waist. The more fitted versions of the lehengas have a hook and eye closure along with an invisible zipper.
Blouse or choli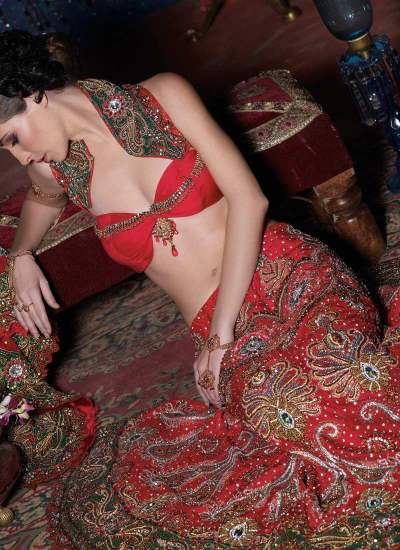 The blouse or choli could have many variations in neck lines, sleeve lengths / types and fastenings too.
The necklines could be the traditional U, V, sweetheart or boat neck. The more adventurous of the brides could even go in for halter neck or backless cholis. The U and V necklines normally should be worn by people who are top heavy. The sweetheart and boat necklines could be worn by people who have strong collarbones and tall necks. The backless cholis and the halter necks are best left for the people with well toned shoulder muscles and spotless skin.
The sleeves are generally short and could either be reaching a little above elbow or could be shorter. Cholis without sleeves are also growing popular. Sleeveless cholis with thin straps( like camisoles) are also popular. If the choli is made of thin transparent fabric, reinforced with lining , to add an element of mystery, the sleeves could be left unlined.
Traditionally hook and eye closures at the front or back are used to fasten a choli. However, technology has not left the cholis untouched, and cholis may have an invisible zipper either at the side or the back  these days and the more adventurous could also have cholis with string fastenings at the back, showing the back of the wearer off which is considered extremely sexy.
Slightly longer versions of cholis, which cover the midriff and finish either above the waist of the  wearer or sometimes, a few inches past the hip when teamed with lehengas are known as 'lanchas'.
The odhani
The odhani is a long rectangular piece of fabric which has one end of the fabric tucked in the skirt and the other end, draped over the head or shoulder. The odhani is mostly heavily embroidered all over or may be having heavily embroidered borders with less embroidery all over. Some odhanis may also have golden or silver or beaded fringes all over the length, which fall beautifully over the head of the wearer. These days, you have skirts which have odhanis attached to them, to resemble a sari.
Fabrics for lehenga
Rich silks, satins, taffetas and other fabric which have a natural sheen and have a lovely fall and drape well are very popular to be worn in the form of lehengas and cholis. Lighter weight fabrics such as chiffons and georgettes are also quite popular. Velvet is also a popular choice, however , the fabric weight on its own is heavy. The newer trends include lehengas made with net and having a georgette or satin lining underneath. Lehengas made in tissue fabric also are popular due to the unique shine that tissue offers, which cannot be matched by any other fabric.
Lehenga choli is worn as a traditional dress in some regions in the western and southern parts of India. A bride hailing from these regions , will have a few variations with lesser embroidery and mirror work in her trousseau. Brides from other region normally do not have more than a couple of these in their trousseau.
Bridal Saris
An eternal favorite, saris are often worn for the main ceremony of the wedding in traditional colours like yellow, white and gold, red or green. Sari lends elegance and grace to the wearer that no other garment can match and is hence considered the most preferred outfit even today.
A sari traditionally is about 5 to 5.5 metres long. The sari is worn over an ankle length skirt( also known as the petticoat). The torso of the wearer is covered by a tight fitting blouse or choli which comes a little below the bust line, revealing the mid riff.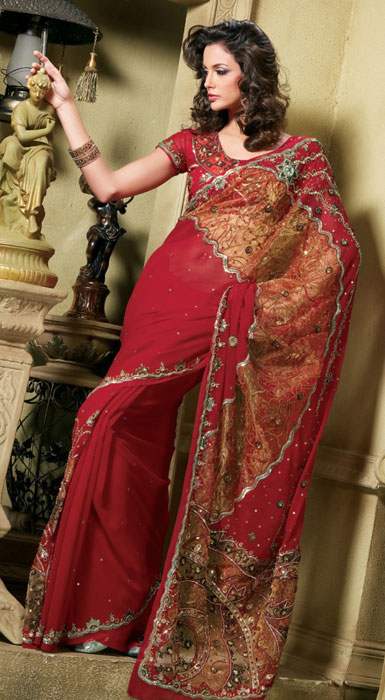 Sari could be draped in many different ways, and newer draping methods  are evolving even as I write this, however, the most common method is to tuck the sari into the underskirt, along the length of the sari; make about 6-10 pleats of uniform width facing left side, by hand and tuck them near the navel ;  the balance length( locally known as 'pallu' is then draped over the left shoulder  to make it  fall beautifully over the shoulder. The sari should be worn to cover your bust line and lower back.  For those who do not know how to drape a sari, these days, you also get readymade saris, which have pleats already set in place, and you could wear this sari over your head, just as you would wear a skirt, adjusting only the length which falls from over your shoulder.
Kinds of saris and blouses
An Indian bride is spoilt for choice when it comes to saris as almost every Indian region has its own special sari fabric, weave and texture, which is unique to the state. Brides belonging to a particular region normally wear the regional sari for their wedding.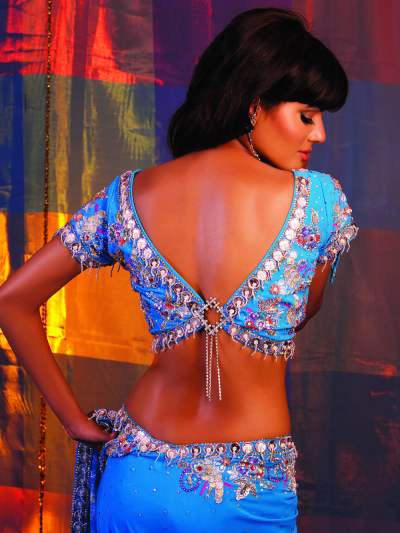 In the eastern part of India, the saris which are most popular are Bomkai  and Ikat, both styles are known for their distinct  weave and pattern, Kantha ( very fine hand embroidered saris using motifs from regional legends in a myriad of colours), Taant( light weight cotton sari with borders and motifs woven along the length),
Western region is known for its 9 yard sari, locally called the 'Lugade' or 'Nauvaree'. This sari  is draped to have hind pleats which are tucked into the centre back and the free end thrown over the shoulder , the bottom part of the lugade roughly resembles riding breeches. Other saris could be  Bandhani ( tie and dye saris in bright colours);  Paithani  (very fine silk hand woven sari to create exquisite designs) or Patola ( weave pattern)
Northern region boasts of the world famous Banarasi silk saris, which use gold and silver brocade and motifs inspired by the Mughal era.
Southern region boasts of Kanjivaram saris( known for its temple motifs woven on fine silk), Pochampally and Manglagiri saris. Each have their unique patterns and designs.
The central Indian region has Kosa or raw silk saris found in neutral tones and Chanderi saris( thin cotton fabric having small geometric motifs made with gold zari).
The kinds of blouse/choli are similar to what has been described above in the lehenga section.
Fabrics, colors and embellishments
Silk is the most preferred choice for a wedding sari; however, saris in other lighter weight fabrics such as georgettes, chiffons, crepes, cottons and net are also becoming increasingly popular. Fabrics which drape well and have a lovely fall are the most popular choices for saris.
Saris for new brides are normally in bright shades such as red, pink, orange and yellow. Two tone saris and saris with different colour pleats are also becoming popular. You could let your imagination run wild and pick any colour that you fancy as there is a large variety of saris available in the market.
Saris could be plain with a contrast border or a golden/silver zari border; plain saris could also be adorned with small floral or geometrical motifs all over the length and the 'pallu'( the length which is supposed to fall over the shoulder) could have some exquisite patterns. Plain saris are very elegant and are considered very versatile. Plain saris with contrast borders could be worn to the office by a new bride and plain saris with some metallic tones and heavy pallu could be worn to a small evening get together.
Saris could also come with embellishments such as sequin/stone /crystal or bead work, mirror work, hand and machine  embroidery. These kind of saris are normally worn for a party or in the initial few months after the marriage. They are dressy and garner a lot of attention for the wearer.
Printed saris are also very popular. It is common to have floral patterns, geometric patterns or even abstract patterns on printed saris. Printed saris come in various color combination and you could choose any that you fancy.  Sometimes, printed saris could have some embroidery over the print to give a unique look. Printed saris are a good bet for office wear and an evening out with your husband!
New trends in saris are the use of very sheer fabrics such as lace and net. These look very delicate and add an enigma to the wearer. 'Butterfly pallus' which are very narrow at the shoulder and then fan out as they fall over are also becoming very fashionable. Draping a sari to give the effect of a fit and flare mermaid skirt is also very chic!
Saris could also be worn by any body type as they cover your hips, waist and torso. The well endowed could drape the sari to cover the midriff as well; the petite and thin could drape the sari from below the navel to show off the hourglass figure to their advantage.
Another good thing about saris is you can have your imagination run wild and still find whatever you want. You could try different colors, prints, embroidery, draping methods to look unique. You can never go wrong with a sari as these can be worn for a casual evening out or to a formal event. However, do bear in mind the occasion before choosing the accessories and the colours / fabrics.
No wonder, owing to the versatility, a trousseau normally has the largest collection of saris , catering to all kinds of occasions and having regional specialties.
Salwar Kurtas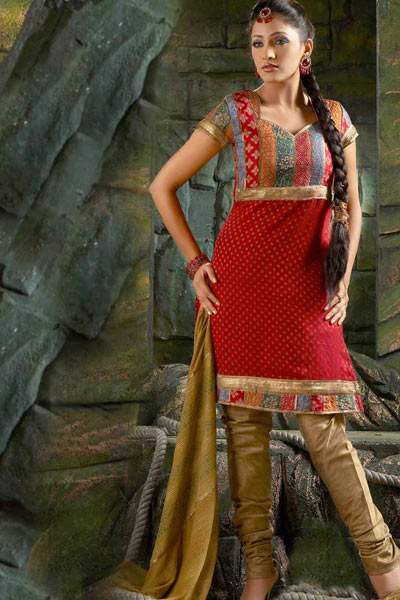 A salwar kurta consists of a long shirt minus the front buttons (kurta/kameez) to be worn over the head; pants  ( salwars) and a stole( dupatta/odhani).
This is the most common ensemble worn by young girls in India. Like saris these are also very versatile and could be worn to college, office or  a wedding.  They are very forgiving and almost every body type feels comfortable wearing these.
The fitted versions of the kurtas are worn by the figure proud and normally A line or straight line kurtas are worn by the curvaceous. You could have a variety of necklines, sleeve shapes and lengths of the kurtas. Necklines and sleeve variations are the same as those discussed under cholis in lehengas and saris. The length could be mid calf or above knee( kurtis). Kurtis are normally worn by thin people who are comfortable with their thighs.
Kurtas are teamed with the lowers or pants. These  could be fitted( churidar) or loose( salwar). These normally have drawstrings at the waist. For ease of wearing the fitted pants/churidars have a button opening at ankle. For better fall, the loose pants( salwars) are reinforced with a thicker backing at the ankle area. Women with un-shapely  legs normally prefer wearing salwars, as the churidaar is fitted and shows off the leg muscles.
The stole or dupatta is a rectangular piece of fabric, about 2-3 meters long. This is normally taken on top of the kurta, across the shoulder with both ends falling freely on either side of the arms. Sometimes it could be wrapped around the neck like a scarf. Dupattas are normally made in the same fabric as the salwar & kurta or a lighter fabric. Normally, salwars and dupattas have similar colours and patterns, and the kurta is normally a contrast.
Salwar kurtas are classics and apart from the occasional Bollywood inspired styles, these are normally found in the usual cuts and shapes. The designers however, often play with  the length of the kurta, fabrics, colours and embroidery. These are similar to those covered under saris.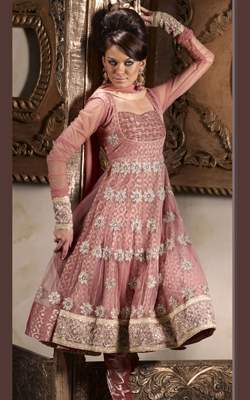 The latest trend in salwar kurta is the 'Anarkali' suit, which is named after the famous courtesan during the Mughal era. This style has a fitted yoke, which flares into a voluminous main body. There may be vertical panels of fabric to give the flare the kurta requires. The kurta almost reaches the ankle and the fitted churidar has lots of gathers at the ankle. The yoke and the main body could be made in contrasting colours / patterns to highlight the design.
A bride has a good collection of salwar kurtas befitting every occasion in her trousseau.
Indian brides are getting experimental with the clothes that they wish to have in their trousseau.
Western outfits
Apart from the above traditional outfits, a bride may also have some western dresses, tops, shirts, jeans, and trousers. Care should be taken to include clothes which are not only stylish but also comfortable. Fabric choices should be done keeping in mind the season and occasion for which the item will be worn. Personal preference of colors should be kept in mind and any new colors which are predicted to be fashionable should also be included. If the marriage is taking place in winters, warm clothes such as long coats, cardigans, pullovers, shawls and stoles should also be included. Keep in mind that the colors of the warm clothes should complement the main ensemble. Best colors to choose for sweaters are neutrals( cream, white, black, beige and brown), which can go with a lot of her outfits.
Jewelery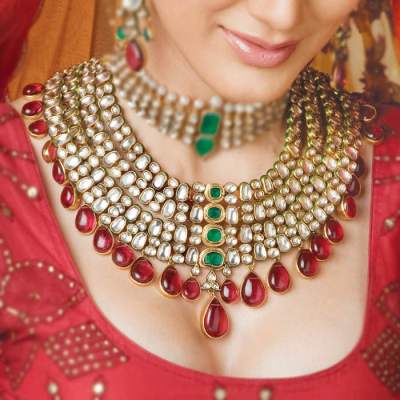 Jewelry is the other major category in the trousseau which needs a lot of planning. A bride may have some precious jewelery made in gold, silver and diamonds or some costume jewelery. Keep watching this space for a detailed write up on the jewelery options available for a bride.
Shoes and purses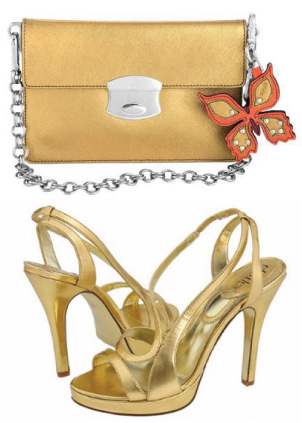 Shoes and purses also should be chosen wisely. Neutral colours and a few standard colours such as maroon, grey etc. work the best in case there are budgetary constraints. In case, there are no budgetary constraints, brides could go for matching footwear and bag to every outfit.
Lingerie
Lingerie gains equal, if not more, importance than clothes in today's bride's suitcases. The aim of having different kinds of lingerie is to make a woman more confident about herself and  appealing and desirable in the eyes of her partner. Apart from the basics, the trousseau could include some fun lingerie items like a two piece camisole and hot pant set or a negligee. The trick is to choose bold yet comfortable inner and night wear . You could play with cuts, fabrics and colors to have an exciting lingerie collection in your trousseau.
Cosmetics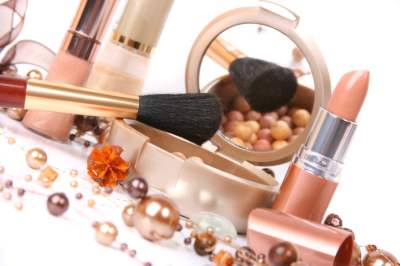 Cosmetics help you cover your flaws and highlight your assets. Choose what suits you rather than what is in!  Some must haves include moisturizer, body cream, concealer, foundation, lipsticks , nail paints, eye makeup, blush on and perfumes. Stick to brands that you have used in the past and which you are not allergic to. You could have a few standards shades of browns, pinks and whites for nail paints, and you could go adventurous with lipstick shades.
Linen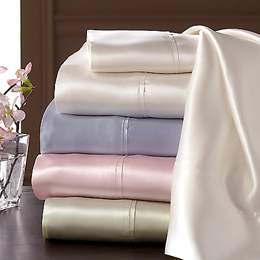 Traditionally, this has always been a part of any bride's trousseau and includes bed sheets, bed covers, blankets, quilts, pillow cases, body and face towels, table covers and runners etc. These are given keeping in mind that the bride may require these to set up her new home.
Other things which may be included are items of daily necessities such as bathroom slippers, toiletries (body washes, toothpaste and tooth brush),wrist  watch etc. These things though easily available, still form a part of the trousseau, to ensure that the bride has the comfort of using things that she is used to,  and does not have to ask anybody for anything, at least in the first few days of her married life.
All of you planning to get married soon, and all those who are preparing a trousseau for your loved ones, all the best and hope that you find the above information useful!