Claudia Schiffer has always delighted the paparazzi by hitting the streets in the most effortlessly chic and immaculate styles. Whether it be going out for shopping or picking up her kids from school, Claudia manages to strike a balance between the unique and the ordinary.  This season she was spotted sporting three different looks using some of the basics found in every woman's wardrobe.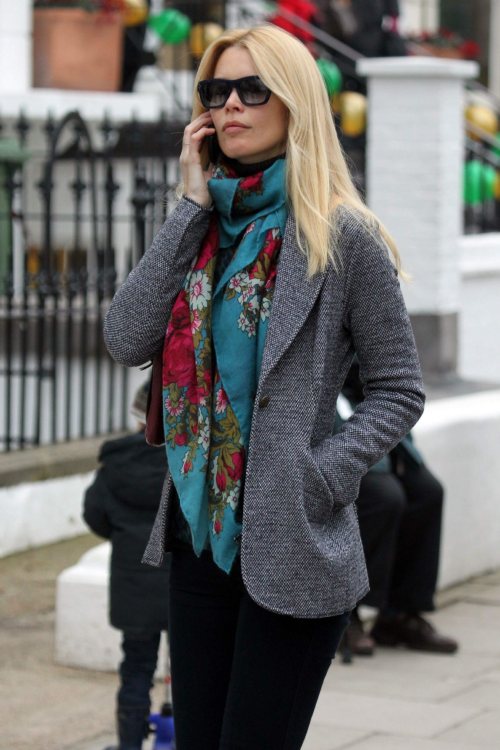 One of her particular 70s inspired looks features a long colorful scarf in the traditional flower-print, a woolen jacket and basic trousers that flare out slightly towards the ankle. Her choice of colors, as always, hovers around the neutral with a hint of bright as seen in the silk scarf draped fully around the neck. The most noticeable accessory synonymous with Claudia is her prominent sunglasses.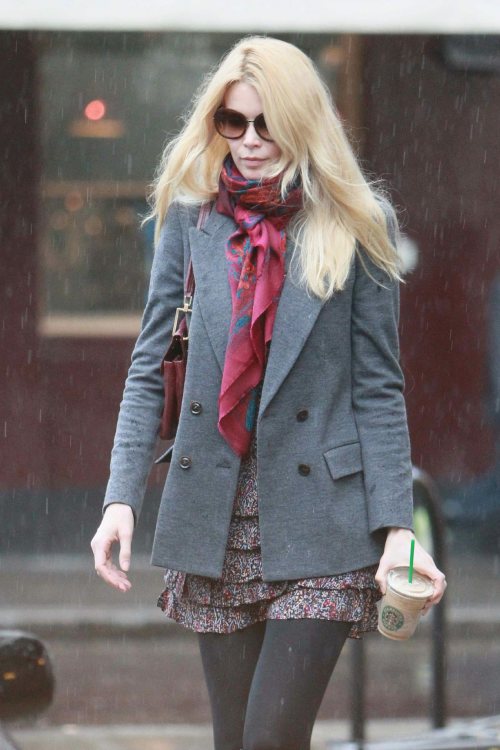 A slight variation and a more feminine touch in the look can be brought by replacing the trousers with a short frilly skirt and leggings or even a flapper dress under the jacket, keeping the rest of the attire same as before, as seen on Claudia in the streets of London.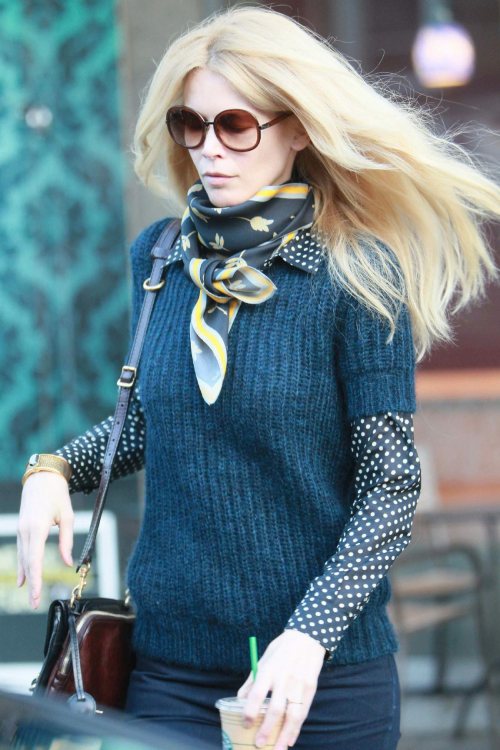 The third most often observed look worn by the blonde supermodel is formal and classy. A polka dotted shirt topped with a round neck sweater. This over a pair of bootleg J Brand jeans gives her the illusion of extra length. Not to miss the short colorful scarf tied in a knot around her neck. The stylish mom carries a cross-body leather bag on most occasions and a gold bracelet. She is also sporting Chloe sunglasses, one of her favorites.
To be able to carry off a look such as those by Claudia, all you need to know is correct layering and the use of accent colors in the wardrobe. Wearing neutral shades such as black, grey, brown or dark blue can hardly ever get you wrong but make sure not to let the entire ensemble appear dull or mundane. To avoid this, add a bright colored accessory such as a scarf, bracelet, watch or bag. Wear sunglasses that complement your face to complete the look.
Images: celebritieswonder