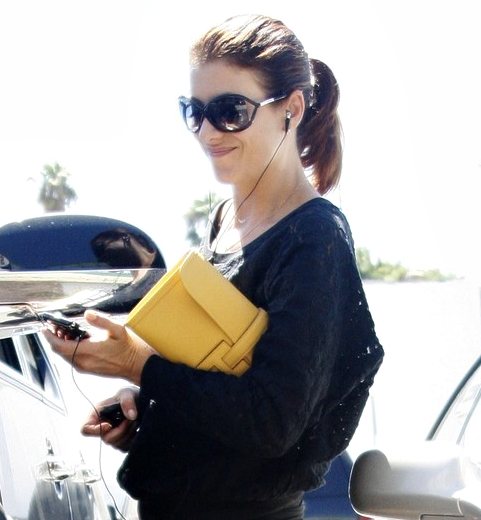 Private Practice star Kate Walsh rocked a chic casual look showing off her sexy long legs as she exited a salon after getting herself pampered with a manicure and pedicure in Los Angeles on February 19.
Dressed in a pair of black shorts and an oversized black sweatshirt, the 43-year-old looked radiant. The actress had earphones plugged into her ears and carried a yellow clutch and a book. She wore T-Strap sandals and covered her eyes with oversized sunglasses. Her hair was pulled back in a neat ponytail and she wore almost no makeup.
You too can sport this simple day time look the next time you go out for some self-time or even when you are hanging out with your girlfriends.
Get the look: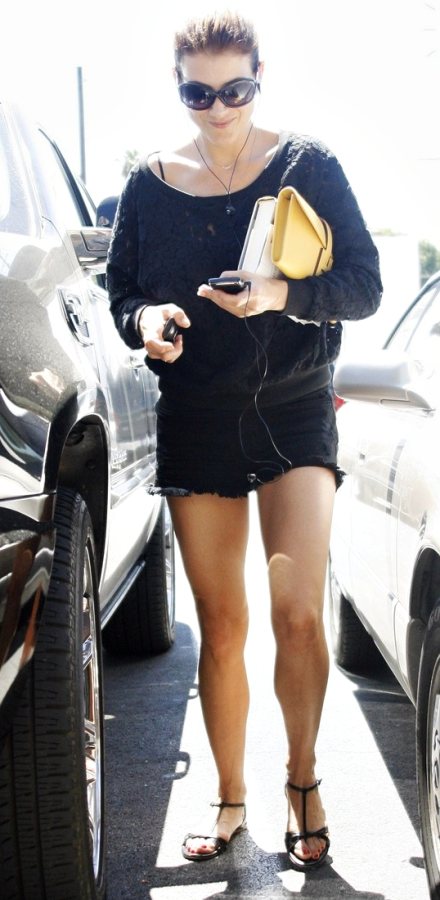 Go for a pair of cut-off denim shorts in a dark solid dyed color: Black and dark blue can prove to be great options. You can also go for brighter tones if that is more your style.
Next, wear an oversized sweatshirt. Try going for the same shade as your shorts. This will give you a slimmer and sexier appearance.
Now, choose your footwear sensibly keeping in mind that your choice must be chic and comfortable at the same time. Walsh chose T-strap sandals; you can alternatively go in for crocs or chappals.
A pair of sunglasses should complete your look. Oversized sunglasses are a quintessential favorite of stars throughout the globe. If you like to follow seasonal trends perfectly, go for cat-eye, round eye or retro shaped sunglasses.
Wear minimal makeup. Simple kajal and nude lip gloss should be enough. Try not to over accessorize.
Pull your hair back in a neat ponytail, plug in your earphones, play some rocking music and you are ready to rock the casual chic look a la Kate Walsh.
image:celebrswonder