Stars shone down on the on the red carpet as the 77th Annual Academy Awards (or as we layman say it.. THE OSCARS) commenced in the Kodak theatre in Los Angeles. Apparently 'Red was the new black' as many celebrities opted for going 'red hot'! As always the red carpet parade was stunning & flawless with many gorgeously constructed red carpet fashion trends, however I was surprised to see that there were no boundary pushing gowns this year (it's an Oscar legend that never fails to disappoint) with maybe the exception of Helena Bonham carter, who chose Colleen Atwood for a very unconventional number, befitting her 'celebrating film, not fashion' statement! However, the  Oscar red carpet, as always bore witness to extreme classy & exquisite fashion landmarks being made & broken.
Having said that, let's move on to our final roundup of 'who wore what & why'….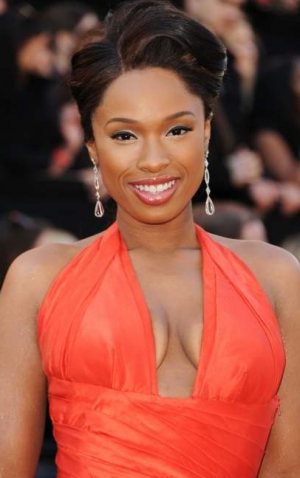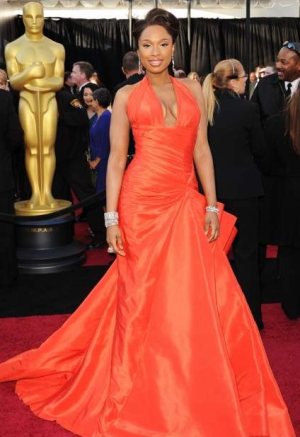 Beginning with the Rebels in Red…the numero uno was definitely Jennifer Hudson. She just keeps looking better & better with every red carpet appearance. Having lost oodles of weight yet keeping her trademark curves intact, she looked stunning in a reddish-tangerine Atelier Versace floor sweeping gown with a plunging neckline. While the gown was a thumbs up, the jewels on both hands were a little too much. However, the contrasting gorgeous purple shoes made up for everything! I guess Ms Hudson still has some kink left in her!!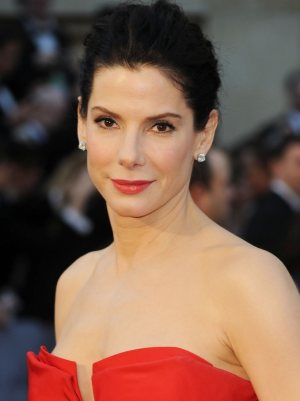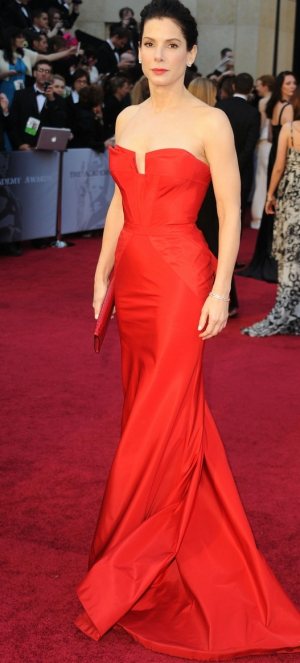 Moving past an eventful year, Sandra bullock hit jackpot in a strapless, flaming red Vera Wang train gown. Showing off her well toned curves, she carried of the gown with a classic sense of style & confidence. The jimmy choo 'vita's' platform heels, red leather clutch, minimal jewellery and bold makeup (yes, the red lip color was a good call!), she sparkled!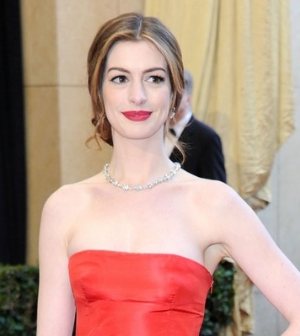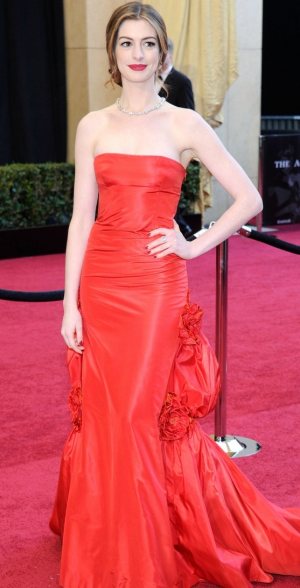 Also making a grand entry in our line up is one of the Oscar hosts this year, Anne Hathaway, who went vintage Hollywood, all glamored up in a blood red Valentino Fall 2002 couture gown. She is so smart when it comes to pulling off retro styles, especially with the centre parting, low pulled back hair and minimal jewellery, she looked spectacular.
Also Read:  Anne Hathaway flaunts seven outfits on stage at 2011 Oscars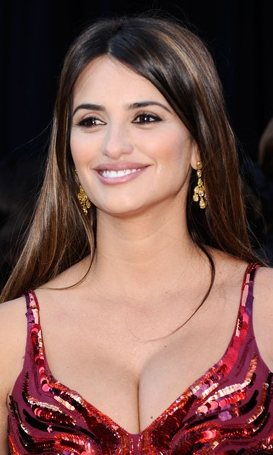 Only a month after motherhood, Penelope Cruz was all smiles and radiance as she walked the red carpet hand in hand with her Oscar nominated husband, Javier Bardem, in a plunging, red body hugging L' Wren Scott number. She matched the outfit with a clutch, Jimmy Choo heels and Chopard jewels. 'Mama' Mia is all we can say!!!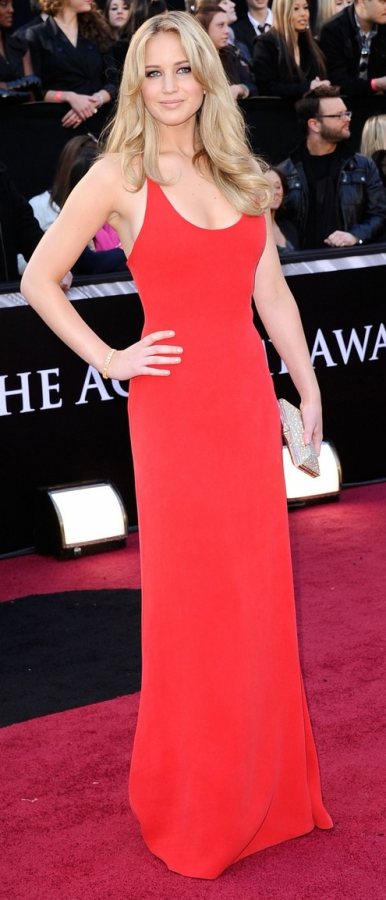 Best actress nominee, Jennifer Lawrence too decked up in a red Calvin Klein gown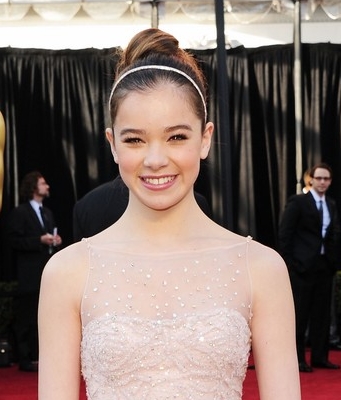 Now, moving away from our 'red bandwagon', let's look at some of the offbeat numbers…'coz after all its the Oscars and stereotype on this red carpet doesn't get you any brownie points!
Beginning with the youngest, teenager Hailee Steinfeld, was not only an Oscar nominee but also the designer for her own gown!  She actually sketched out her gown which was recreated by Marchesa. The gown was a gorgeous pale pink ballet tulle tea length dress embroidered with crystals. Very chic & elegant esp. teamed up with the classy Ferragamo pumps & silver clutch. The haeadband and chic updo looked adorable. Way to go Miss Steinfeld! Who knew that you could multitask so well! (Though later on, she replaced the pumps with comfortable looking sneakers at the Vanity Fair Oscar party. Hats off to her for pulling it off so well!!)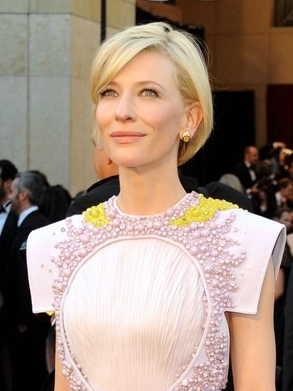 Cate Blanchett looked sensational in a Givenchy Spring 2011 Couture gown. A very unsual yet stunning choice, the Lilac pleated gown, with beautiful detailed pearl embroidery, interesting shoulders and the contrasting yellow, gives it a big thumbs up from our side!
Don't forget to read: Color Trends that Ruled the Red Carpet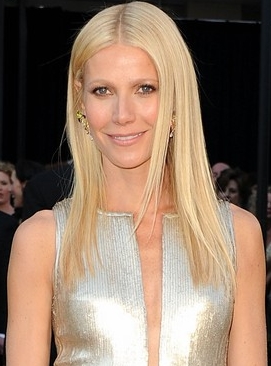 Going minimalist with lots of oomph was Gwyneth Paltrow, in a sleek silver metallic Calvin Klein gown paired with Louis Vuitton jewellery and Brian Atwood gold ankle strap 'Martina' pumps. However, the exquisite Louis Vuitton brooch at the hip was the cherry on the cake!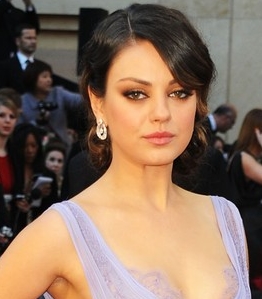 She might have been snubbed at the awards ceremony, but Mila Kunis again proved that when it comes to the red carpet, she is unbeatable! The Black Swan actress wore an Elie Saab Haute Couture lavender chiffon gown with tiered lace detailing and a grosgoin ribbon waist.
It was not glamour night only at the Oscar red carpet, but also at the television studios who were taking us, live, to the event. Guliana Rancic, hosting the E Live Red carper for E Online, looked ravishing in a Christian Siriano, strapless aqua printed spring 2011 gown complemented with Chopard jewels. Great going Guiliana! Thankyou for glamming up television for us!
So finally the much awaited Oscar buzz for the red carpet fashion is over. This year was quite the contrary with celebrities opting for much safer styles, so no crazy hairdos, over the top gowns or even wardrobe malfunctions. It was all perfect …… just like an Oscar red carpet should be, with fashion & style coming up as the real winners!