The final day of the wills India fashion week was as exciting, colorful and trend setting as the previous days.
Designer Nikhita Tandon A/W 2011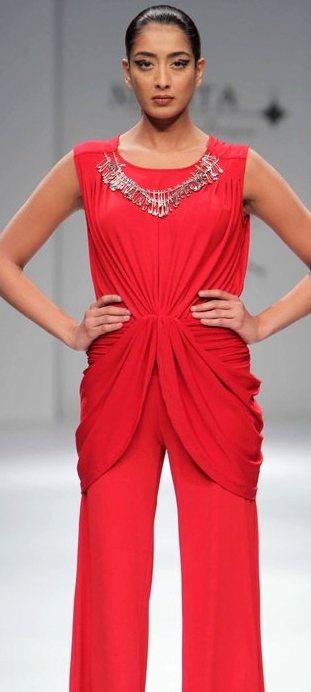 Designer Nikhita Tandon A/W 2011 collection

The day began with the collection of Nikhita Tandon. Her label "Mynah" caters to the young, feminine, playful yet sexy customer and her designs sure had a lot to offer to them. To begin with the colour palette that she chose was classic – red, black and deep tones of brown – all great for winters. The shapes and silhouette included ankle length straight dresses, draped tops worn over knee length skirts, high waist parallel pants, jumpsuits. The collection had ditsy prints and Multi colour border prints, where the borders were used creatively. Other detailing included – ruffles in self fabric or contrast, pleating and metallic embellishments. Fabrics were flowy and included georgettes and satins. Loved the innovative use of border prints and that is something we should start introducing right away in our collection!
Designer Khushali Kumar A/W 2011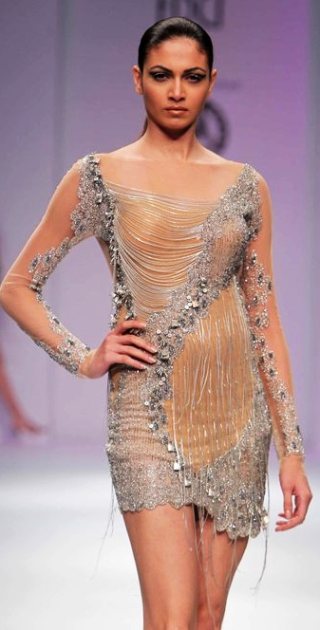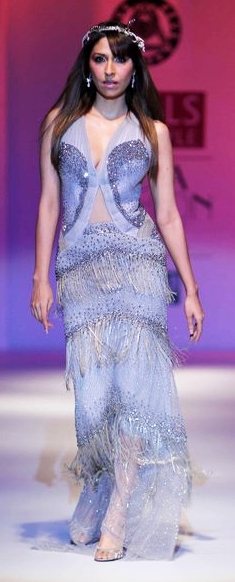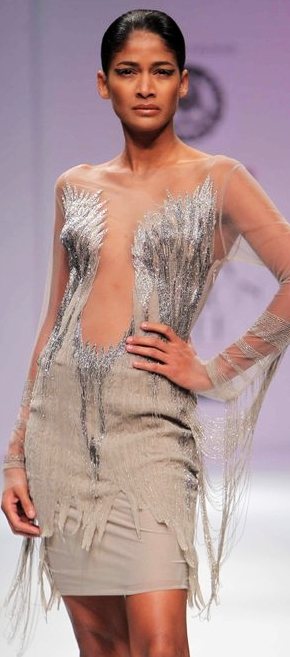 Designer Khushali Kumar A/W 2011 collection

"Reve" by Khushali Kumar focused on the space age, modern woman – aptly titled 'Fly me to the moon'. Her designs were futuristic – there was a blend of chic leather, metal and feathers in her designs, which still managed to look chic and classy. The collection included subtle colors such as silver grays, metallic ecrus, ash black and moved on to more color – oranges, reds and darker lilacs. The forms were fluid and well fitting. He shapes included strapless dresses and floor length gowns. The dresses were embellished with space age collars, metallic and feather trims lending the space like element to the attire. Go for the colors and the metallic trims from this collection.
Designer Sulakshana Monga A/W 2011



Designer Sulakshana Monga A/W 2011 collection
'Soltee' by Sulakshna Monga had a central theme – Glamousphere –  the sphere of glamor and she sure did justice to the hybrid name. The collection was feminine – there was translucence, layering, lace work and floral crochets built into the designs, giving an enigmatic feeling to the wearer. The color story shared the exuberance – there were light browns, oranges, corals, gold and the ethereal whites. The silhouettes included flowy dresses, sleeveless capes worn over long skirts, saris draped in interesting methods and see through bustiers teamed with parallel pants. Worth watching out for – the shimmery elegance that the collection portrayed, some designs may be a bit over the top for day to day wear, but can easily be styled into your evening wardrobe!
Designer Dev Nil A/W 2011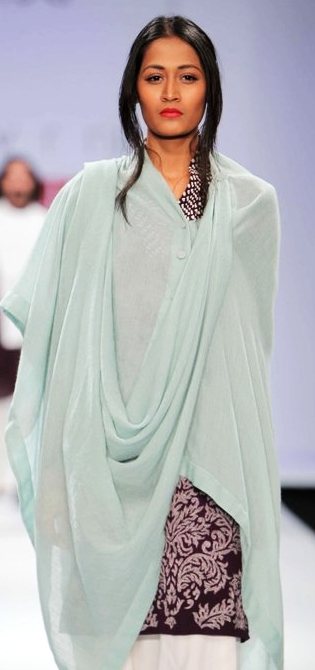 Designer Dev Nil A/W 2011 collection
Dev r Nil's collection in the afternoon, was Indian in essence and the silhouettes were contemporary. No frills or fancy stuff, the designer duo depended on the usage of colors and shapes in their designs to make an impression. The garments were actually utilitarian and great for a girl who wants some Indian-ness in her western wardrobe. Long tunics, worn over comfortable loose parallel pants and an open long bolero thrown over it, draped capes, jackets, ombre dyed jumpsuits with braid detailing , straight knee length ombre dyed dresses, velvet long jackets  were some of the women's wear shapes. The Men's wear range included comfortable PJs,  interesting cross over and jackets worn over a long kurta and paired with tapered pants or comfortable PJs, the Indian staple – kurta and churidaar but with a twist – a high cuff at ankle. The duo used ombre dyeing , damask prints  etc. in their collection. Colors were whites, dull golds, blues and splashes of bright orange.
Designer Ritesh Kumar Ridzyn A/W 2011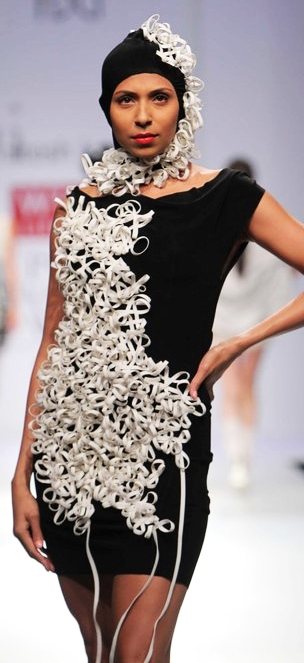 Designer Ritesh Kumar Ridzyn A/W 2011 collection
Ritesh Kumar Ridzyn's collection – "Relief" was contemporary in the usage of line, texture and color. The young designer played around with textile and 3 D elastic, laser cut-work and patchwork  to create some fabulous designs. The silhouettes included draped dresses, sheath dresses,  jackets and capes , leggings with intricate embroidery and 3D motifs. Colors were muted – fawn, whites blacks, and grays, with an occasional red thrown in which seemed to be the flavor of the season.   The fabrics included silk, wool, satin etc. Ritesh's collection used the element of 3 D in his designs, and this seems to be one trend we sure must be watching out for.
Designer Masaba Gupta A/W 2011



Designer Masaba Gupta A/W 2011 collection
A name to watch out for in the young designer brigade is Masaba Gupta, who surely did not disappoint with her collection. Her collection was an ode to the Indian woman for her larger than life vitality and one who easily juggles the roles of a mother, daughter, wife and sister. Her models strutted in wearing the Vermillion Bindi – the most traditional sign of an Indian woman, and while teh silhouettes were straight, there was a strong presence of color yellow, which was bringing in the element of happiness to an otherwise neutrals palette of blacks, grays and pinks. The detailing included – scripts prints, all over prints of traditional temple motifs, ombre dyeing and embroidery. Her silhouettes included the good old sari draped in different, innovative methods – loosely hung over a shirt and worn over sleek trousers, or a cowl draped sari, capes, long a Line voluminous skirts. Fabrics included raw silk, crushed cottons. Masaba's color usage is surely something that we need to watch out for.
Designer Rabani & Rakha A/W 2011



Designer Rabani & Rakha A/W 2011 collection
Rabani and Rakha's collection "Rabant" was divided into two looks – the first subtle and underplayed, the next – vibrant and bright. The collection showcased  gowns in stretch jersey in a myriad of colors – black, military green, chocolate, turquoise, fuchsia, ochre and  teal. Metallic detailing with many drapes increased the glamor of the gowns manifold. Animal prints in blues, lilacs also were used, but with a new twist –big, bright fuchsia roses as the border. The collection was feminine and used net, chiffons and georgettes to enhance the feminity. Great for evening wear and definitely needs to be included in your wedding wardrobe!
Designer Swapan & Seema A/W 2011

Designer Swapan & Seema A/W 2011 collection
Swapan and Seema 's collection Urban Elan was like it's name – contemporary yet luxurious. Their collection was chiefly Indian wear and they put detailed embroidery, rich colors to the best use. Silhouettes included voluminous embroidered lehengas worn with elegant cholis and dupattas, churidaar kurtas, sheer saris, draped evening gowns with metallic silver embroidery etc. Color combination were unusual – red with light stone, ombre dyed light lilacs turning to grays, wine and red, navy with red and lent a feminine touch to the already delicate and intricate designs. Great for traditional Indian wear and evening wear too, this collection is definitely a winner!
Designer Rahul Mishra A/W 2011



Designer Rahul Mishra A/W 2011 collection
Rahul Mishra 's collection was titled Lineage. And indeed his collection was graphic, with great use of lines to form diamonds by juxtaposing different fabrics. There were bias lines too. Colors were mostly monochromatic – with grays, black and whites chiefly being used. Silhouettes were simple  and included cropped pants, asymmetrical capes, dresses, well fitted shirts, jumpsuits, and there was a good use of tonal sequins in his designs. The sequins ensured that there was an element of fun and elegance to an otherwise "linear" design. Trend to watch out for – great use of tonal sequins to dress up a simple silhouette.
Designer Rahul Reddy A/W 2011



Designer Rahul Reddy A/W 2011 collection
Rahul Reddy's collection was inspired and in some ways paid tribute to the people who have experienced extreme pain. Perhaps that is why, the models strutted wearing black eye patches – albeit embroidered ones. His collection was ambitious – it was only in color black. The designs were strict and the surface detailing minimal. Colors pink and white were used sparingly as panels, piping or prints. Shapes included knee length and mid calf length dresses – some of them straight and some voluminous. A bold collection from Rahul!
Designer Anand Kabra A/W 2011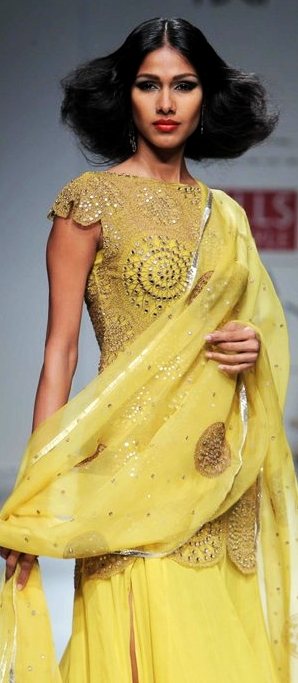 Designer Anand Kabra A/W 2011 collection
Anand Kabra – A collection which is truly for the global woman, his collection reflect an Indian touch to western silhouettes – so what is different from what we have already seen? The collection's lightness – use of fabrics such as chiffons and organza – very chic and very wearable but with the twist of crochet mirror – very Indian to it. Loose dart-less shirts worn with a thin belt to highlight the waist of the wearer paired with cropped trousers, draped skirts worn with waistcoat over a plain white fitted shirt, blousons worn with printed leggings were the highlights of his western wear collection. The Indian wear collection included saris, ghaghras, long tunics worn with wrap around etc. . The Indian wear had intricate mirror work. White, black, browns, yellows and oranges dominated the color scheme. This was a great collection from Anand, who is now famous for his contemporary yet traditional western wear.
Designer Anita Dongre A/W 2011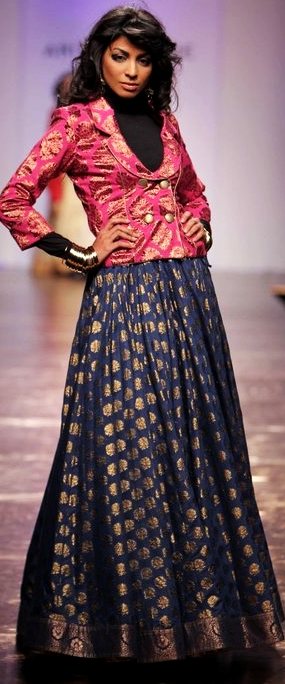 Designer Anita Dongre A/W 2011 collection
Anita Dongre – Mix of Indian and western seemed to be the flavour of the last day's show and Anita's collection was no exception. The show began with modern Western silhouettes, slowly graduating to evening wear  in both – Indian wear and Western wear.  Long sleeved printed dresses worn with black stockings, boots and bucket hats were the perfect beginning of the Autumn winter show. Jackets in rich jacquards were next teamed with black polo neck tees and miniskirts and tights to lend the Indianness that the designer is now so famous for. There was delicate gold embroidery on her lehengas and miniskirts and the rich mix of Indian weaves with western silhouettes surely made this collection worth the wait! Thumbs up to – the rich jacquards, mix of indo western to look unique!
Designer Sabyasachi Mukherjee A/W 2011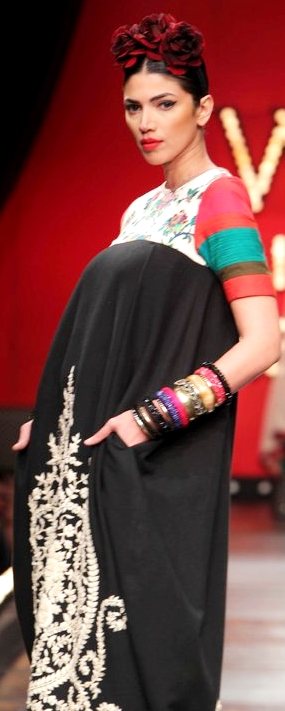 Designer Sabyasachi Mukherjee A/W 2011
Sabyasachi's collection marked the grand finale of this five day event and we know what we mean when it is said – Save the best for the last! The king of kitsch once again showed why he is called so. Colourful tiered mini dresses worn with net leggings, voluminous and shapeless dresses with coloured bodice and black skirt with white embroidery, Gold embroidered black dress worn with an all black veil were just some of the masterpieces from this fashion guru. Loved the colours, mixed use of black and white stripes with colourful floral prints and finally muted gold work on black which looked as rich as it could.
What a finale!
Images: WIFW