Working women really have it tough – after all it is not easy to manage home and office and to ensure that you look good all the time. One part of looking good is to manage your hair well, and that is a tall order, given that there is such a mad rush in the morning. In this article, we discuss some not so tough, easy to maintain hair styles that corporate women can carry off.
Hairstyles for long hair
Ponytail – low and high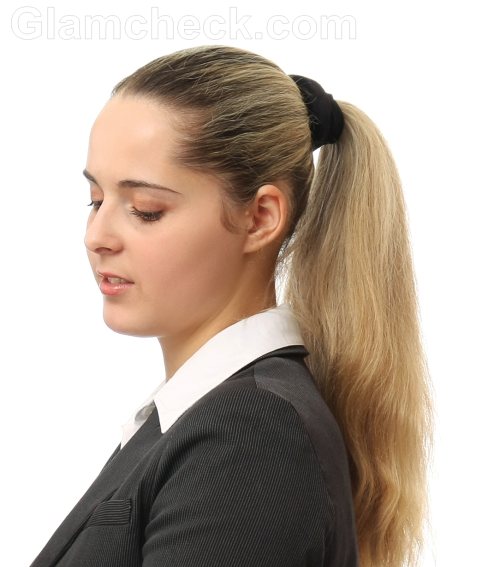 Ponytail hairstyle: What is it?
Being a working woman myself, I understand that we need to accomplish a lot in a day. Having to deal with messy hair is surely not one of the things that I want on my To-do list. Hence this super efficient, low maintenance look, which tops the list.
How to make a ponytail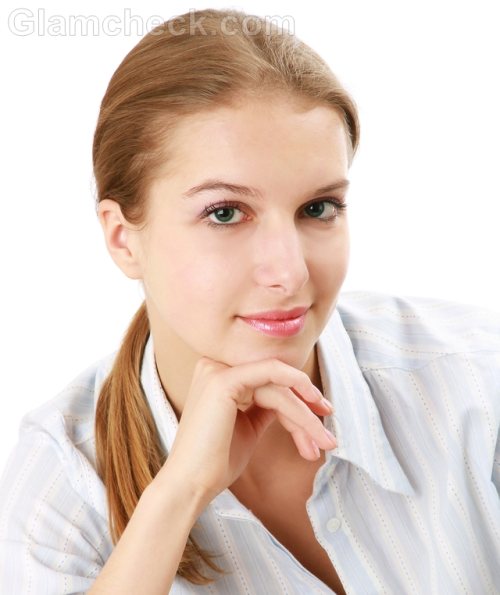 How to achieve the look : All you need to do, is comb your hair, pull all of your hair back and secure it with a rubber band to form a loose low pony. The low pony, sleek look, is great if you have straight hair. If you have wavy hair or hair which is neither too straight nor all wavy, you could do the same – comb, pull back and tie into a high pony.
Tips and good for
This look is not only versatile – you could team it with anything in your wardrobe, business suits or a simple top and trousers, but also super quick and saves precious minutes in your choc-a-block morning hours. And we already know , a tied hair style can look great if you are having a bad hair day or your hair are not squeaky clean – come on, we all know we have our not so good hair days!
Leaving it open
Open hair: What is it?
The second best option – is to leave your hair open. Straight hair looks great when left open as it does not crowd the face and hence looks more professional.
How to achieve the look :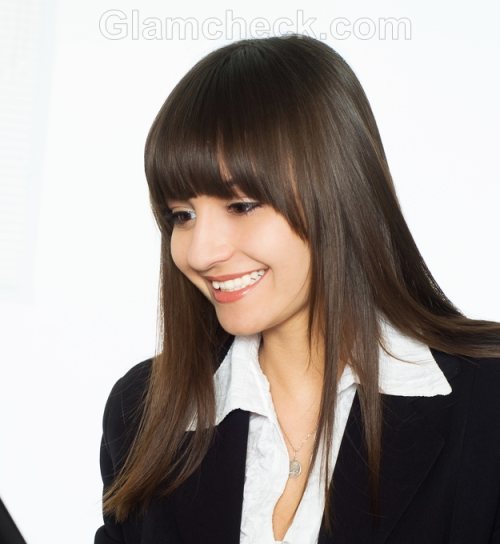 You could part your hair on to one side and let the hair fall on either side of your face, or, you could be a little more experimental with front bangs. The front bangs add a dimension of cuteness to your look, without taking away the professional element from it.
In case you have hair which is not straight, in fact is limpy and not too voluminous, you could go in for the layered look, which basically adds layers at the front, making your hair a little more manageable and adds volume at the same time. This hairstyle looks great when you part your hair in the middle and leave it open , the layers fall around your face making the hair look more voluminous and at the same time, it is an easy style to maintain.
Tips and good for
Open hair looks great, if carried well and complements most of the outfits that you will be having in your work wardrobe. Just ensure that when you decide to wear this look, your hair needs to be really clean and you use some anti frizz and conditioner. Usage of these products will ensure that your hair will behave when you flaunt your style and work hard at the office.
Chignon
Chignon Hairstyle : What is it?
My personal favourite, chignons in all forms are really 'in' these summers. Easy to wear and manage and look great with anything and everything – versatile isn't it? And the added advantage is that you could make of them in a jiffy and they are your best bet when you are having a bad hair day.
How to make
Chignon

To make a simple chignon, comb your hair, pull all of it back, hold the base of the hair with one hand and twist it with the other to resemble a rope. Tie it around neatly in a bun and use hair pins, rubber bands or fabric hair bands to hold it in its place. Chignons can be worn at the nape, at the back of your neck, as a French bun or as a top bun like a beehive. Remember, for the corporate look, it is better to keep it simple and top buns and beehive buns should mostly be kept for special evening occasions.
Tips and good for
Take care to gel your hair if you have front bangs or layers so that the chignon looks neat.
Braided hairstyle
Braided hair : What is it?
Perhaps, a little complex than the looks we have just discussed, this is all the same a winner hairstyle and sure to get you second glances from everyone in the office.
How to make braids
How to achieve the look : Comb your hair and divide into small sections. These sections should cover the entire front part of the head, about 8-10 sections would be enough to cover the entire head. Make individual neat braids of each section and pull them all back to the lower back of your head. The hair at the base of your head which has not been covered in braids can be rolled up to form a neat chignon and take care to include the endings of each of these braids.
Tips and good for
A very neat look, though a tad cumbersome and time consuming, this is definitely a style statement. Wear this hairstyle with smart office wear to create a lasting impression. Take care to ensure there are no loose hair moving out from your braid, as it will totally destroy the look.
Hairstyles for short hair
Short hair needs to be kept at the right length, in order to look professional and not untidy. Regular trimming is one way to ensure that your short hair looks great all the time.
Spiked short hair
Spiked hair : What is it?
The best part about having short hair is, they are easy to manage. One wash, blow dry and you are ready to face the world.
How to achieve the look:
Ask your dresser to give your spikes, basically sharp ends to your hair. After combing, in order to maintain your spikes, use the hair gel to keep the spikes in place and you are ready for office.
Tips and good for:
Great look for women with angular faces and little bit of adventure in them, this is perhaps the most popular look that the short haired women carry. Team it with business suits or a skirt and top and you will rarely go wrong. The right length of the hair, as mentioned above is really important to carry the spiked look. Just above the ear looks great.
Short hair with side parting
What is it:
Again a versatile short hair style, this is simpler than the spiked hair style.
How to achieve the look:
Part your washed hair to a side. The longer ends of the hair should be blown dry to be straight and falling above your forehead to partially cover it. Ask your hairdresser to cut your hair keeping in mind the side parting and slightly longer hair at front.
Tips and good for:
Opt for some straightening gel and apply it to the front of your hair, so that it does not fall flat, and has some structure to it. Team it with anything in your wardrobe and you will not go wrong!
Remember, the hairstyles for corporate women do not necessarily need to take a lot of time. They need to be non messy, smart and precise, just like the woman who is sporting it – you!
Image: Shutterstock