The youngsters sure know their way around in this glam world and have time and again proven that whilst they may be young, they do have a deep understanding of design and style. This was, once again aptly proven by the Disney superstar – 18 year old Selena Gomez at the recent New York premiere of her upcoming movie – "Monte Carlo".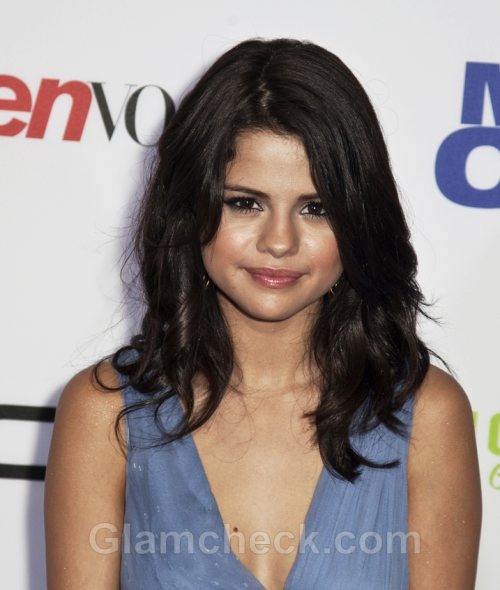 Selena Gomez wore a cornflower blue floor length gown by J Mendel. The blue gown was a beauty in its own right. Made in sheer chiffon, dotted with shimmer, this gown had a sleeveless, fitted bodice with a cross over plunging neckline. The skirt was ruched and sheer. The dress had a very balanced image – elegant, beautiful and sexy – all at the same time.

Selena decided to accessorize well – she wore chunky gold jewellery – earrings, bangles on her left arm and statement rings – all by Ofira. She held on to a shimmering clutch and wore shimmery pumps, in keeping with her overall shiny shimmery look.
Selena's makeup was simple – again a winner, considering we really do not want a dolled up 18 year old! She wore only a very light pink lip gloss and her eyes were well done with heavy definition and the good old shimmery eye shadow. The young girl in her showed up in her choice of nail paint – a light coral, which we loved!
Selena decided to keep her hairstyle simple too. Her rich, black hair was parted in the middle and was left in bouncy curls just at the ends.
Great dress, simple yet great makeup and accessories sure marked Selena's this outing as one of the most fashionable! How do you like Selena's look? Do write in and let us know!
Image: Shutterstock