Colour white is a staple, a classic and forever in vogue. So when the American actor and stand up comedian Tony Rock hosted an 'all white party', I am sure, most of the invitees would have been as excited as the fashion police. After all, you can never really go wrong with a classic white outfit.
Let's have a look at the white outfits of some of the celebrities spotted at the 2011 'All white party'.
Teres Marie in white outfit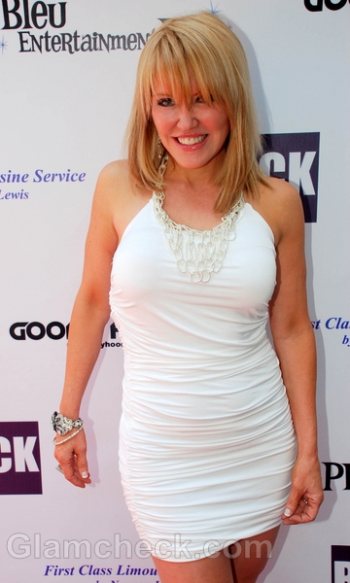 Teres Marie was spotted donning a figure hugging, sleeveless, strappy knit mini dress in white. Teres has a great figure and the white outfit complimented it beautifully.
She wore a chunky chain necklace in white. Her long earrings showed through her hair. Her metallic flower bracelet in clear and black crystals looked pretty on her slender wrist. We love her single band of diamonds bracelet. It is classic and can be paired with almost any dress. The accessories chosen by Teres were a perfect fit for her white outfit. Teres's hairstyle was casual and chic.
Her light golden brown shoulder length hair was left open, with the front bangs casually falling over her forehead. Teres kept her makeup simple with just a hint of gloss on her lips and her eyes were given more definition with a black liner.
Teres brightened her white outfit, with the most captivating part of her persona – her enigmatic smile!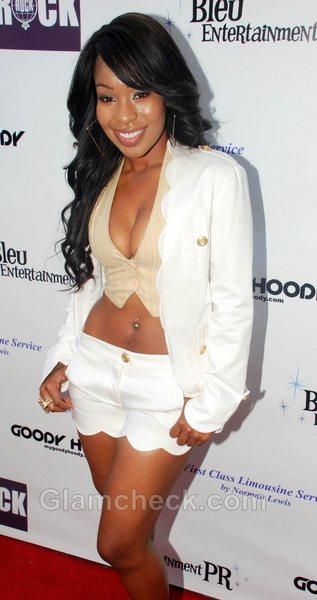 Porscha Coleman in white outfit
There are sexy women and then there is the sexiest of them all Porscha Coleman. Porscha literally stole the show with her appearance at the event. Her white outfit could not literally be termed as all white as there was another neutral colour added to it. Porscha wore a pair of really short shorts in white. We love the scalloped hem of the shorts.
Porscha teamed her shorts with a plunging neckline halter neck fitted vest in beige. The plunging neckline revealed her twin assets in a sexy manner, increasing her oomph quotient by many notches. We love how Porscha has kept the rest of her look simple, befitting the white outfit. She just wore statement jewellery – a chunky floral ring in metallic gold, a beige bracelet on her left hand and big diamond shaped ear hooplas.
Porscha also scored high on her nude makeup and hairstyle. Porscha's eyes were beautifully done up with just some definition by a dark eyeliner and some shimmery eye shadow. Her lips had a touch of natural brown. Porscha's black hair was side swept, with the front bangs covering her forehead and some hair falling across her shoulder at the front.
The hair ended in loose big curls, which looked great.  A great way to enhance the sexy white outfit. Don't you agree?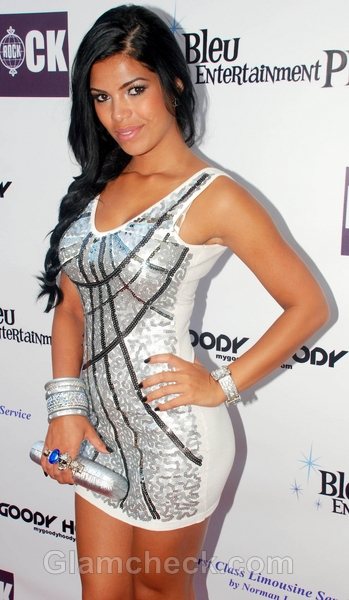 Suelyn Medeiros in white outfit
Suelyn Medeiros is a curvy, voluptuous lady and she dressed up in her white outfit to ensure that the curves are further enhanced! Suelyn wore a figure hugging white knit jersey mini dress.
Her white outfit was criss-crossed with sequins in colour black and silver, forming no particular pattern. What really brought attention to Suelyn is how she has accessorized her white outfit. Silver was the colour of the day for Suelyn, who wore multiple silver bracelets on her right hand and a big silver watch on her left.Two of her three big rings were in silver (Yes, yet again!), while one in an electric blue. To add to the bling factor, Suelyn carried a silver clutch as well.  With so much of silver happening in the entire appearance, we thank Suelyn for deciding to don black nail paint on her manicured fingers and keep her makeup natural.
Her lustrous black hair was swept to one side and fell over her front in loose waves. If you truly ask me about Suelyn's white outfit, I think on its own it is okay, but she could have let go of so much bling while accessorizing it!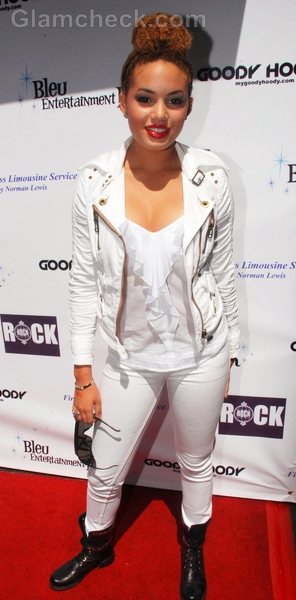 Rain in white outfit
Page 3 regular Rain appeared in her all white outfit with her strange hairstyle and even stranger hairstyle.
Rain wore a short white jacket over a V neck white tee. She paired it with pair of white stretch jeans. Rain's accessories included her dark sunglasses and a simple bracelet. She wore black ankle high boots with her all white outfit.
With nothing spectacular to mention either about Rain's white outfit or her hairstyle, we sure loved her  coral lip gloss which really is the saving grace in an otherwise boring and predictable fashion style.
What do you think of the white outfits sported at the All white party. Whose white outfit gets your vote?
Image: P R Photos