Reality television star Sam Faiers chose a side swept hairstyle for her appearance at the UK premiere of Transformers 3 in London.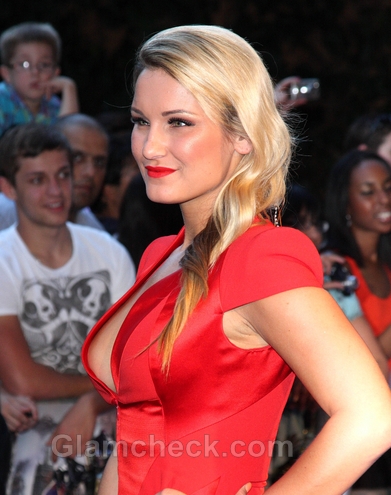 Side Swept Hairstyle : Sam Faiers
From the side profile, the hairstyle looked like a sort of plait but actually it was worn in loose waves that fell on one shoulder. The good part with this particular style is that though it holds its own, it does not take away attention from the outfit. It also lends a playful image to the person sporting the hairdo. The side swept hairstyle can be paired with a gown, floral frock or an off shoulder dress – you can do a lot with this flirty yet dressy style.
Side swept hairstyle is one of the most popular celebrity hairstyles. Lately, one has been noticing many celebrities, such as Alicia Keys and a host of other stars, sporting a side swept hairstyle at red carpets, premieres, launches and other high profile events. Perhaps, it has got to do with keeping the neck bare – which offers a much needed respite on hot days. Well, whatever the reason for sporting the style – variations of side swept hairstyles are definitely in vogue this season.
Image: P R Photos