The 2011 BET Awards at the Shrine Awards in LA saw it fair share of queer and whacky stuff but very few of them could compete with singer Porcelain Black's Style – in particular her hair.
Hairstyle gone wrong
It seems that the singer is highly inspired by/is a fan of Cruella De Vil – nothing else can explain THAT hairstyle. I mean half blonde and half black? Why Porcelain, why? Ah, I get it; you probably had a hard time deciding which shade you liked better and went in for both, how innovative! Get two for the price of one. But, that still doesn't explain the conical bra? I thought it was over and done with by Madonna – and we do not really want a déjà vu moment.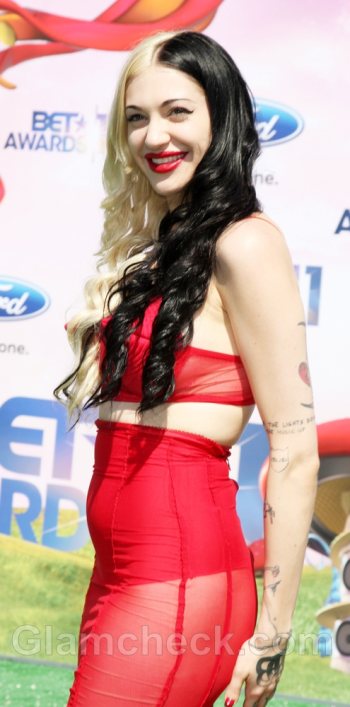 Someone has clearly told Porcelain, that in order to stay in the limelight one should make absurd style statements. But, Porcelain dear, you need more than outlandish costumes to keep you in the spotlight, or else all you get is 15 minutes of fame – unless, of course you are Lady Gaga, who incidentally is also a smart marketing powerhouse in herself.
Of course, we can understand if you chose this hairstyle as a smart derivative of your name, Porcelain Black – you know, with blonde representing porcelain and black representing black.  Ok, ok I take back my comparisons in that case. Matching the color of your hair with your name – I mean now if that isn't a brilliant move then what is? (Yes, yes sarcasm rules)
Well, one thing is for sure – I definitely am not going to sport such a style unless of course I want to take part in a "Hairstyle Gone Wrong" competition which offers a large, I repeat LARGE, sum of money as reward. What about you?
Image: P R Photos