Ballroom dancer and singer, Julianne Hough, shows us that nude makeup does not necessarily have to be in the same pattern, it can be applied in various ways – so much so that, each adds a very different look to the wearer.
So, if you always thought that nude makeup means a certain type of look, then you couldn't be further from the truth as it all depends on the kind of nude makeup you want to sport.
Let us get started by going through the various Julianne Hough Nude Makeup pictures, to see how you too can try out the different variations.
Julianne Hough Nude Makeup: Casual
Here, Ms Hough shows us that how nude makeup can be sported for daily wear and informal occasions by keeping it casual. The eyes are the main focus here, and have been highlighted well.
To do it yourself:
Pay attention to elaborately doing up the eyes as the focus here is smokey eyes, so rim your eyes with a heavy hand of kohl.
Another thing that you have to be careful about is the point till where you extend the eyes – as the kohl has to extend beyond the eye rim, to the outer corners of the eye. This gives the appearance of big, elongated eyes and this type of makeup is great for those who think their eyes are on the smaller side.
If you are not to deft with kohl, then use a eye makeup brush, the ones with a bud tip, to smudge black eye shadow on the upper and lower eye lid for a smokey effect.
Finish with 2-3 coats of mascara.
Apply a rosy hue on the apples of your cheek and finish with a nude pink lipstick.
To give the appearance of a fuller mouth – line the lower lip with a lip liner in a shade that is slightly darker than your lipstick. And, line the cupid's bow of your lip with a shimmery light pink liner.
Julianne Hough Nude Makeup: Glamorous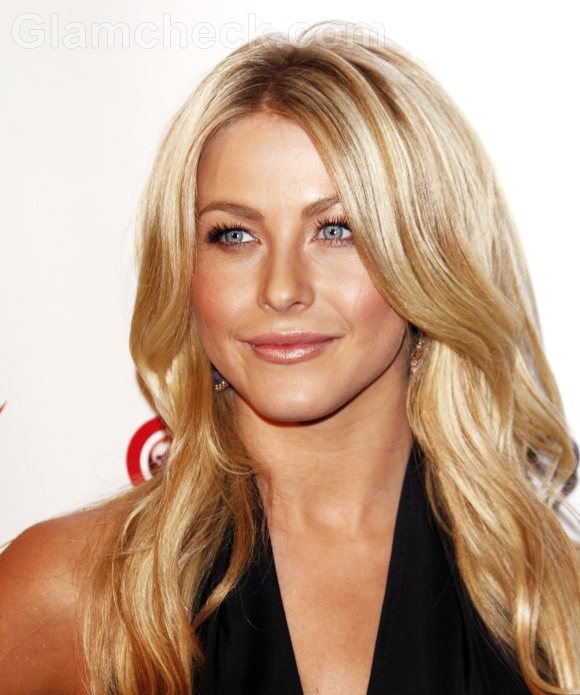 As we can see in this picture, Julianne Hough has achieved a very glamorous look with this particular nude makeup. If you want to rock a party or a big function, then befriend the glamorous nude makeup.  This makeup focuses on the whole face equally.
To do it yourself:
Start by applying a coat of mascara.
Highlight your cheekbones by sucking in your cheeks like a fish, and filling in the hollow created with pinkish brown shade of blush.
Dab a light pink gloss on your lips.
Finish by applying face illuminator/white shimmery illuminating powder on the brow bones, inner creases of the eye, apples of your cheek and on your chin. This will ensure that your face reflects light; as a result it will look dazzling.
Julianne Hough Nude Makeup: Chic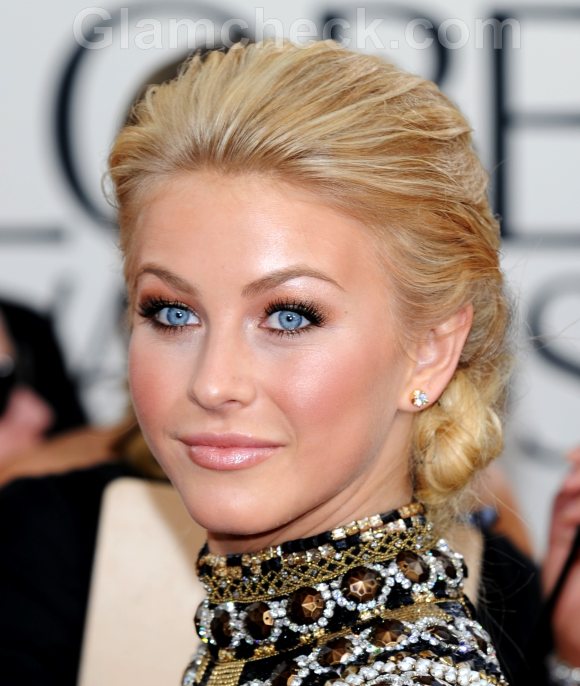 Nude makeup can also look chic, as the pretty dancer shows us here. This makeup is great for an afternoon get together with the girls or an office event. It makes a person look stylish and classy.
To do it yourself:
Apply brown eye shadow on your upper eyelid, and extend it to the outer corners of your eyes for a winged look.
A thin line of black liner should be applied meticulously on your eyelids – as close to the lashes as possible.
Apply 2 coats of mascara on both your upper and lower eye lashes.
Put a pink rosy blush on the apples of your cheeks – in the direction of the top part of your ears. (see photo)
For your lips choose a glossy light pink lipper.
Highlight your face with some illuminator – applied on your brow bones and inner creases of the eye.
The Julianne Hough Nude Makeup shows us how the same nude makeup can be done in different manner to bring about different looks. So, go ahead and try out the one you like the best or that which suits your purpose most.
For even more ideas on nude makeup, you can take a look at the Miley Cyrus Nude Makeup.  And, if you want a full tutorial on applying nude makeup then What is nude make up and how to achieve it is the article for you.
Image: Shutterstock