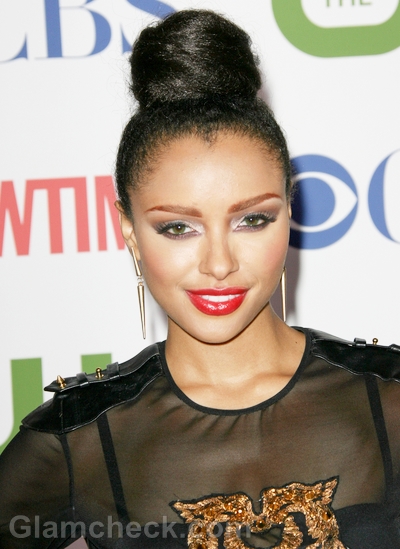 Actress Kat Graham sported a ballerina style top bun at the CW and Showtime TCA Party in Beverley Hills. Though, we have been seeing a lot of top buns recently, Graham's up-do might just have been a bit too strict.
The top bun, that Graham had, can look harsh and take away from the softness of the face. So, unless and until, you have a great jaw line, this style will not really do anything for you because it can expose each and every flaw of the face. It is another thing if you want to downplay your look, then, by all means, opt for it. Another problem with this particular top bun is that it can pull on the roots of your hair – which might not be the most comfortable thing.
Of course, on the other hand, such a hairstyle can give your neck a much needed relief on hot and sultry days. And, it is also great for a day when you are having an extremely bad hair moment – this top bun will completely camouflage that fact.
So now that you know both the pros and the cons – is this particular Kat Graham top bun something that you would try?
Image: P RP hotos