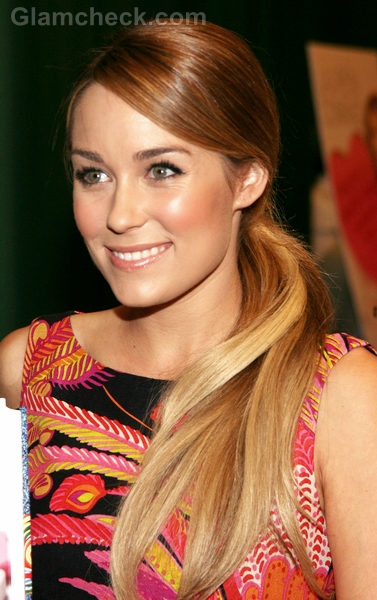 The side swept ponytail really suits her and Lauren has been seen at various events in this particular style. Of course, we have spotted variations in the side swept ponytail itself, which ranges from side swept straight ponytail to side swept curly ponytail – with a change in the way the hair has been parted too. Needless to say, all of these variations go hand in hand with this pretty celebutante's style and gives her a clean chic as well as "pretty girly" look.
This hairstyle is great for a semi formal event, a date night or for an afternoon with your girl gang. A high point of this Lauren Conrad hairstyle is that it can make the wearer look quite youthful – and who doesn't like that!
Tips to do it yourself:
If you want the side swept straight ponytail, then start by straightening your hair with a hair straightening tool, unless you naturally have ramrod straight hair. Once this is done, make a side or a middle parting (make the parting according to your own preference and the style that you want to sport), and gather the hair right below your ear lobe (again, it is entirely up to you whether you want to choose the left or the right ear) and secure it there with the help of a rubber band or scrunchie. See that the entire section of the hair falls on one shoulder, and is placed in the front – so that it rests on your chest area.
For the side swept curly ponytail, the steps are the pretty much nearly the same as the above. You just have to leave you the straightening part and tie your hair, like the way it has been explained above. Once the hair is tied, run a hair curling tong through it and you will get the desired effect.
You can also sport this hairstyle with your natural hair texture – without having to straighten or curl it- that too will look good. You can use a hairstyling product called smoothening serum, if your hair is frizzy or unmanageable, to make it look more delectable.
The hair parting can be in the same direction as the ponytail, or in the opposite direction. You can do a middle parting and also let curls hanging on the side to frame your face. The possibilities are many with this style.
Image: P R Photos