A dress is not complete without the perfect pair of sandals/ shoes/ footwear to complement it. Women's fashion does not have any boundaries. You need to keep so many things in mind before you can adorn your dress with the right pair of shoes. The colour of the dress, the cut and style of the dress and the occasion to where the dress needs to be worn all need to be taken into consideration.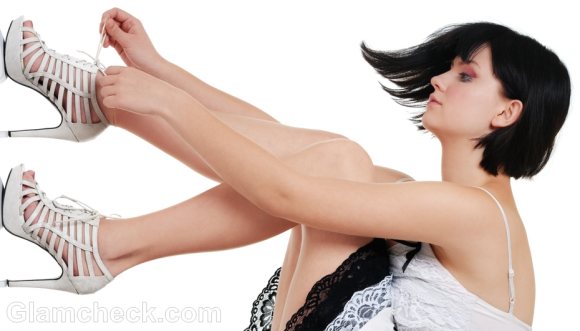 The idea is that the dress should complement the footwear and the other way around. There are as many styles of dresses available in the market as there are shoes. And teaming the right pair of sandals is what we need to do complete the look and to look stylish.
Different types of sandals with different dresses
Find below the list of various types of shoes to be worn with different dresses.
High heeled sandals
High heeled pumps (Court shoes)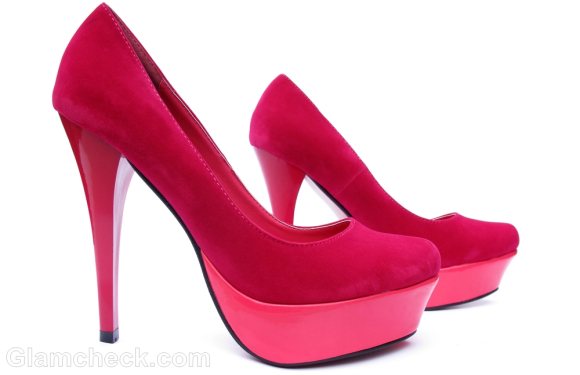 There is a verity of high heeled pumps for women. Pumps are shoes for women which are low cut and closed in front and covered from the back without any fastening. Every woman has at least one pair of high-heeled pumps in her wardrobe. They are classy, sexy and can be worn with almost anything.
As opposed to the earlier times today the classic pumps have now evolved drastically. There are round in front or pointed like winklepickers or have an open toe (popularly referred to as peep toe sandals. There are court shoes that come with a strap at the ankle too.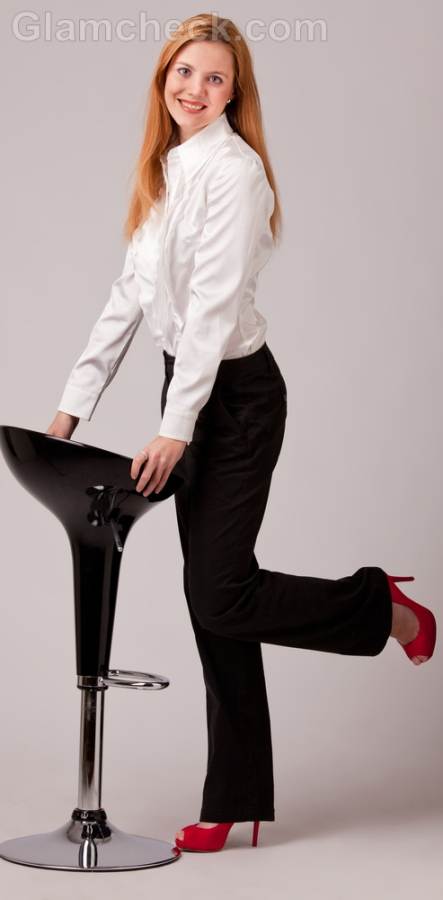 Not just the style of the shoes is changing; the fabric of the shoes is being played with. The classic creations now come in different material besides leather like wool and suede.
These pumps can work well with any dress. You can wear them professionally, at a party or just to go out for a coffee. The high heeled pumps can work well with a pair of trousers, a sheath dress, a skirt and many others. They glamorize everything and add instant height to your silhouette.  
Though, avoid very these glamorous heels with very casual dresses like a sundress or a pair of beach short. You must always keep in mind the occasion and the place where you have to go and decide the ensemble.
Clear heels or Lucite heels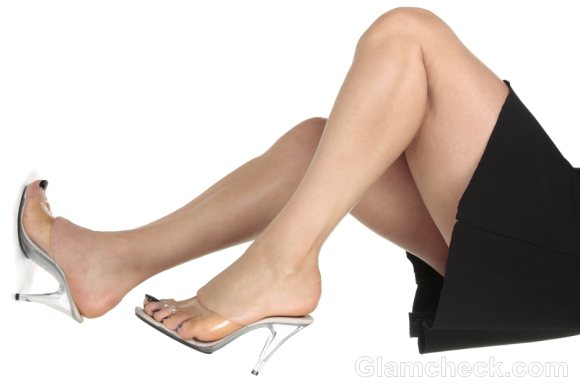 These are also known as stripper heels or stripper shoes. They are commonly worn by stripper, ergo the name. These are strappy high heels which are usually made of transparent material. Due to the transparency of the heel they give the illusion of standing on tiptoes. They are mostly worn while clubbing out. They can be worn with ultra glamorised outfits. Baby doll dresses, stripper dresses, rompers et al. 
Strappy Sandals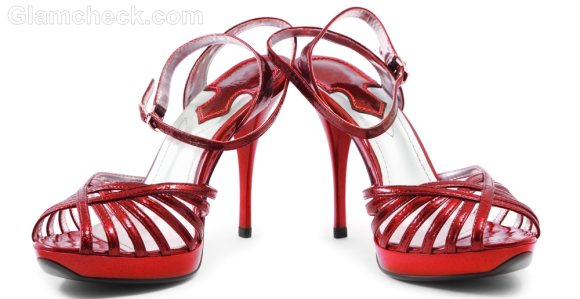 Strappy sandals are high heeled sandals which aren't closed. They have straps to secure the feet and are very chic. They can be worn with flowing dresses, wrap dresses, stylish shorts and denims.  There is a variety of beautiful strappy sandals in the market. Be-jewelled, studded, embellished, coloured- they make them all.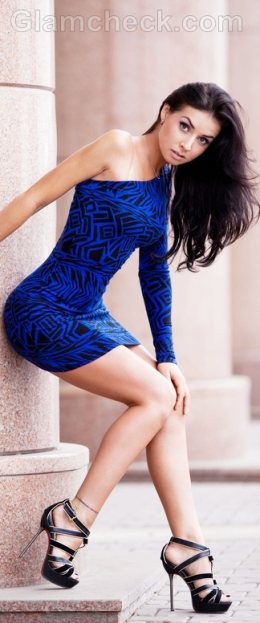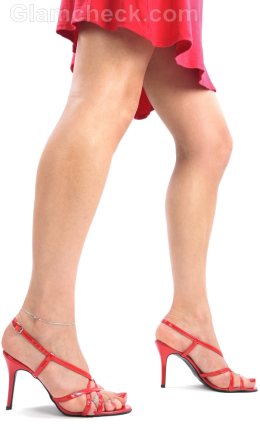 You can wear them with any type of a dress- from thigh high to floor length gowns. Sandals are fun and stylish. They add élan to a casual look. they can be teamed perfectly with a pair of skinny fit denims or short skirts. It is very easy to add some romance to the silhouette when worn with a layered dress.
Kitten heels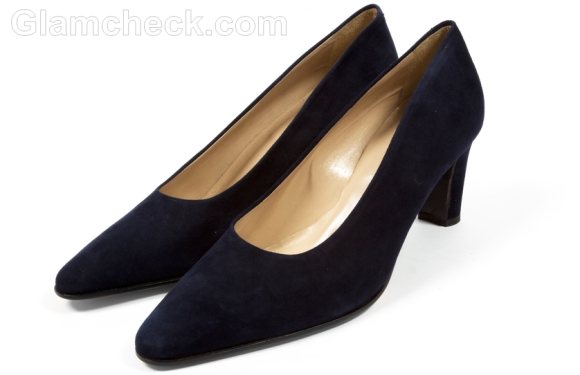 Kitten heels as the name suggests are small heels. These sandals were made popular by Audrey Hepburn. They are meant for tall women who want to wear heels or for women who cannot wear very high heels throughout the day. They are very chic and have a high sexy appeal. They can be worn to dress up or dress down depending on the occasion. They look beautiful with sheath dresses and little black numbers.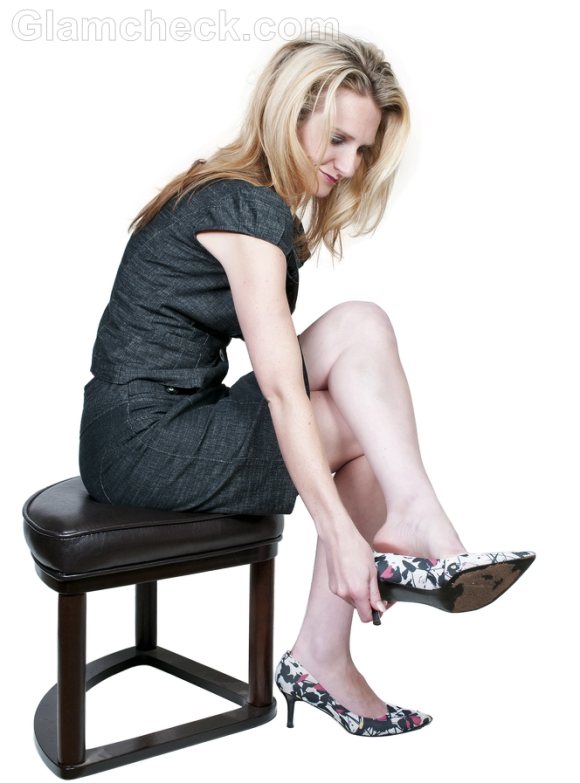 Kitten heels are timeless. They go with almost every outfit, whether it is professional office dress or an evening dress. They can both be casual with a pair of capris or be formal with a pencil skirt.
Stilettos
Stilettos are the ultimate sexy shoes and can never go out of style. They go very well with sleek clothes like tailored pencil skirts or cigarette trousers or the classic pant-suit. There are different types of stilettos.
Platform Heels
There are essentially two types of platform heels – wedge heels and regular platform heels.
Wedges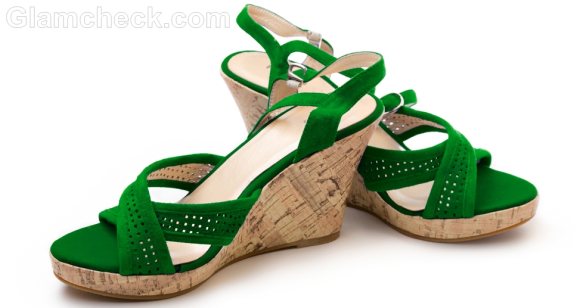 These very comfortable footwear come in an array of designs – sandals, pumps, boots, they make them in all the styles. They are teamed very often with jeans and skirts. Though, they go best with sundresses. They are fun, chic and very feminine. They are made in different materials like cloth, jute, leather and suede. Depending on the occasion you could either choose the ones in cloth or suede for a laid back evening or you could opt for the patented ones for a more formal outlook. 
Platforms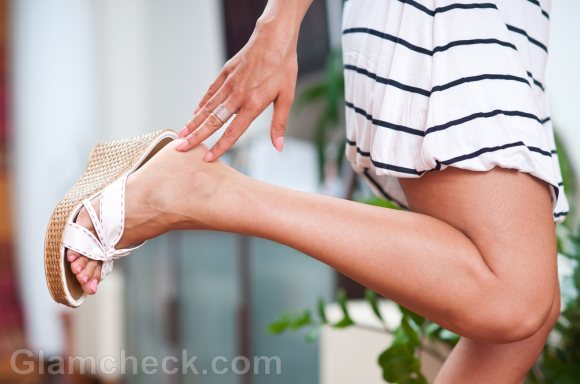 These are not professional shoes. They come in vogue for a season and then in a flash they are out of trend. Though, a pair of platform heels looks stunning with flared jeans or a bubble skirt. There are certain dresses like cuffed shorts look enticing with platforms. They are very comfortable unlike the stilettos. For those who have a large built they are better for balance and complement the look.
Boots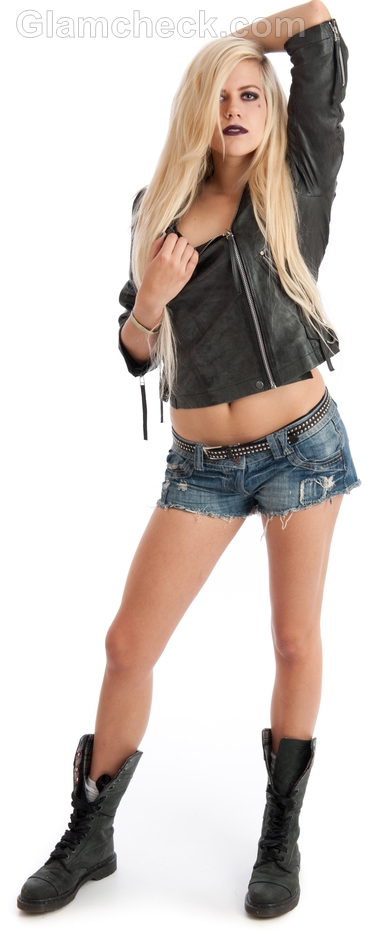 Boots are a regular in a woman's wardrobe during the winters. Though, no time is the wrong time to wear boots. Fashion boots is a name given to the boots that women wear for the sole purpose of the look unlike hiking boots or trekking boots. They are ankle length, knee length or thigh high. They can be worn with a pair of jeans, skirts, pants or informal dresses. Boots are very high fashioned.
Boots are universal. They can be worn with almost anything. Denim skirt scan be worn with boots with panache.
Mules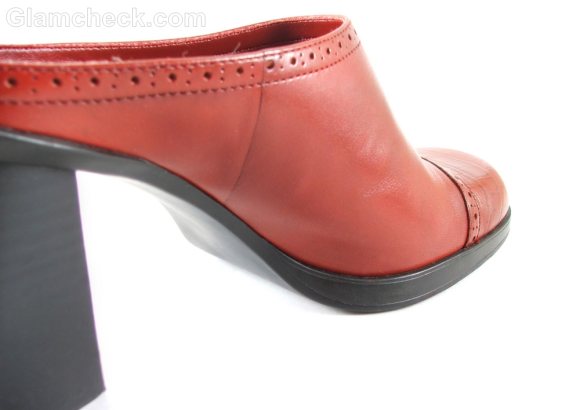 Mules are sophisticated and very elegant. They are slip on shoes closed in front and open at the back. They team very well with flowing skirts as it adds a feminine touch to the whole ensemble.
These take the feminity to a whole new level with their beautiful cuts and different styles. They underwent some transformation over the period in the form of open toes with just a strap holding the foot securely. These shoes are very delicate and they look very good with delicate dresses. Flowy and dresses made in sot fabrics look fabulous with mules.
Ballet flats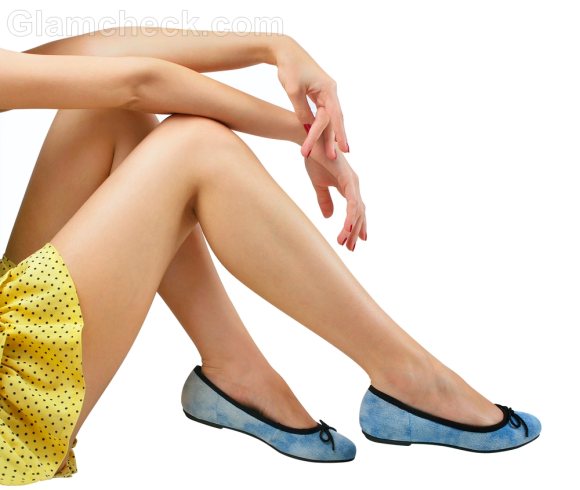 These are pumps without heels. They are very feminine and very comfortable. They can be worn with most outfits. Though, avoid wearing flat pumps if you are dresses in a formal gown or a formal ankle length dress. They can be teamed with jeans, skirts, bubble dresses, capris, shorts and many more. They are the all time favourite with sundresses.   
Flats are never out of style, however, they aren't formal footwear. They are worn by tall women who want to wear pumps but do want to increase their heights. Espadrilles are a form of these shoes that look exceptionally good with casual wear.
Loafers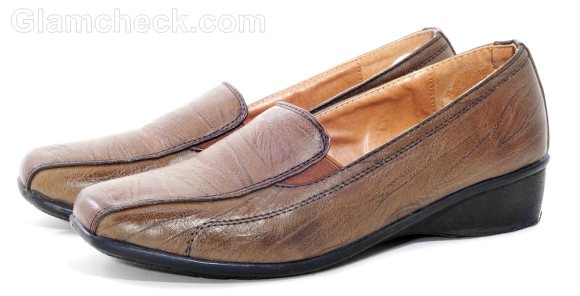 Loafers are comfortable and very casual. They started them as men's footwear but the ladies just caught on the fashion. They can be worn with any dress casually. Never formally, though. Pair them with your favourite jeans or shorts and go out for a walk or to the market to get your groceries.
Shoes and dresses go hand in hand. Keeping these tips in mind you can pair your dresses with the perfect shoes. Keep in mind the occasion, weather and the season, though, while choosing both. Even with all this information you need to add a personal touch to the style. Go with your instincts. If you think a pair of shoes goes with what you are wearing and you are comfortable with the style, just go with it.
Image: Shutterstock