Comfortable chic is the constant adjective that is well received by any fashion lover and more so when the outfit is meant for a summer day. An ideal way to see through the sizzling summer days without compromising on style is to take refuge in relaxed and breezy ensembles.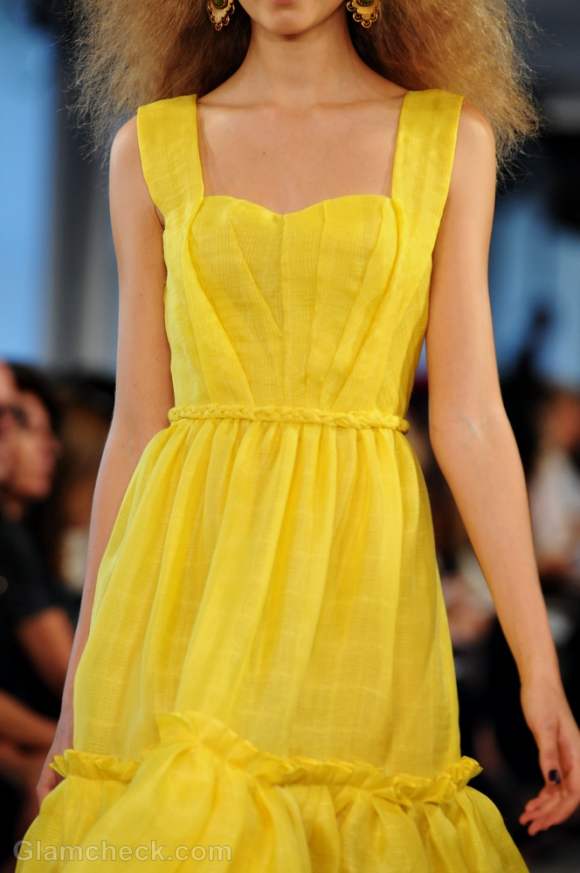 A summer dress out of various other apt options is one of the chicest options to go with and that's what makes it our "style pick of the day".
Be it pastels, neons or brights, colors are huge this season and have been soaring high on the fashion charts which is why this Oscar De La Renta summer dress in a vibrant and sunny yellow is our style pick of the day. The summer dress is of a simple feminine cut in which it is the bright color that dominates and makes a statement.
How to Style the Yellow Summer Dress: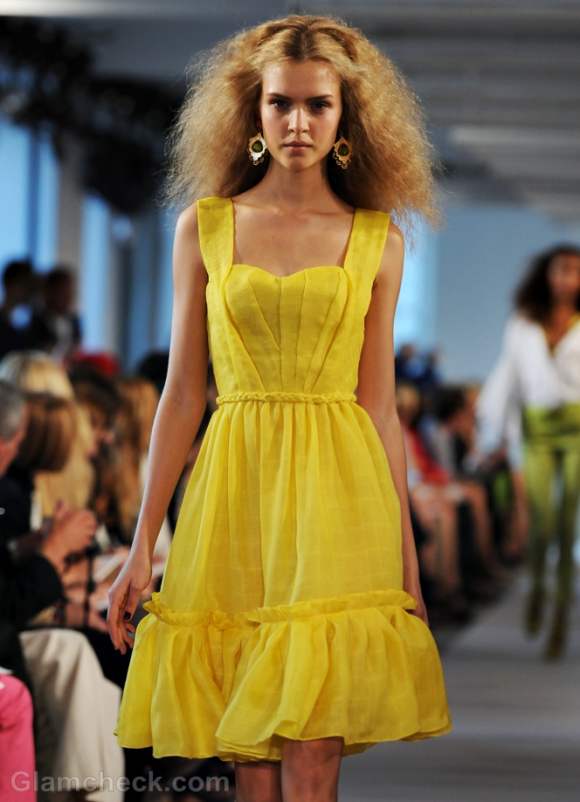 Wearing the summer dress as it is definitely makes for a look by itself however, there is so much depth added to a garment when you style it in various ways and make the best of it. Here are a few looks that you can achieve with this Oscar De La Renta summer dress:
Feminine & Flirty:
The look is almost perfect for a casual date. Accentuate the yellow summer dress with a thin metallic belt, suitable pair of heels, classic hoop earrings and a printed clutch in the similar hue to achieve a complete look. Keep relaxed hair and minimal make up to match the fresh look.
Urban Layers:
Steer the yellow summer dress from feminine to edgy urban by layering a casual jacket in a monotone shades. Going with the mood also stack up bangles and watch for the same layering affect on your wrist and is a huge trend too. The look is casual, edgy and spells urban. A perfect outfit when street shopping is pretty much your agenda for the day. Wedges make for the perfect choice when it comes to the footwear to elevate the look.
Working Chic:
To make the summer dress fit in a work environment add the element of serious by teaming the yellow piece with a monotone jacket preferably white, a simple neck-piece and wedges to match as these add to the comfort value too which is a prime concern in the any work wear wardrobe.
Beachy Vibe:
An expected option, the summer dress is a fun element to enhance your beach wear collection. Casual flip flops with shell accessories and a straw hat do justice to the dress and the look achieved is blissful. Try pairing the dress with feather earrings to add a carefree touch to the outfit.
Color Block:
Color blocking has been a huge trend in the past few seasons. Use this vibrant Oscar De La Renta summer dress as another excuse to embrace the trend. Match it with suitable color blocking color options like cobalt blue or purple. In this case, using accessories as the color blocking option is a good idea.  
Casual Day Out:
Keep it simple, by matching the vibrant yellow summer dress with a tan satchel, dressy earrings and open toe flats for a casual yet uber chic look perfect for a lunch out.
Personalize the outfit and make it your own by matching it to your various moods and the summer dress will definitely prove to be a favorite staple outfit through the summer.
Image: Shutterstock