The Salvatore Ferragamo "Signorina" perfume launch party at the Palazzo Chupi in New York City on March 20 saw quite an array of very high-profile celebs in some of the most fashionable styles of the season. There was so much color and good style sense. Color blocking in particular was a popular choice for most of the celebs and all of them imbued some little element here and there in tribute to spring.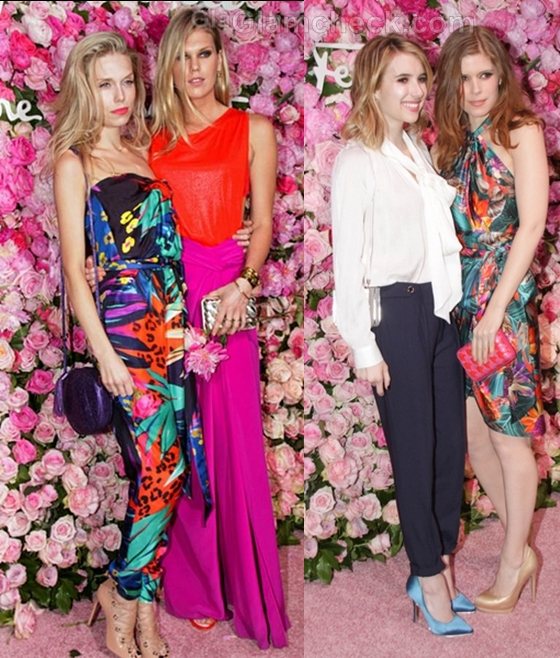 These bevy of beauties are a sight to behold. If you're anything like us, you'll be lusting after these outfits the moment you lay eyes on them. Let's get a low down of the delicious ensembles that perfectly complemented the pink carpet that night.
Theodora and Alexandra Richards
Rock progenies Theodora and Alexandra Richards were both garbed in elegant ensembles even though their styles differed.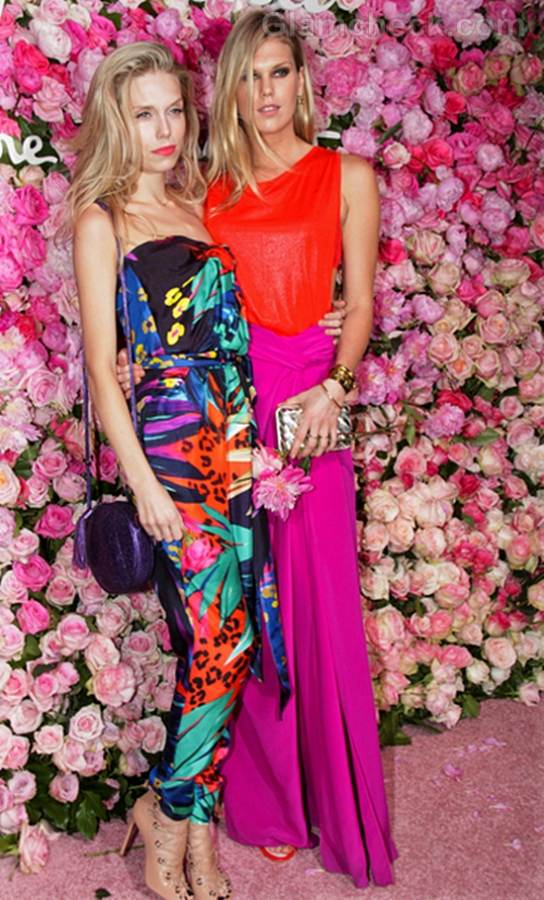 Theodora donned an off-shoulder, printed silk jumpsuit from Salvatore Ferragamo's Spring/Summer 2012 Collection, accessorizing it with a purple purse and neutral heels with a lace-up style. While Alexandra paired a floor-sweeping fuchsia skirt in a sarong style with a sleeveless tangerine blouse, accessorizing it with a golden clutch purse and gold bangles.
The bright floral theme plays a huge role in both these girls' outfits and the play on colors is massively successful.
Jessica Hart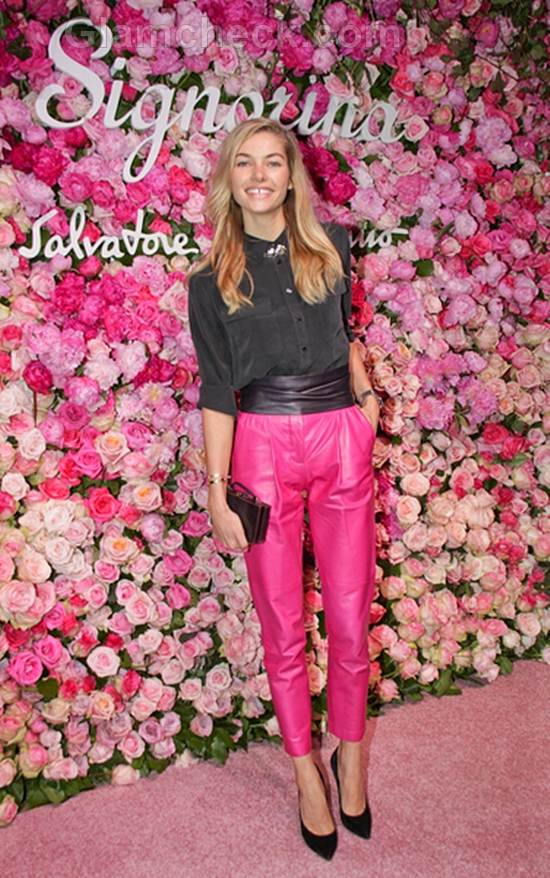 Jessica Hart wore a black shirt tucked into hot pink leather pants that perfectly matched the floral pink backdrop of the event. Her black pointy pumps and black box clutch purse are simple but perfect accessories for her rocking outfit.
Piper Perabo
Singer/actress Piper Perabo looked sexy and sophisticated in a full-sleeve aquamarine front-buttoned blouse with the buttons left undone.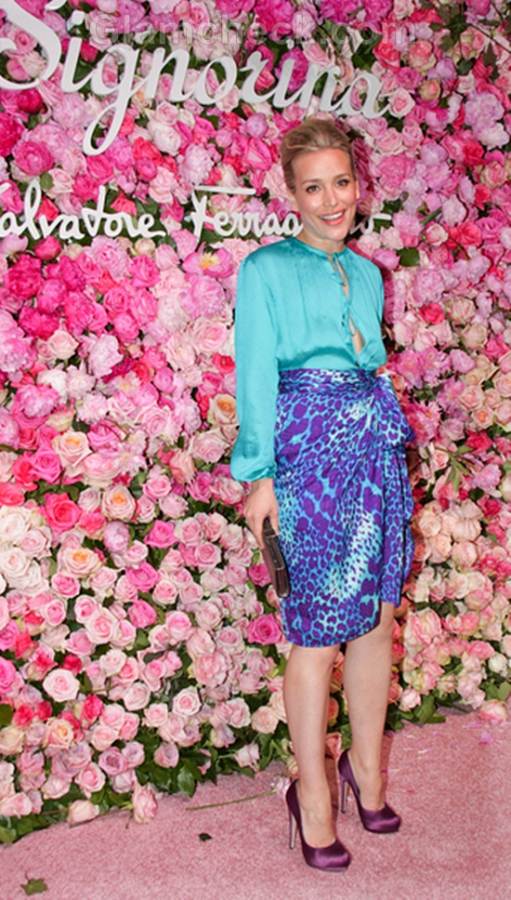 She wrapped a knee-length, blue and purple printed sarong around her waist that beautifully offset the top. The ensemble was accessorized with to-die-for purple pumps and a box clutch purse.
Emma Roberts and Kate Mara
Emma Roberts outfit didn't exactly boast spring colors, but she was definitely one of the most well-dressed celebs at the event.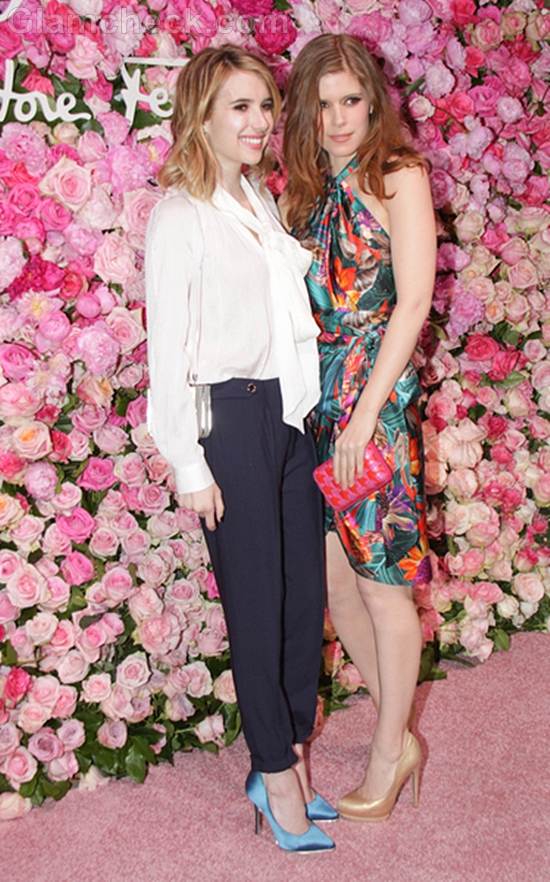 The actress paired a pussy bow white blouse with navy blue pants. The piece de resistance of her ensemble were her teal velvet pointy pumps by Ferragamo that made a lasting impression thanks to the unique color.
Kate Mara on the other hand sported an elegant halter-neck knee-length dress with a bold print from Salvatore Ferragamo's Spring/Summer 2012 Collection. She completed her look with subtle gold pumps and a pink box clutch purse.
Michelle Harper
Fashionista Michelle Harper made quite a statement with her entire ensemble from head to toe, literally.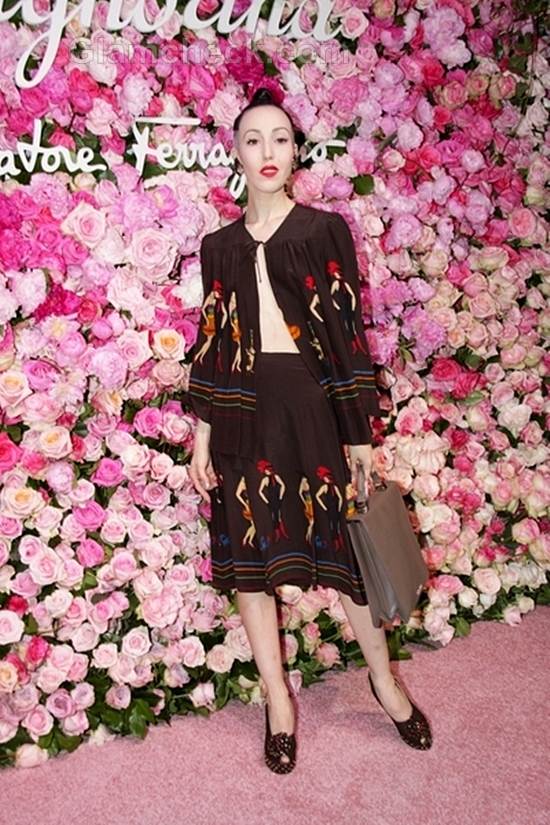 She wore a printed knee-length skirt with a full-sleeve matching top that was tied only at the neck, leaving the rest of it open to her waist, accessorizing the outfit with textured open-toe heels and a deep grey bag.
The blouse is not the only bold aspect of Michelle's outift. She wore her signature bright red lips but her topknot underwent a slight modification for this event. While the topknot itself remained the same, the sides and back of her hair were shaved, making her look more refined but also definitely edgier than before. Very cool.
Courtney Love
The rocker usually wears shocking and often hideous clothes on the red carpet and off. So we were delighted to see Courtney Love in this classy short and sleeveless black leather dress with black cutout heels.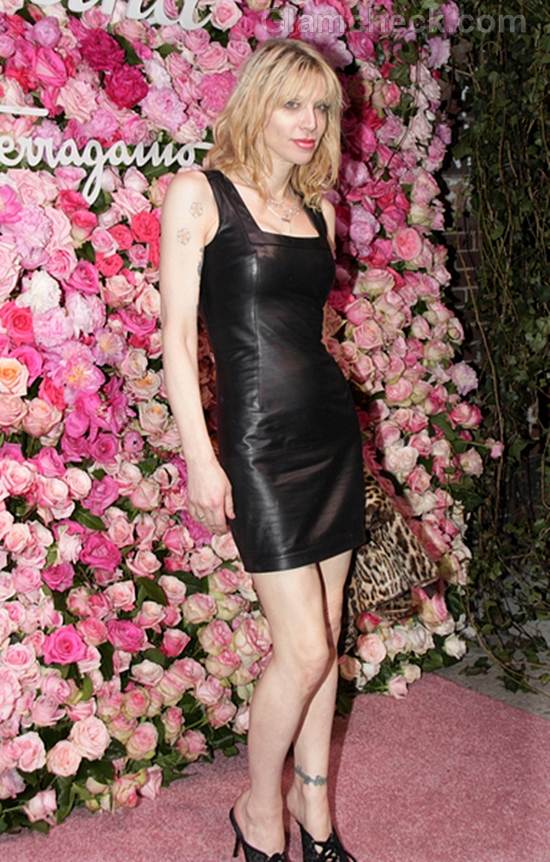 The leather reflects her rockstar heritage while the clean cut of the outfit reveals a well-maintained body. This is gorgeous and very tasteful. Kudos, Courtney.
Image: P R Photos