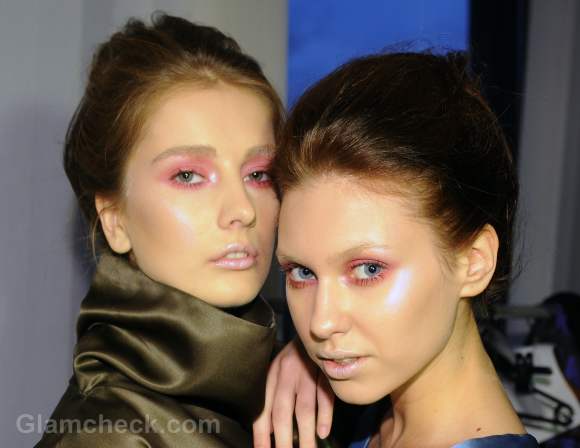 Rosy eye makeup and Nude Lips were the highlight of the makeup sported by models at Masha Kravtsova's S/S 2012 presentation at Moscow. What is interesting about this type of makeup is its simplicity and "lightness factor" which makes it perfectly suitable for warm summer nights. The "feel good" factor about this style of makeup is the point that it does not seem to weigh down the face – as happens when there is an overdose of dark/ or too many colors.
How to Do It Yourself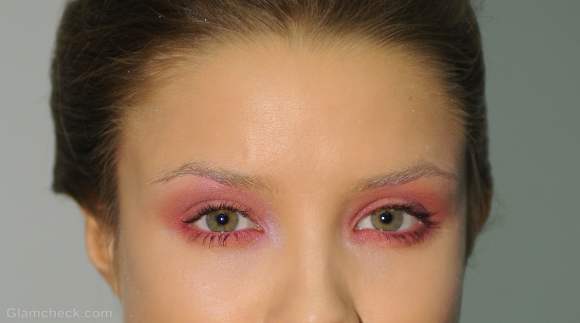 Beauty How To – Rosy Eye Makeup
Apply base to your face before proceeding to the eye makeup. You can start by applying the foundation and concealer. 
Next take a light brown/beige shadow and apply it all over your upper eyelid and on the rim of your lower eye lid, with the help of an eye-shadow applicator. The brown shade will act as the base to hold the pink eye shadow. Take care to put the eye-shadow in a "winged" style. (See photo)
Once you are done with this, choose a rosy pink shade and apply it on top of the brown shadow. After this apply a dab of light pink highlighting shadow/powder on the inner crease of your eye. This will brighten up your eyes and make them look bigger.
Finish the eye makeup with a coat of mascara on your upper as well as lower lashes, to highlight the eyes more. If you do not know how to go about with mascara, take a quick look at how to apply mascara.
Once your eye makeup is complete, apply a nude shade of lipstick/gloss on your lips.
Dust illuminating powder on your cheekbones to highlight as well as give an overall glow to your face.
Rosy eyes and nude lips is a great combo for those sultry summer nights when you want to look glamorous yet makeup free!
Image: Shutterstock