We were drowning in inspiration when we spotted our trendsetter celebrities wearing prints paired up with solid hues. The synergy of a bold colored clothing piece combined with a printed garment, has an unsurpassable vibe. The most common and elegant example of this combination is, wearing black with an animal printed piece.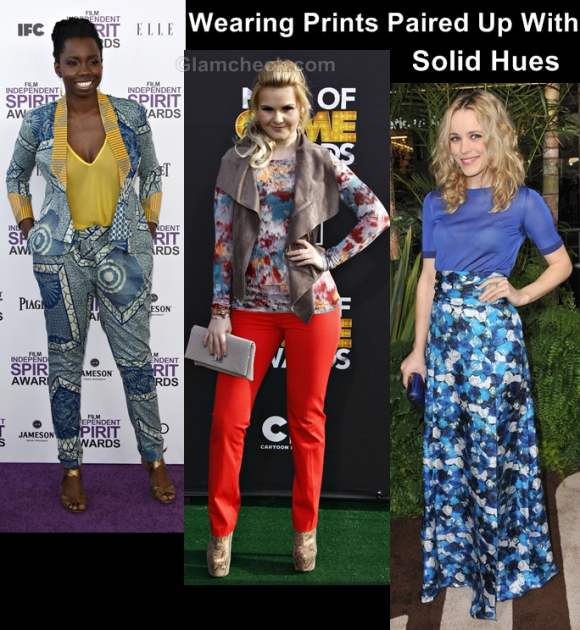 Any color put together with a printed piece, tones down the outfit or lifts it up depending on the print. While we had overrated and over-exploited the color-blocking trend, this trend makes you say a hello to new beginnings.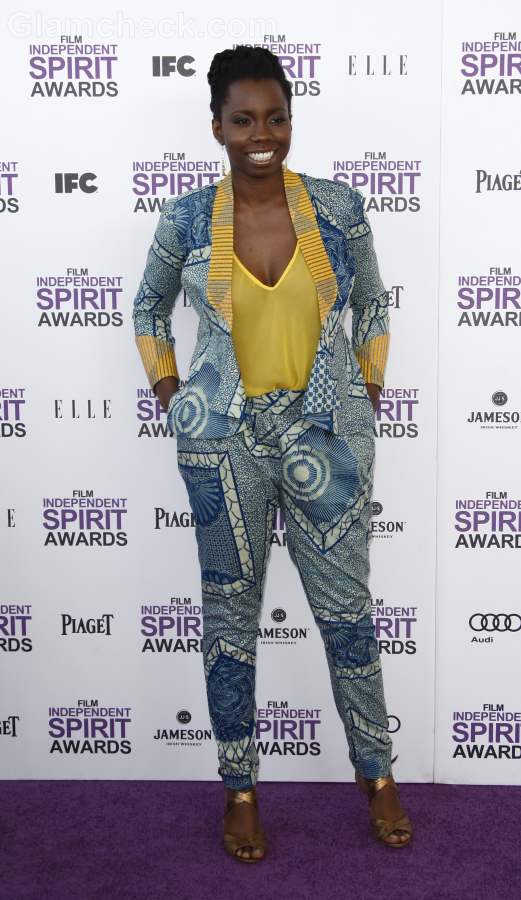 Adepero Oduye's outfit at the 2012 Film Independent Spirit Awards held on 25th February, 2012 at breathes the very essence of funky and cool. It's a direct indication of "spring is here" due to the colors and the prints on it. She gives her dresses a few days off and sports a printed set of pants and an open jacket-shirt with yellow collar and cuffs. The print is well-blended with yellow inner and copper-gold heels. Her outfit is uber-chic and Adepero totally knows how to hot up this trend.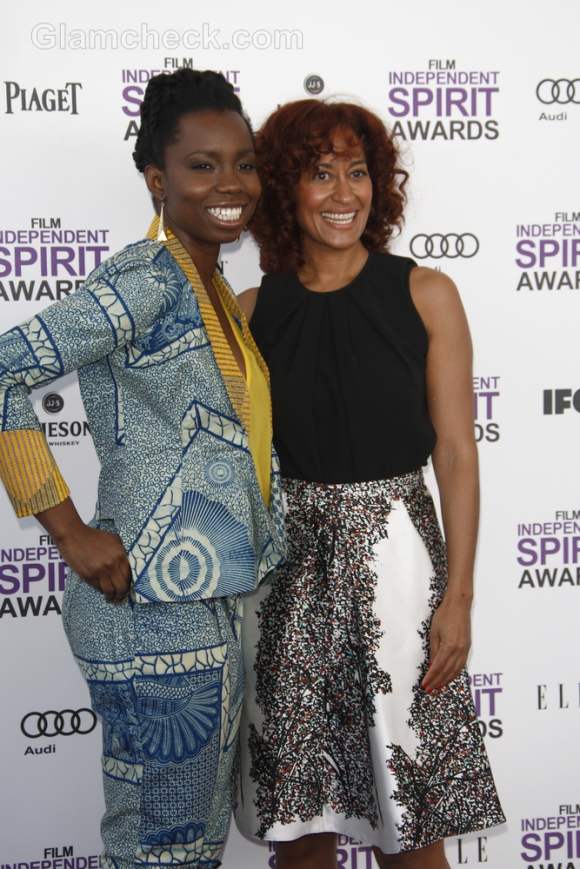 Tracee Ellis Ross seen her with Adepero, goes simple and classy with this trend. She sports a white base detailed print A-line skirt with a sleeveless black top. Black and white as a combo will never die out, and never will the combo of a print and a solid color leave us from being biased towards them. There's one thing we can surely learn from Tracee, which is that each trend can be molded to one's personal style and sometimes subtle is sexy.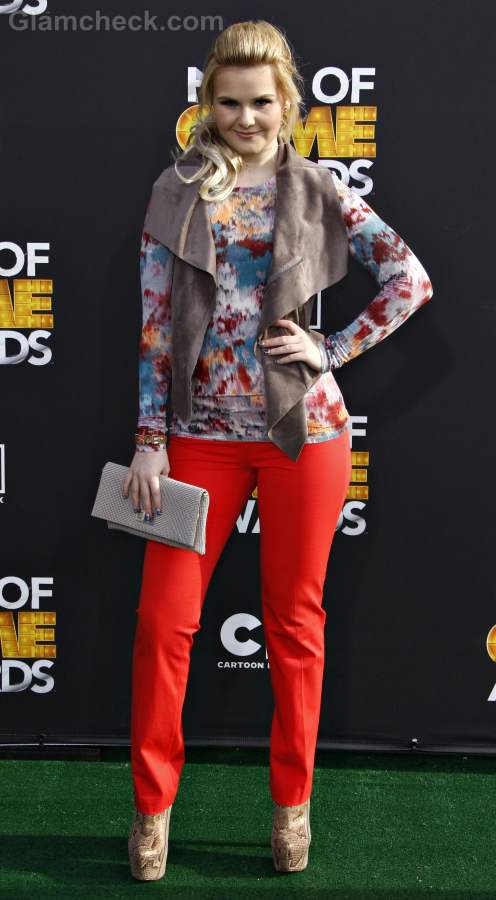 Ashlee Keating spotted looking preppy at the 2012 Cartoon Network Hall of Game Awards held on February 18, 2012 at Barker Hangar, Santa Monica, California. She looked chic in her red fitted pants, teamed up with a full-sleeved printed top in accents on red, orange, blue and white. She lifted her casual outfit with a neutral colored clutch bag, dull gold pumps and a brown leather sleeveless asymmetric jacket.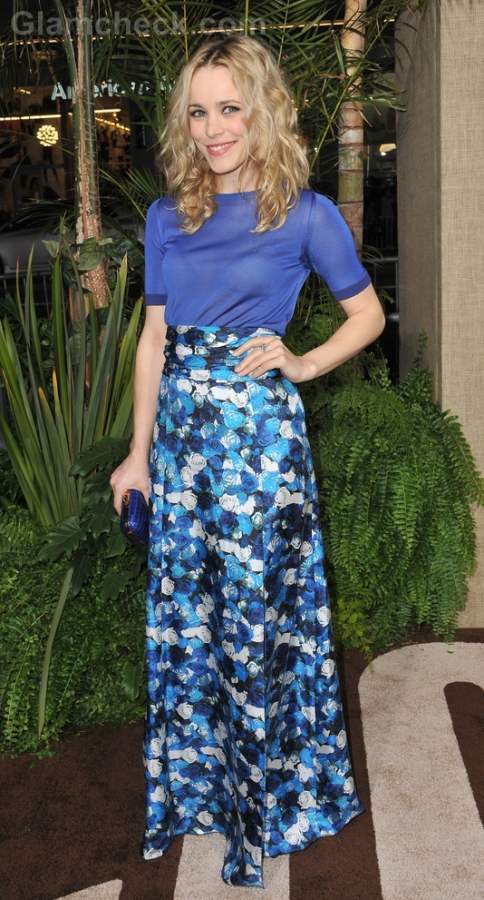 Kristin Davis chooses her outfit cleverly, by sticking to the same color palette from head to toe. She was all smiles and breathing free in her half-sleeves blue tee paired up with a printed maxi skirt for, the Los Angeles Premiere of Journey 2 The Mysterious Island held at Graumans Chinese Theatre Hollywood on February 2, 2012. She used the excess of blue to her advantage with her skirt print having all shades of blue and white and her clutch bag being a solid blue hue.
Style tips:
Wearing black with an animal printed top, skirt, dress or handbag is the way to instant-glam. Black balances the outfit well, no matter what the size or type of animal print is.
The accessories carried should either be of the same color tone as the bold hue, or something in neutral to go unnoticed.
Incase of an animal print or stripes or polka dots, the accessory can also have the same or similar print on it.
A graphic print or an abstract print paired with a neutral skirt or trousers is a classy number.
Conceal the fat by wearing print on the part of your body you don't need attention and wear the solid hue where you need to be noticed.  So, this summer toss out the clutter that doesn't flatter or fit and amp up your wardrobe with bold colors and coordinated prints. This look forms the basis of the summer "glam-plan" and oozes utter feminine confidence. We are totally digging this trend and so are the celebs, making this look work for them by mishmash of garments put together to suit their style. How about you?
Image: Shutterstock