Denim shorts are to a casual wardrobe what a 'Little Black Dress' is to a dressy one. Denims are one of the biggest revolutions that ever happened to fashion. Easily one of the most versatile and practical classics, the denims comes in various forms out of which the denims shorts is labelled as a 'must have' for summer. Rightly so, as a perfect pair of denim shorts is a one stop fashion solution that even scores high on the comfort and a perfect casual style. There are very few things that fail to add to the style value of these pair of shorts and when these shorts styled right can see one through multiple occasions and events, basically, an ideal choice when one is looking for a day to night option in summers.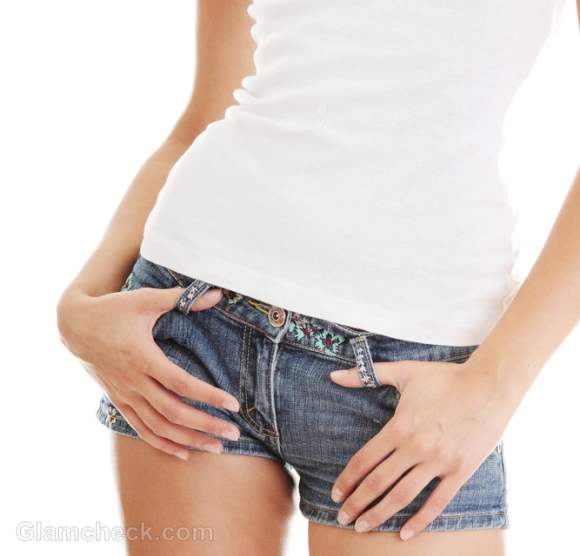 Here are a few great options to wear the denim shorts this summer, assuming that these must already be part of most of the wardrobes and if it isn't then these make a few good reasons to get a pair:
Colored Tee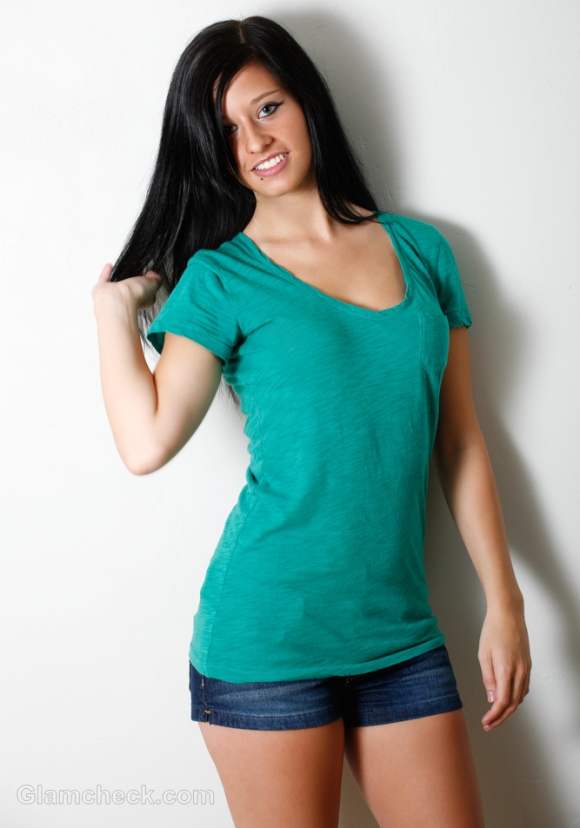 One big reason that makes denims unbelievably versatile is the fact that no color ever is out of sync when styled with denims. Just about any colour is right and when color is the prevalent trend this season with the ramps and glossies screaming neons and pastels, these pair of denims shorts is the easiest & safest way to take when challenged by the various colors and in doubt. Match a simple t-shirt in any color with these shorts to achieve a great casual look.
Talking Stripes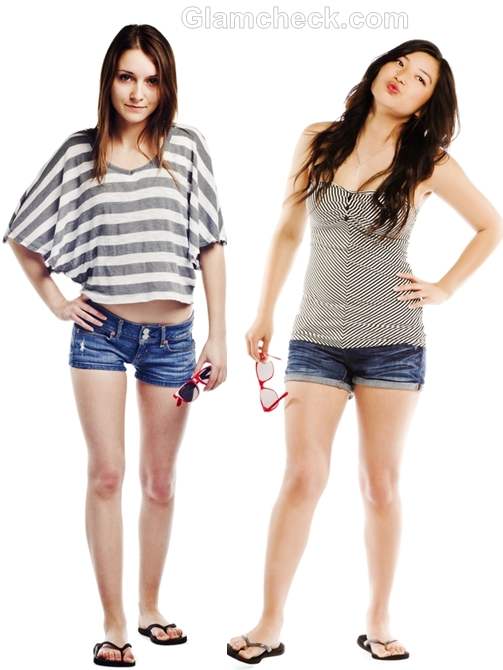 Denim shorts are as dressy or as casual as you style them to be making them a styling delight and a wardrobe blessing. Keep the casual style quotient high by pairing the shorts with fun stripes. Stripes have such a strong character of their own and nothing matches it more than the blues of the denims. Complete the look with a funky pair of sunnies and you'll be ready to step out stylishly in the summer sun.
Basic Tank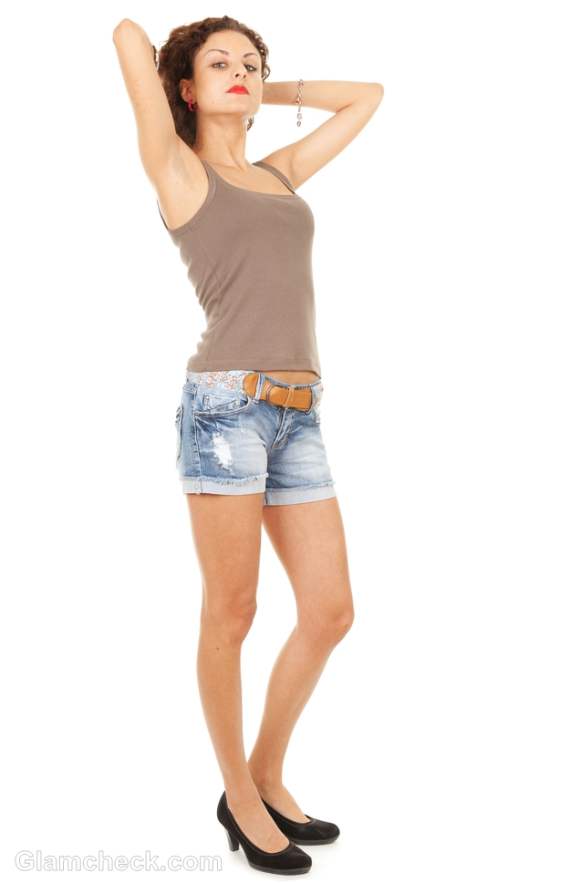 Sometimes the easiest way is the best way to go. Do so by matching a basic tank top with these basic pair of shorts. Add an edge to the simple casual look with the help of accessories because that's what they are meant for! A glam pair of heels, a tan belt and jewellery to match will dress it up for you. Add the drama of a red pout if you're looking at making a statement that is beyond plain casual.
Classic White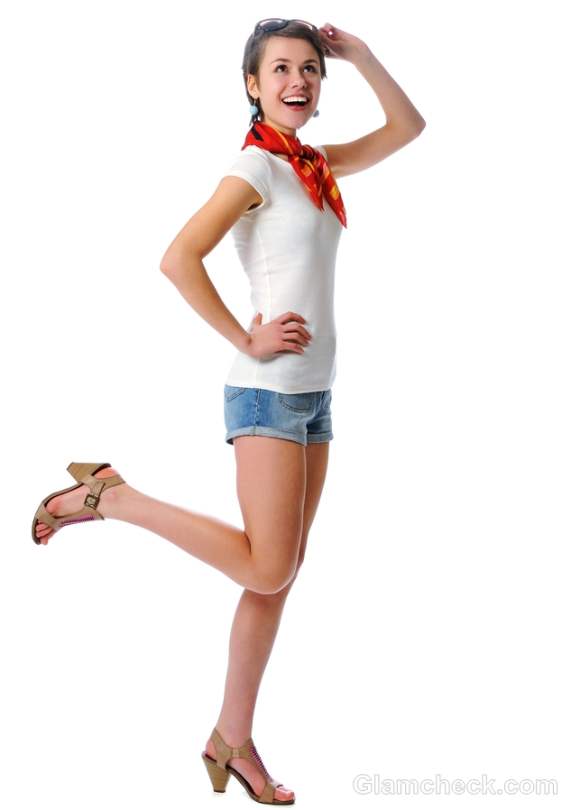 The color white matched with a pair of denims in any form is like a perfect marriage. A lot has been said about how & why this fashion combination is favored not only for the seasons passing by but the eras that have gone and are yet to come. Reliable and casual sassy, this look will always be a summer favorite and for more reasons than one.
Another big reason to add to an already elaborate list of why the classic combination of white and denims is a favorite for all is the fun of accessorizing the look. There is always a room when it comes to accessorizing an already perfect look. Vibrant scarves and earrings add depth to the classic look.
Spaghetti Style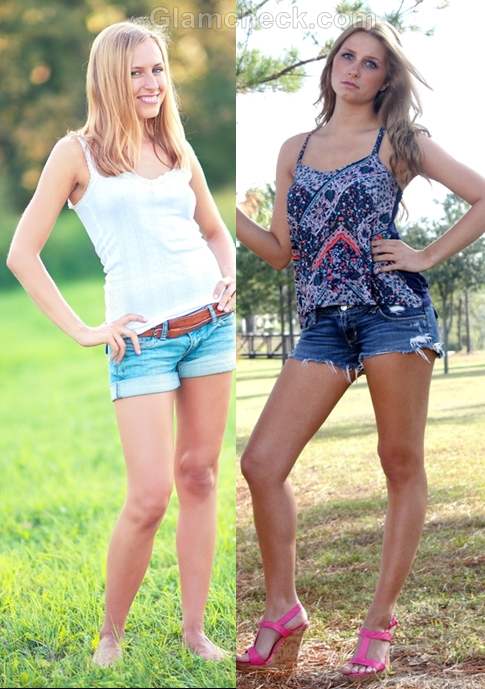 The summer style is always limited without the spaghetti's hence, spelling how important these are. The spaghetti tops are a fun option to layer or just as it is when matched with a pair of denim shorts. Printed or in plain colors these spell summer in every which way.
Feminine Sheers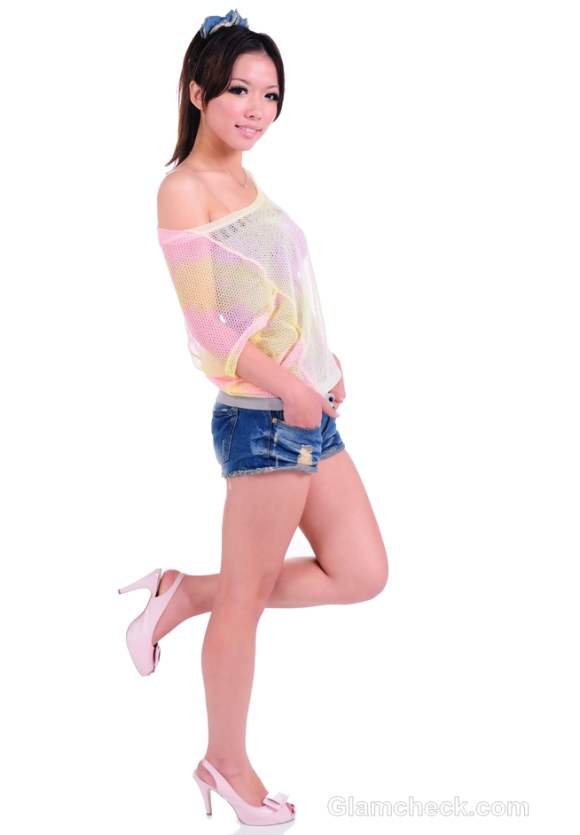 A light colored asymmetric summer top , sheer in character is intriguing and adds a perfect summer touch to the denim shorts. Pair the attire with nude pumps and cute accessories to keep up the feminine look.
For more options Read: Trendy T-shirts for your denim shorts. These looks will definitely turn your summer into a chic story and comfortable one too.
Image: Shutterstock