We all know the value of the perfect blue denims in every wardrobe. These are one of the most integral parts of most of the wardrobes and the perfect casual fashion solution. The denims are undoubtedly the most practical in terms of wear ability and can be dressed up or dressed down accordingly which is one of the many reasons that score for its popularity. Let alone falling out of the fashion league with time, these have only gained more acceptance. Clearly, the denims are here to stay and mostly forever, however, the monotonous moods of the blues can always be challenged by a fresh change. Colors have taken the runways and retail by storm hence challenging the denims and pants are all about colors this season. An apt reason why our style pick of the day are a pair of candy pink pants showcased at the Mercedes Benz Fashion Week for Spring/Summer 2012.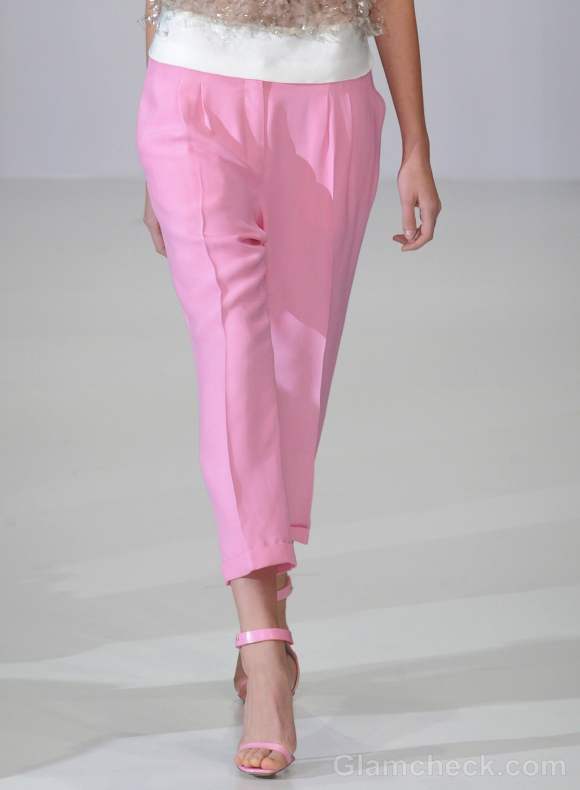 The trend of colored pants actually budded a few seasons ago. These make for a great option to embrace the colors that dominate the fashion egos of the seasons and with the rise of the color blocking the trend not only surfaced but went way beyond. As Spring/Summer 2012 arrived the trend of colored pants saw adapting themselves to the sorbet inspired palette of the springs. The candy pink pants fit the bill perfectly.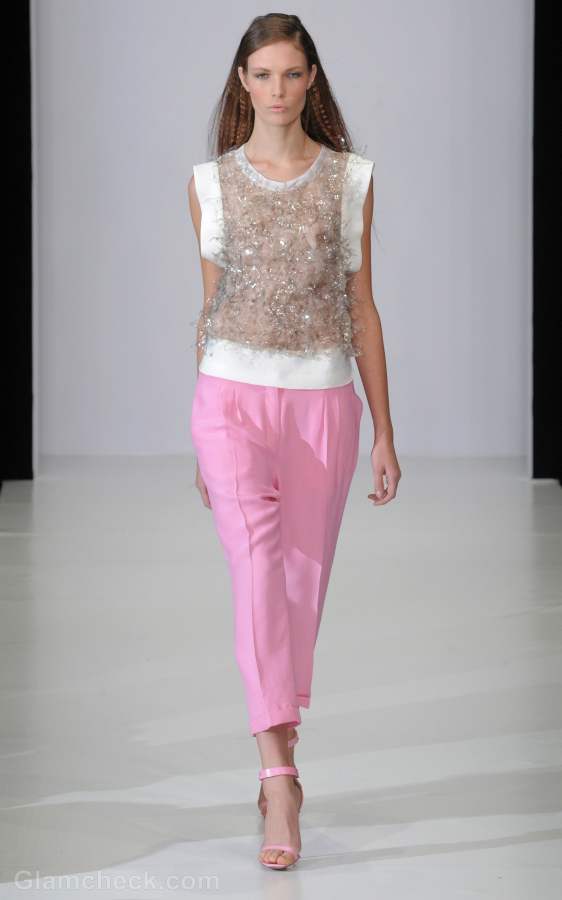 Style Pick: Pastel pink pants
Costume National 's collection showcased on the second day of the MBFW was crafted in materials like silk , cotton and leather and one of the dominant colors was the soft candy pink in various forms. The pants of the hue were styled with white and perfectly address to the summer!
Styling Cues:
As hinted earlier, the best use of color in the recent seasons has been by embracing color blocking. Color blocking pastels with pastels is the roaring trend and the route to take this summer. Do so by blocking with lavenders, mint green, pale yellow and subtle blues.
Another way to work the pink pants is by wearing a darker or a lighter shade of the same family and in this case the pinks.
Try and avoid wearing the colored pants if it is highlighting the problem areas you would prefer camouflaging.
A casual yet an easy elegant approach would be by teaming the trouser with a sheer white shirt. A metallic statement necklace and a pair of heels in nude will glam it up for you.
The pink pants also make a great match for prints. Change the look of the pants with the prints you choose to wear. Flirt with the florals one day, the classic white and black stripes the another and polka dots too.
When fashion is celebrating color, then go the same way and join the color celebrations with these chic and fun candy pink pants.
Image: Shutterstock