The Jimmy Kimmel Live! studio lot in Hollywood, California was all abuzz with adrenalin and excitement on April 29 for Propel Zero Just Dance Off. Brooke Burke-Charvet, the co-host of Dancing with the Stars since 2010, made a smashing appearance at the event.
What She Wore:
Blue rompers, metallic heels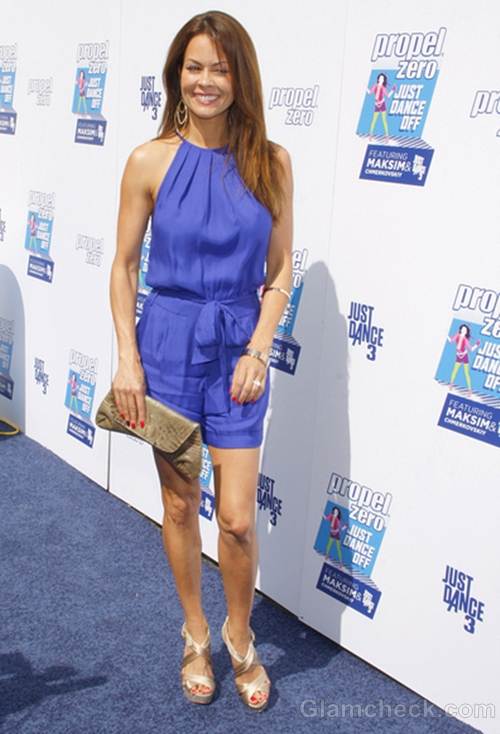 Brooke wore a short blue rompers with a halter neck and a tie-up at the waist. She accessorized her outfit with metallic criss-cross heels, a gold clutch purse, metallic bracelets and large hooped earrings.
This outfit does have a bit of a winter feel to it. Blue and metal are generally winter colors after all. But we'll let it pass because she's gorgeous enough to get away with it and the rompers has a cool, summer design that makes us want to head to the beach.
Hair & Makeup:
Long, loose hair, natural makeup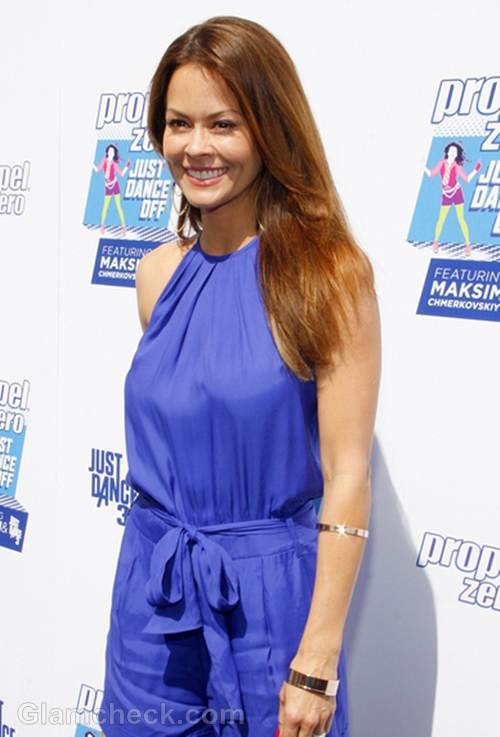 Can you believe she's 40? She doesn't look it at all. Her minimal makeup and blown-out hairstyle for this event just highlight her natural beauty.
Brooke's long, gorgeous brown hair fell in blow-dried abundance from a side parting, brushed over her left shoulder to frame her face. Meanwhile, her lips were highlighted with a soft coral lipstick and her eyes were given some definition with a bit of mascara and eye liner.
Get the Look
Summer is the best time to begin your experiments with rompers. Honestly, rompers can be worn anywhere now if you select the right kind. But most people associate rompers with summer wear so if that's the idea you are more comfortable with then the season to don these versatile outfits is here. You may begin wearing short, colorful rompers just to keep cool and fashionable, but you'll soon fall in love with how great they feel and look and will work rompers into your wardrobe for other occasions too.
For the summer, you can pair your rompers with sandals for a casual look and heels for a more formal one. Accessorize your jumpsuit with hats, funky colorful jewelery or a ribbon/headband through your hair.
Image: P R Photos