Believe it or not, this summer continues to hypnotize us with vibrancy and we hence have an insatiable quest for candy colored lipsticks. Wear it to a party or for a casual outing and let your lips speak, oops, may be just your lipstick ooze out oomph! This trendy trend has been accepted by all the fashion divas and is spotted in bright hues like aqua, fuchsia, orange, cherry red and many more. These shades are fun and retro and can be worn with itsy-bitsy bikinis, sundresses, maxi dresses or if you are daring enough, with casual attire.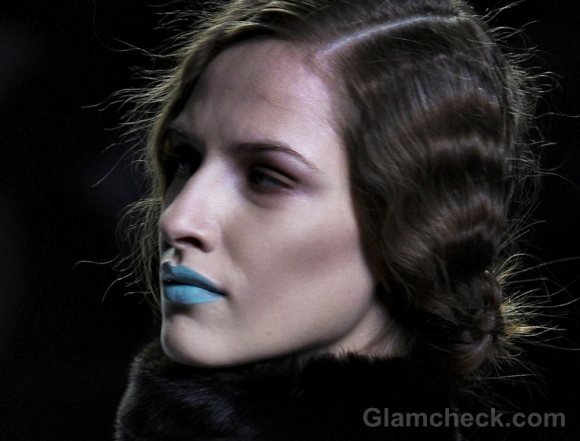 Aqua Blue Lips at Lemoniez Fall/Winter 2012
Lemoniez presented his Fall/Winter  2012-13 collection during the Mercedes-Benz Fashion Week at Ifema on February 2, 2012 in Madrid, Spain. The models walked the ramp looking pretty and sultry in oriental style clothing characterized by Mao collars, sleeves trumpet, retro prints and textures. What we couldn't get our eyes off were the painted aqua blue lips of every model that hit just the right note with the alluring ensembles.
It's time to get out of your boring makeup kit and step into you daring shoes. Follow these easy steps and get gorgeous aqua blue lips and let everyone ogle at you as they pass by.
Step-By-Step Application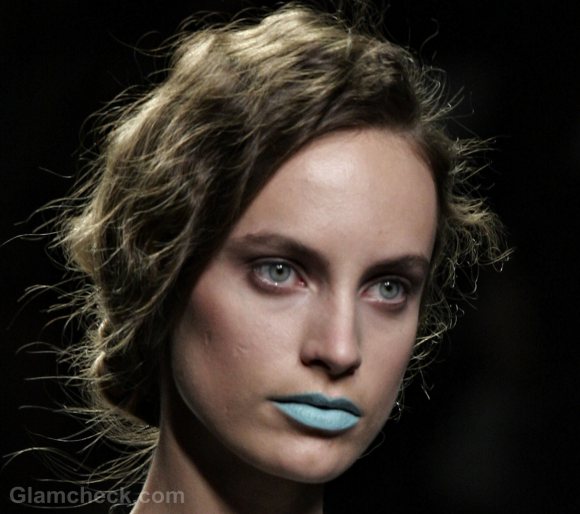 Once your face is clean and skin- well moisturized, be ready to highlight the best feature of your face – the lips.
Keep your eye makeup neutral as we will be painting the lips with this vibrant aqua lip shade.
Exfoliate your lips. Now, moisturize your lips by applying lip balm and keep rubbing it till the lip balm is absorbed.
Take a lip brush and check if it's clean and dry.
Check the lip-line. If you have a clear lip-line, you are lucky enough and if you don't you can use a matching lip-liner to give definition. One can also apply a liquid concealer around the lips, using a very thin brush. Read How to apply lip concealer.
The lip liner should be two tones darker than the lipstick. It'll create an illusion of plumper lips.
Run the brush onto the lipstick from side to side, so that it has the right amount and enough lipstick ready for application.
Now, start using the brush on the lips moving from the inside to the outside.  Outward movement helps have the right amount be at the right point on the lips.
If you want the lipstick to stay, blot the lips. The best way to blot your lips is to take a single ply tissue and place it on the lips. Apply powder on it. This might get the shade toned down a bit, but will make your lipstick stay for long.
Next, apply a second coat of lip color for uniformity and vibrancy.
Touch the lips to each other and your lipstick application is complete.
You can re-touch or re-apply the lipstick as and when required.
Tips: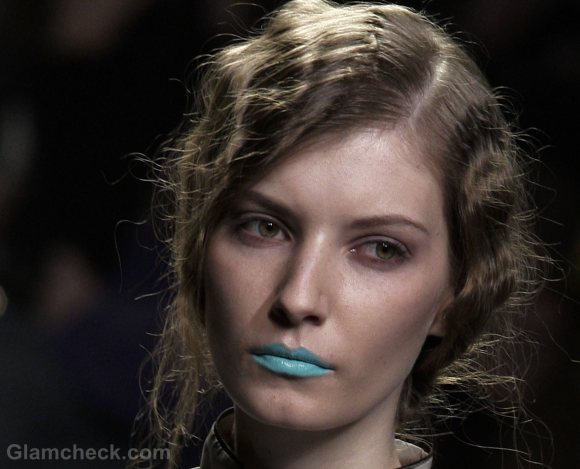 For a precise application of lipstick, use a lip brush.
At the beginning, the lips can even be primed with foundation or powder.
If you have some amount of lipstick, outside your lips few drops of makeup remover on cotton swab is your best deal to remove the flaws.
Image: Shutterstock