Chiffons are a girl's best fabric choice for summers. Breezy, light weight, figure hugging and available in plenty of shades, prints and color combinations – it is easy to understand why.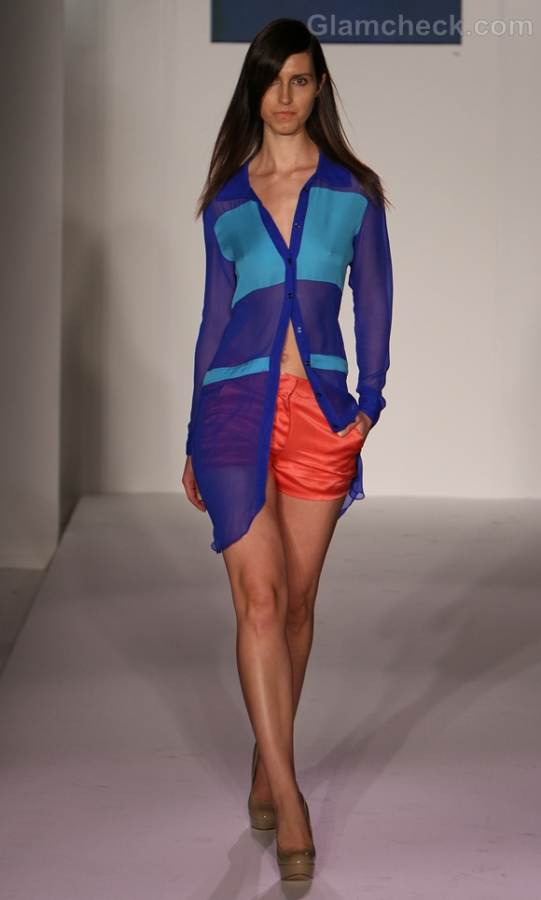 Our style pick of the day is a color blocked chiffon long shirt, as was sported by models, during the runway for Carlos Luna Spring 2012 fashion show during the Nolcha Fashion Week in New York City on September 12, 2011
Color Blocked chiffon long shirt – Style decoded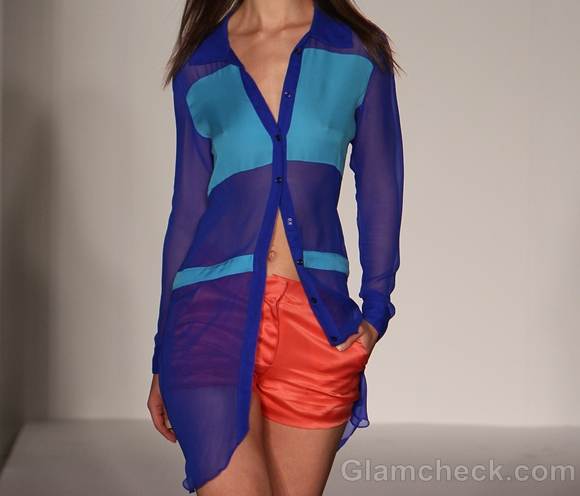 The color blocked chiffon long shirt stands out for various reasons – the most prominent of it being the color blocking itself. Color blocking is a huge trend this summers and the model in this case has teamed an indigo and light blue color blocked shirt with solid orange shorts – an unusual combination alright, but all the same, a stunning one.
Chiffon adds to the beauty of the shirt. The shirt hugs the wearer at the right places and the long sleeves add a touch of class and lend just the right touch of formality to the ensemble.
The length of the shirt is also a plus point of the styling – the long shirt beautifully complements the shorts and with the last few buttons unbuttoned, brings a casual chic air to the attire. The shirt can be teamed with shorts, your tights, pencil trousers or can be casually worn as a cover up on your swim suit or as a kaftan. With so many uses of a simple shirt, I am sure you will find this to be one of the most versatile pieces in your wardrobe.
How to adopt the style – Glamcheck's tips
With the color blocked chiffon long shirt being so versatile, you can make this item a staple in your wardrobe and make it work for your day as well as night wear.
For your day wear, you could team it with neutrals and for the easiest transition of the same long shirt into night wear, team it with a brighter solid shade of bottoms.
Keep your makeup simple for day wear with nude shades and spark it up with brighter shades for the night.
The color blocked long chiffon shirt looks great when accessorized with chunky pieces of jewellery such as long chains or big finger rings or chandelier earrings. The look can be great for casual as well as formal outings.
Owing to its versatility, the hairstyles which you can sport with this shirt are innumerable too – go with a hairstyle that you feel like donning with this style and chances are that you will rarely go wrong.
Opt for heels in your footwear – stilettos, wedges, pumps all styles with heels look great as they add more height to the shirt and you end up looking taller.
This summer try our style pick of the day – the color blocked long chiffon shirt and  look your best and make you wardrobe more versatile!
Image: Anton Oparin / Shutterstock.com